Transforming Education Management: Role of School ERP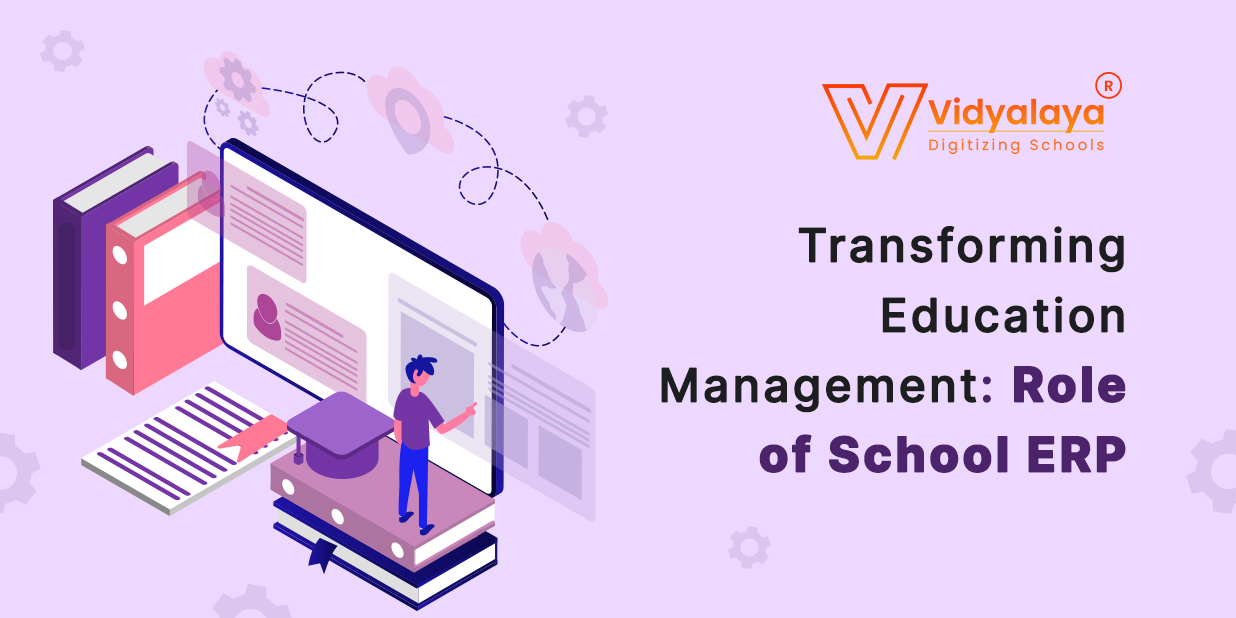 Running an educational institute is not a straightforward task. It involves a roller-coaster slide of different tedious tasks, handling several people at a time, managing financial budgetary requirements, and working around the clock to shape the future of the nation. Before the invention of the Education Management System, all these tasks are accomplished in a manual manner which used to yield several inefficiencies. But technology blessed this sector and a new era of digitized education started. Implementation of ERP systems has enhanced the overall learning experience and intricate procedures have been simplified. 
What is School ERP?
A school ERP is a set of software that is designed to streamline the academic and non-academic processes of an educational institute. This integrated suite of business applications covers the core and supplementary areas, such as finance, HR, academic, admission, transport, event management, and others. It tracks and processes data and maintains a digitized record system for the same daily activities happening in the institution. This education management system maintains smooth communication between all stakeholders- parents, teachers, students, and school admin with centralized storage and keeps the entire education system on the same page.
What are the key features of the Education Management System?
An education management system streamlines intricate processes with its in-built features. Here are the top features of the system that transform your educational institute into a more efficient version: 
1. Admission Management:
Admission is the prime process of education management. This process is monotonous yet complicated due to different grade structures. The school ERP system automates the complete admission cycle from releasing notifications on the school website to moving the user to the admission module and completing the entire process. Students can get a unique ID and proceed with that ID to complete the admission process. 
Features:
Admission inquiry and comprehensive forms

Direct link with student management

Can have a link with the school website for online admissions. 

Admission follow-up details

It can be customized to meet the institute's requirements

Entire process is digitalized 
2. Student Management:
Student data is fuel for education management today. A School ERP stores all relevant information and keeps it safe by following authentication and authorization rules. It processes this data and analyses concentre predictions to support student growth. 
Features:
Stores complete student profiles with photograph

Family and guardian details

Facility for uploading documents

Data import and bulk upload facility

Auto roll number generation

Inbuilt ID card

Custom search reports
3. Payroll management:
Payroll processing is a monthly task that school staff needs to do.  Manual payroll processing is not less than a headache, so, many institutes implement automated payroll management. The integration of all modules will enable the management to process payroll without any hassle. Integration of the employee management module along with employee leave management will automatically calculate the correct salary by considering all aspects. 
Features:
Configurable fee heads

Define separate payroll for multiple departments

Auto calculation for dependant fee head

PF and Tax deduction

Employee payroll slip

Yearly and monthly payroll reports
4. Fee Management:
Erase the scene of long waiting queues to pay fees by implementing the education management system. Parents and students can pay fees online and complete the process within a few minutes. One can save the resources, and even school staff can have less workload. The additional security in the online fee mode is not replaceable in the case of the manual. 
Features:
Standard or custom fee setup facility 

Fee setup with multiple fee categories and deposit

Configuration of concession/addition

Multi-receipt book configuration

Generation of receipt on auto fee payment

Instant SMS alert on payment of fees

Mapping with different bank accounts

Standard and custom reports
What are the benefits of a School ERP System?
A school ERP system has taken education management to the next level. It equips the institute to scale the administration, planning, and streamlining the operations. Here are the prime benefits of the ERP system:
1. Unified Data Management:
The education management system provides a centralized place for storing entire data and protects the data from unauthorized access with in-built security practices. This unified platform makes data accessibility easier and hassle-free. Modern systems are well-built with easy navigation, help menus, WhatsApp integration, dashboards, and other features that make daily operations easier.
2. User-friendly Interface:
Manual education management may be difficult as lots of work is carried out in manual form. Higher use of resources makes the work even more tedious. This complexity is well handled in the school ERP system. It provides a user-friendly interface to communicate with the system. This interface can be customized based on user preferences and makes the daily interaction smoother and more personalized.
3. Efficient core processes:
Educational processes like admission, fee management, academics, and timetable management are monotonous and tedious. Accomplishing them manually may yield more human-centric errors. When automated using an education management system, users can experience next-level efficiency and accuracy with less or zero human intervention. So, productivity is optimized and better outcomes are welcomed. 
4. Improved Communication and Information Exchange:
Parents are more involved in the learning processes with the school ERPs. They can get notified with real-time updates, event information, transport updates, attendance, and grades. Along with this, tools like the school portal, student portal, and parent portal can provide a common platform where stakeholders can access the authorized information within a few clicks. The education management system establishes smooth communication among different departments through hassle-free information exchange and fostering student-centric decisions. 
5. Enhanced Reporting:
A school ERP system is integrated with standard and customized reports. Users can have insightful reports in a well-presented manner. One can track student performance, admission status, fee collection, and other reports that can support your decision-making process.
School ERP has transformed the education sector a lot in terms of efficiency and accuracy. It streamlines the operations and automates several processes like admission, exam management, timetable management, and others. This diversion from manual enhances the learning experience and allows for innovation. Teachers experience less workload and can concentrate on core teaching tasks when the education management system is implemented. Students can experience less human intervention in the processes and thus can receive more accurate results. School admin can experience more productivity and all reports within a few clicks to make concrete decisions. Parents can have more involvement in the overall learning process than prior and can get easy insights and status of their ward's progress.
Vidyalaya, a leading name in the EdTech industry is known for its prominent products. The integrated K-12 education management system is designed to enhance the learning experience and manage the finance, HR, and payroll better with intuitive tools. Implement the system and get ready to experience a new learning era! Learn futuristic features and how Vidyalaya's school ERP can transform your educational institute here!