Understanding the Role of School ERP in the Education Sector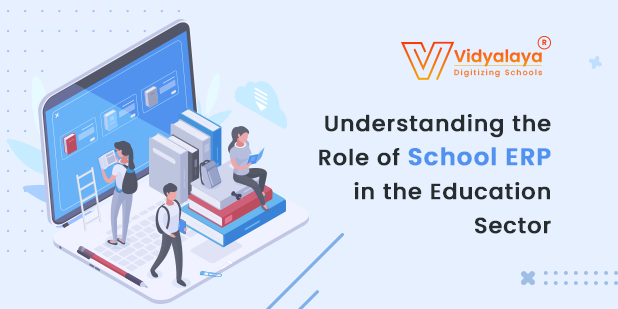 It is not a secret that the education sector is evolving around technological advancement and becoming better with it. The idea of implementing school ERP software in India may be in its early stage, but legacy creator Vidyalaya has identified the need almost 20 years ago. Understanding its benefits, especially after the pandemic, more educational institutes are stepping towards this revolution more rigorously. In the education industry, massive data is generated every year about students, staff, academic courses, school fees, timetables, and exams which is tedious to handle through the manual mode of operations. Vidyalaya uses this data and produces efficient results through various integrations.
What is School ERP Software?
School ERP software is software that makes educational processes more efficient, which helps manage and streamline day-to-day activities like admissions, curriculum management, student information, fees payment, and others. Additionally, it improves inter-departmental relations by eliminating the errors of redundant data, introducing optimal automation, and increasing the efficiency of staff.
Our huge ecosystem needs to be on their toe for the ready implementation of software that will manage the entire system. This system acts as a centralized repository to store all data, ranging from stakeholder and application data that emerged through several core processes. This cornerstone will help institutes for expanding their growth, in which everyone will participate and connect with each other. The combined effect will surely give the beneficiary result through this robust and easy-to-use platform.
Why it is the right time for educational institutes to opt for a school ERP?
Adopting school ERP software is a strategic and important move that needs to be implemented by every institute.
Initially, there was no excitement from the sector for this adoption but the following situations enforced them to think about this revolutionary change:
The recent pandemic underlined the importance of school ERP. Education remained to continue without going outside the comfort zone with the help of virtual classrooms. Even administrative work like payroll, admissions, and academic management didn't get halted by the paradigm shift from classroom-led learning to online learning.
Several new institutes are growing exponentially. With the global education ecosystem, diversion from the conservative system and adoption of contemporary alternatives is needed for the hour for these emerging institutes.
Also, the benefits getting from school ERP are more influencing and encouraging others to shift gears from manual to automation instantly.
Government policies also encourage institutes to take a 360-degree curve and support the complete establishment of modern technology.
How a school ERP can play a significant role in advancements in the education sector?
A school ERP can be a revolutionary software that will take the education sector to the next high level. Here are some striking benefits of school ERP software:
Automation:
Automation is one of the most basic requirements in the education industry development. Automating the core processes and bringing the desired results is the core aim behind the adoption of school ERP software. Shifting from manual to automated benefits eliminates redundancy, and monotonous processing and brings efficient results. Save your time, energy, and resources through the successful implementation of the school ERP system.
Enhanced Accessibility:
Before the implementation of school ERP, data was scattered on multiple platforms. Gathering and accessing it and fetching desired results is no less than a headache. But, school ERP brought the concept of centralized data storage and refined the accessibility enhancement. Through a single central platform, the software can able to connect, store, and analyze the available data such as admission forms, fee payments, payrolls, transport data, and others. It is now simple to share generated data across the departments through role-based access. Plus, Vidyalaya offers a mobile app for the school app that offers you the freedom of accessing the software from anywhere, anytime in a secure environment.
Systematic management:
An educational institute deals with several transactions on a daily basis which may be under different administrators and operative management. It becomes necessary for the institute to bring all these operations under one roof and check their periodicity for each stakeholder. A school ERP System accomplishes this task very efficiently. It authorizes the operations along with the users and automates the complete process which reduces the probability of errors.  School ERP in the Education Sector move can yield better results as compared to the absence of ERP software.
Standing out in the crowd:
Promoting school management through school ERP software in India can become a status symbol and be ahead of the competition. To make a perfect fit for new-age learners, schools need to revamp their approach with quick and easy information sharing. Operational excellence should be achieved through maximum automation with the help of dedicated software. Thus, a school ERP never fails to engage stakeholders and makes them stand out in the education institution for a longer period.
Unrestricted growth and ROI Development:
Following the manual method of school management yields heaps of files, multiple documents, less accuracy, less efficiency, and a lot of other things. The combined effect of all these is processes with pending approvals, less productivity, malfunctioning, and others. The growth of any educational institute and the ROI is directly hampered by all manual modes of operations. Eliminating the manual factor and introducing automation will not only make the processes efficient but can lead to more accuracy and elimination of human intervention errors.
Complete Data Security and Safety:
It is obvious that every educational institute needs to keep a track of current teachers, students, alumni, and other resources. With daily transactions, massive data is generated which becomes a base for transactions. It is really tedious to manage this data manually over a long time period. Vidyalaya's school ERP is well-integrated with cloud technology which stores this enormously generated data securely. With timely backup, we promise to keep your data safe and secure as compared to the manual method. Additionally, role-based access ensures data integrity and privacy.
It is no doubt that investing in school ERP software will become a necessity rather than a luxury in the coming days. Betterment of school operations is achievable with the implementation of the software. Level up the education standards with various integrations like artificial intelligence, payment gateway, and virtual classes through the ERP software. Let our tailor-made school ERP help you to ace administration and education management and keep your institution future-ready!