Top Key Features of Education ERP System That Help to Manage School Properly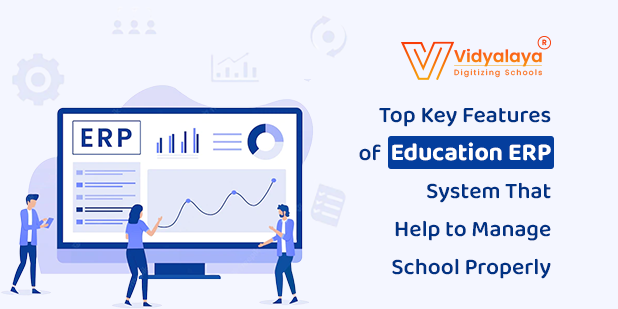 You must have heard about educational ERP implementation and its success stories in educational institutes and if you are wondering how ERP can transform the way of education in this digital era, then you have landed on the correct page. If you search across the search engine, you will get thousands of pages loaded with content showing the effectiveness of educational ERP systems. As the ERP system has different users, it becomes necessary to check whether the selected software satisfies the requirements of each type of user or not. Calm your thirst for knowledge and read out the content below to gain the essentials of the same:
What is an educational ERP system?
An educational ERP system is a perfect digital solution that helps educational institutes to manage the information workflow with the help of integrated modules. It facilitates the administrator to manage the daily routine of the school activities like administration, admissions, exam timetable, hostel management, school bus management, and others. The educational ERP makes life easier for students by availing them with a platform where they can check their status, updates, scores, timetable, assignments, and other academic and non-academic measures in a digitalized way.
What are the top features of the education ERP system one must look for effective management of schools?
An educational ERP system may be enriched with different features that make it comprehensive and adaptable. Every stakeholder looks at the system from different perspectives and tries to locate the features that will ease their way of doing business. So, the best educational ERP system gains the crown with optimized satisfaction of all types of users. Choose the best one so that there are no more hurdles in the digitalized approach to education. Here, we have categorized the features of an educational ERP system based on its user perspectives:
Tutor/Educator
After the pandemic, online learning has gained top gear, and thus the systems that integrate this new challenging way become a necessity of today's educational institutes. So, educational institutes, including K-12 schools, quote requirements for a platform where everything can be managed without leaving the comfort zone. An educational ERP system fills this gap and lets teachers be relieved with a one-stop solution for sharing study material, report cards, curriculum, and other academic and non-academic information.
Let's explore how educational ERP systems are useful for educators/teachers:
Get detailed information about all students, including academic and non-academic, within a click reach.
A single-roof platform for establishing a good communication bond with parents where they can post about the exam schedule, and activity schedules or they can share their feedback about the wards with their parents.
A paperless administration will improve the flexibility of communication with students via the school portal by uploading timetables, assignments, results, and others so that students get real-time information.
Biometric attendance will save time wastage so that teachers can concentrate on the core aim of teaching and sharing knowledge.
Improved overall productivity as major of the work gets automated and routine tasks get finished within less time span and with better accuracy.
Learner/ Student
Students are the core stakeholders of the education system. All the functionality of education institutes revolves around the students. With the advancement of time, students of this age are techno-savvy, so they also prefer the same in their educational journey. Rather than classroom-led learning, students are insisting on virtual classrooms and exams. These digital natives are well-versed in uploading/downloading assignments, checking updates, and exam notifications and find this modern way more engaging and efficient.
Let's see how an educational ERP can transform education into new-age learning:
Access study material from anywhere, anytime without bearing the location and time barriers. Online libraries in the form of pdf, audio, and videos can be accessed to enhance knowledge.
Detailed data tracking including assignments, exams, internals, and attendance can help to predict student behavior. Early actions can be taken to improve student growth and development.
Interactive communication beyond the classroom makes the stronger relationship bond between students and teachers. The educational ERP system helps students to promote collaborative learning using debates, discussions, and problem-solving discussions beyond the classroom also.
The software will help to reconnect with your school and make a stronger alumni network with the alumni management module. Get the latest updates about job postings, get mentorship advantage from current employees about the latest trends in the professional world, or even get funding for various events happening in the school.
Educational Institute
Running an educational institute is not a bed of roses. It involves tedious tasks that higher management needs to deal with. Right from the pre-admissions to alumni management, and from fee collection to scorecard printing, each phase must be accomplished without errors. As educational institutes are known as homes where the future of a nation is crafted, there is less room for errors and a big space for innovation and improvements. That's why software providers like Vidyalaya launch products with innovation to bring modern approaches to conventional learning. The educational ERP solutions improve efficiency and productivity at all possible phases so that the brand shines in the educational market. This will help both students and educational institutes to serve their purposes. As the educational institute covers financial and administrative aspects, these educational ERP solutions can bring revolutionary changes in these areas. When implemented, one can see a paperless office, no long queues for admissions, and no hustles and bustles during the result declaration days.
If you are imagining this picture in front of your eyes, then here is more to add:
Get insights into students, teachers, and staff data within a few clicks and at faster data retrieval because of cloud integration of the software.
Manage the online brand presence, student progress, and faculty performances.
Get standardized and custom reports and make futuristic decisions for brand betterment.
No more hassles in the admission process, so improved results with smooth transactions.
Cutting down the flaws of manual fee collection by facilitating online fee collection so that you can get an instant idea of accurate fee collection.
As the market is flooded with different types of educational ERP solutions, it is natural to get into a dilemma about selecting the best and most apt one. Vidyalaya, a long-run key player on this road, having domain experience of over 20+ years, is creating a long clientele with its signature product range. No matter how big or small your institute is, we cater to everyone having a thirst for innovation and technology-oriented education. Look for the above-mentioned top features while selecting the software and get ready to ride on the way to digitalize education.