Top 10 Tips for Improving Your School Website Design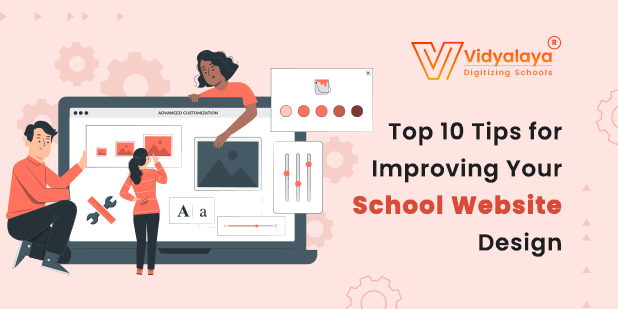 School websites have gained the utmost importance in this globalization of education and becoming the first place to hit while gathering information about the institute. Thus, the role and purpose of school websites have changed at pace to creating own exceptional, tightly integrated, and digital ecosystem. This has led to having a must-have remarkable school website or transforming the existing school website design with a new look with advanced features. This doesn't mean that your educational institute needs a complete makeover but your online and offline presence should continue to evolve. Doing this will ensure to make your audiences are engaged and introduce them to the latest updates by adopting new tools and techniques a long way.
Although things look too simple, there are a lot of hassles involved in it. First, you need to understand what things must be added to the school website and how they can keep the audience engaged. Vidyalaya, a long-run player in the education industry shares some expert tips for improving school website design in this write-up.
Top 10 Tips for Improving Your School Website Design:
1. Knowing the Stakeholders!
Knowing the stakeholders is one of the foundation steps of any website design process. If you know the target audience, it becomes easy to think from their perspectives and design the modules. In the education industry, it is expected that you should improve the navigation structure and content by keeping the main stakeholders of the institutes- parents, students, and teachers. To achieve this, one can have a stakeholder analysis and understand why they are exactly looking for a school website. Get interaction with every type of user as the needs are specific to the user group.
2. Lighten up The Homepage:
The homepage is the first and most-visited page of any website. The best school websites design always spends more time on designing the homepage as it is the entry from where the entire traversing journey gets started. One can make a good impression with an intelligently designed homepage. From a group survey, it is proved that the first 5-10 seconds of a page visit decide the further action: whether to continue or go back. People decide whether they can get desired information within those seconds easily and remain or leave the website. So, manage those 5-20 seconds and let the user explore your world.
3. Showcase your Values:
According to school website design services, school websites are the best promotional tool where the institute can showcase its achievements and values. Your school website should always mention your mission statement clearly which depicts your mission. The school leadership always develops a strong set of core values to help in the decision-making process for the school and across the online presence. One can relate the school statement through infographics, videos, or design so that it gets highlighted through every mention.
4. Keep the visitors Engaged:
We all know that picture tells more story than words so embedding different mediums of information like images, videos, slides, and others into a school website becomes crucial for the best education websites design. Make sure you use professionally clicked photographs on your website that will level up your reputation and impression. Even short videos telling testimonials or teachers responding to some FAQs can be used to communicate with audiences. Videos always capture the audience's attention and with good content, they can keep the audience engaged till the last second. If embarking videos are more engaging, then the chances of browsing your website increase at a good rate.
5. Easy to Handle:
Mere attractive UI and enriched functionality cannot retain the audience, usability is one of the important features of any website design. If you are making users' work complex and too lengthy, then users will immediately draw off their attention and leave the website. Users need easy handling and want required information in a short pace of time and actions. The usability of the website can be improved by checking the analytics of performing core functionalities and checking whether they are accomplished within two or three clicks.
6. Responsive to Actions:
Embedding a strong call to action is one of the core aspects of the best education websites design strategies. It is expected that when the user clicks on the actions, no intermediate interference should obstacle the journey and the user should directly land on the desired page.
7. Depicting your Work and Achievement:
School websites are meant for showcasing the skills and achievements of your students. It brings several benefits like farming on the school website is a proud moment for students and it tells the success stories of your brand. Updating the school website with students' work on a frequent basis is a good way to revise the content of the website. Stale information which doesn't change will never draw the attention of users and don't lead them to repeat the visit. So, feed them with the latest updates and promote your work from your own websites.
8. Incorporate Social Platforms:
Presenting the school on almost all leading social media platforms has become a necessity to highlight the online presence and reap its benefits. Through the major benefits like improved communication and involvement with the audience, you may expect repeated footprints on your school website. Updating the highlights of daily happening on these mediums will get acknowledged by students, parents, and others where they re-share or re-tweet the posts. Through these simple ways, you can increase your school's online reach and brand awareness. Follow the content management strategies, and feed these social media activities directly into your homepage. This will establish a direct connection between the school and visitors through various social media platforms.
9. Bring some X-Factor:
If you want to pull more footprints to your school website, you need to think out-of-the-box and should bring some X-factor. To do this, do your research, traverse several leading websites, analyze them, understand the structure, and look at how they have incorporated features and functionalities. Keep one thing in mind you must do something unique so that the perception of your school website is well absorbed by the audience.
10. Interactivity:
Today's world is concentrated on engagement and personalization. Leading school website design services keep these factors in mind and encourage the audience to spend more visiting time on the website. An exceptional interactive experience can be given by adding a virtual tour of your school and premises so that students and parents can get an actual idea of the facilities you provide from the website itself.
Before some years, school websites were merely created for showcasing school information, key dates, uniform rules, and a welcome page with an attractive UI. But the pandemic brought revolutionary changes in every sector and the school website suddenly got the center of fame for every minute update also. Vidyalaya, the best education website design company for the last 20+ years continues to facilitate the educational field and pour its excellence to craft the best and most comprehensive school digital addresses. Choose us for well-presented and intelligently integrated school website design development that will tell your success story in an engaging way and improve footfall to share the stories!