Importance Of Continuous And Comprehensive Evaluation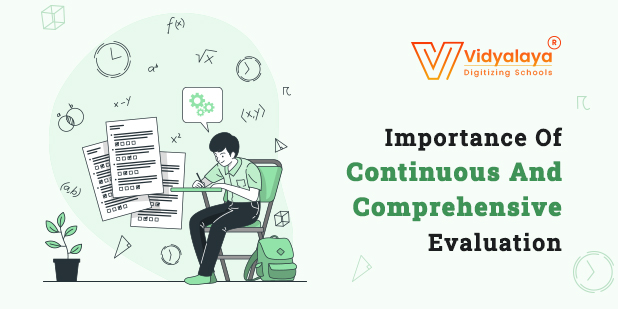 Evaluation plays a significant role in academics as it measures the student's performance and empowers improvement practices for overall growth. Scores achieved in the curriculum exams are not only the numbers that show the growth and development of the student but they are indicators of student performance in academic and co-academic areas. Thus, the demand for a comprehensive evaluation method was always there. The Continuous And Comprehensive Evaluation is the method that perfectly suits this requirement that emphasizes every single aspect of a student's education.  Vidyalaya, a key player in the education software sector, integrates this innovative approach in all leading products so that educational institutes can set a new benchmark in the assessment aspect. Let us learn some more information about this exceptional concept in this write-up and have a clear understanding of what is  CCE.
What is CCE?
CCE or Continuous And Comprehensive Evaluation is a continuous process of evaluation of a student's development on different grounds. The Central Board of Secondary Education of India has proposed a new revision in the academic sector under the Right to Education Act in 2009 to diagnose the student's deficiencies through diverse assessment activities. The CCE pattern safeguards a structured and strong evaluation system for scholastic and co-scholastic aspects. Here, scholastic aspects include the written and oral skills of a student whereas non-scholastic aspects cover performance in co-curricular activities and life skills. So, combining both aspects, CCE offers a comprehensive and ongoing process of evaluation that combines formative and summative assessments to measure student's overall development. 
What are the Objectives of CCE?
The Continuous And Comprehensive Evaluation process assesses student's development in both scholastic and co-scholastic endeavors and also fulfills the following objectives:
Focusing on improving the thorough process of students rather than the process of traditional memorization.

Bring improvisation in the cognitive and psychomotor abilities of students.

Make necessary changes in teaching strategies and constantly monitor the efficacies of the teaching practices for the betterment of the learning experience.  

Reduce stress and offer a pressure-free environment to students.

Assess the learning programs based on social value, requirement, and effectiveness parameters and make modifications whenever necessary to make them best for students.

Make the learning learner-centered and maintain a high standard of performance.
Why Continuous And Comprehensive Evaluation is important?
After understanding the aims and meaning of CCE, let us illustrate why it is an important approach. Here are some key points that explain why CCE can bring significant transformation in the education sector:
The exceptional

Continuous and Comprehensive Evaluation

emphasizes a student's holistic development and takes into account cognitive, psychomotor, and affective parameters into consideration. Both in-class and outside-the-class endeavors are encouraged for overall growth.

Through continuous evaluation, students' performance is expected to enhance incrementally. With this approach, students can learn their shortcomings and can work on those to perform better in the next round so teachers can identify the learning pattern also.

Not only for students but the answer of

what is CCE

is beneficial for teachers also. They can evaluate their teaching processes and can figure out which strategies work for students and which do not. With this, teachers can improve the effectiveness of their teaching.

The educational institutes can open doors of personalized learning with the help of CCE and can meet the requirements of the individual student in the classroom. Through this, schools can have a better learning experience and a better learning environment.

Educational institutes can foster a positive attitude toward education among students by eliminating stress and anxiety and apparently the chances of dropouts. 
How CCE is carried out in today's age?
Till here, we know that the CCE method covers both scholastic and co-scholastic activities. Now, we will see how it accomplishes both types:
1. Scholastic assessment:
Scholastic, as the name suggests itself, deals with the assessment of all the activities related to different curriculum subjects, with the aim of aligning the cognitive domain objectives. To facilitate this aspect, formative and summative assessments are mostly used in the education sector. The formative assessment continuously monitors the student's progress through different practices like quizzes, group activities, assignments, projects, or group debates, and others. The other aspect of summative assessment provides a way of evaluation at the end of the academic period, say a semester, or a year. This method helps to decide the extent to which a student has able to achieve the set goals. The entire scholastic assessment is based on five parameters: knowledge, comprehension, application, analysis, synthesis, and evaluation.
2. Co-Scholastic Assessment:
This is the most ignored sector in the curriculum that needs better addressing. This mostly includes outside-the-classroom activities that contribute to the holistic development of students like life skills, co-curricular activities, and attitude. Life skills are nothing but psycho-social skills that aid in decision-making, creativity, and productivity improvement. Several skills like empathy, problem-solving, coping with stress and emotions, creative thinking, and others can be assessed through methods like group and/or self-assessment, and peer assessment. The co-curricular activities focus on physical development, character building, and social skills and include various activities like yoga, drawing, sports, cultural programs, and others. Attitude is the mirror of a student's behavior and the state of his/her mind. Our student information system provides detailed information about a student's behavioral data during the academic period in which he/she stays in the institute. Student attitude can be assessed through different practices like interviews, surveys, aptitude scales, indirect observation techniques, and projective tests.
How is the Continuous And Comprehensive Evaluation helpful for teachers?
The Continuous And Comprehensive Evaluation is helpful for teachers in the following ways:
To understand the student's learning styles.

Identify the pattern in which students feel learning is easy.

Enable them to provide guidance on students' weaknesses.

Understand the problems faced by students.

Implement different teaching practices. 
The Continuous And Comprehensive Evaluation is an effective technique that can improve the teaching-learning process so that every child undoubtedly gains the information and necessary skills along with the potential to apply them in the real world. With the primary goal of assisting students to achieve organized learning and growth, Vidyalaya makes this exceptional concept a base for its products and alleviates students' stress, and promises to establish the best environment for them. After reading up on the valuable information shared above, we certainly hope that you have the answer to the question of, What Is CCE? Drop a mail or dial a call for implementing this futuristic aspect at your premises.