What is Summative Assessment? A Detailed Guide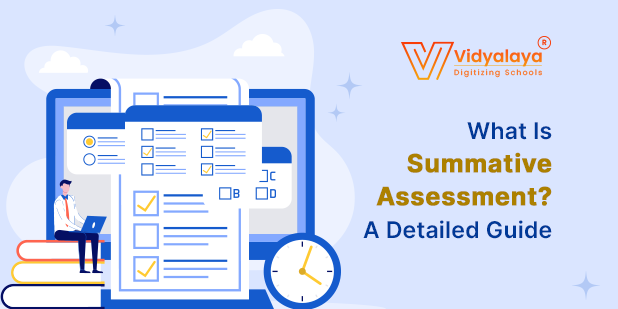 Teaching is a noble profession that needs to be improved with time. From just an intellectual process to logical, teachers need to upgrade themselves to shape the younger generation in an advanced way. Teachers always seek different ways to assess students and their performance.
Although the market is flooded with various tools, the all-time favorite summative assessment is one of the most effective methods of evaluation. As evaluation becomes a crucial thing in academics, teachers of the new age prefer formative assessment and summative assessment methods as they improve learning standards. Although both these methods are effective, here we will discuss the latter one in detail.
What is a Summative Assessment?
Differing from formative assessment, summative assessment is a method of evaluation that is carried out at the end of the program. Through this method, teachers check the students' proficiency, performance, and understanding by comparing what they know with what they should have learned. The summative assessment focuses on measuring outcomes using predefined standards or benchmarks. Rather than focusing on the method of solving, summative assessment monitors the students' ability.
With technological advancements, all this can be automated into dedicated software which is called summative assessment software.
A summative assessment software provides some creative ways to include summative assessment in your classroom. Some of the most popular are mentioned below:
1. End-of-the-term Exam:
Final or term exams, being conducted in schools or colleges at the end of each semester, is the most popular form of summative assessment. With a simple framework, teachers craft question papers based on the curriculum taught during the specific academic period and students' answers to these questions within a framework.
This exam produces quantitative results that help to grade students and to understand how they have performed. This form generates a lot of workloads for teachers, which can be reduced if you opt online summative assessment system. With most of the automation and accuracy, the system produces the desired results by optimizing resources.
2. In-class Block Test:
Teachers arrange mini-tests throughout the year, especially at the end of the block or chapter. These tests work as a medium to determine how well students are coping with the subject flow and concepts to prepare for their final exams. Midterm assessments, quizzes, and practice tests come under this category.
3. Creative Portfolio:
Teachers can ask to build a creative portfolio instead of end-of-the-term exams. This portfolio offers a chance for students to showcase their creativity, understanding of the concepts, and their implementation in a unique way. This method may use various mediums like images, infographics, and small-length essays to depict the understanding.
4. Oral Tests:
Teachers prefer this method most of the time as it gives spontaneous and real-time responses from the students. The method can be structured, or unstructured interview form where students may partake in an oral classroom presentation.
5. Group Projects:
In group projects, students need to implement their hands-on skills to represent their understanding. These tasks are practical and straightforward. These tasks are assigned to small groups of students where students need to stretch themselves to showcase their knowledge with improved teamwork.
6. Formal Essays:
Formal essays are one of the best mediums to demonstrate an understanding of a subject matter. Students need to possess presentation, verbal, and interpersonal skills through which they can represent their knowledge better in a narrative or descriptive form.
What are the Features of Summative Assessment?
Summative assessments are evaluative rather than diagnostic and assess student's performance against a predetermined benchmark. Here are enriched characteristics of summative assessments:
1. Practicality:
The process of summative assessment is practical and scalable. With a well-aligned structure, it makes an easy task for the instructor to conduct without many hassles.
2. Validity:
Summative assessment is an effective method for evaluating students' competencies in subjects while meeting the learning goals and objectives. This validates the method against a specific perspective.
3. Reliability:
With accuracy and consistency, summative assessment is a standardized method of knowledge-based assessment.
4. Variety:
With lots of options, teachers can conduct this assessment and keep evaluating the students' knowledge.
5. Easy Reporting:
Summative assessments are always bliss for teachers as they give a concise summary of the outcomes of the entire process. With this, teachers can compare the students' performance with past figures, external standards, or with other students. Various parameters included, including summative assessment reports are comprehensive enough to make better decisions and make necessary improvisation in the processes.
What are the Summative Assessment Benefits?
Summative assessments, although looks time-consuming, bring several benefits on their own. There are hosts of summative assessment benefits with which both students and teachers can secure long-term rewards. Some of them are:
1. Learning Implementations:
Summative assessments do not emphasize mere memorization but in-depth understanding. Thoroughly designed assessments need students to apply their skills to the real world. Some forms, like MCQs, need the ability of critical thinking with rapid implementation of knowledge to solve problems.
2. Motivation to Students:
Summative assessment motivates students to study throughout the year as they happen frequently during the academic year. With good grades, students can feel motivated to do better.
3. Finding the Gaps in the Learning Process:
Summative assessment benefits include identifying learning gaps and helping them to bridge them. Through summative tests, teachers can get an idea about which students are lagging and which topics are troubling them so that they can be revised.
4. Giving Valuable Insights:
Summative assessments are the best mediums to get necessary insights and feedback on student progress and performance. With decisive facts and figures, management can make fruitful decisions on which part of the curriculum needs improvisation.
5. Helpful to Teachers:
Summative assessments help to identify the gaps in teaching methods. As it is natural that teachers' styles are not perfect all the time, they need to improve themselves and make the programs student-friendly.
Here are some of the ways through which teachers can address the gaps:
Make the content more engaging by including visual aids.
Include or exclude word problems
Implement more interesting and innovative teaching styles
There are controversies about the effectiveness of both summative and formative assessment, as both methods contribute to improving learning goals. Both methods derive different methodologies but aim at common goals. Summative assessments are important as they keep students motivated to study throughout the year. Vidyalaya focuses on this aspect and facilitates tailor-made summative assessment software to provide a cumulative snapshot of evaluation and student learning. Teachers can illuminate the areas of strengths and gaps in syllabus and learning by using our software. Let's enhance the student's abilities by correctly evaluating their understanding and finding the gaps with Vidyalaya!