What is Formative Assessment? A Comprehensive Guide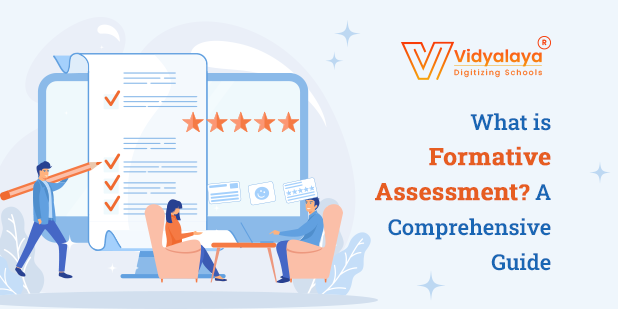 Students' evaluation is a continuous process and teachers are doing it every day or at regular intervals knowingly or unknowingly. Although the modes of evaluation are different, all claim to have one ultimate goal of student progress. Among all evaluation and assessment methods, formative assessment gauging student understanding has become widely popular with its exceptional benefits, especially after the Covid-19 pandemic. Though it is difficult to transit from a test-oriented to a learning-oriented approach, learning-oriented methods like formative assessment will help to address unfinished learning.
Vidyalaya implements this innovative approach and releases a contemporary, tailor-made formative assessment software in the market, which is already making a buzz. Teachers continuously monitor the student's progress and revise the instructions to make them more apt. It is very much important to identify and understand what exactly students know before and during the sessions, and their mastery of the subject matter rather than getting it after the completion of the lesson or session. This is exactly where Vidyalaya's formative assessment software comes into the picture!
What is formative assessment?
A formative assessment is a comprehensive process of student evaluation through which one can track their progress and their depth of understanding as they learn. It is a continuous process that involves putting a series of rapid-fire questions and exercises together through which students' progress is monitored. Formative assessment benefits students as well as teachers as both strive to achieve the ultimate goal of students' success.
Formative assessment software is a complete bliss for students as they indulge different benefits. Students performing on the outer boundaries of the standard curve get particular formative assessment benefits. As their learning needs are unique most of the time, teachers can address them timely with the help of the software.
Here are some of the significant advantages:
Better focused goals
Improved learning environment
Better academic performance
Increased engagement and motivation
Not only students, but teachers are also one of the core beneficiaries of the Vidyalaya's formative assessment system. This system helps to provide timely and action-oriented feedback so that teachers can work on them to create a systematic plan for apt teaching. They can adjust the instructions so that students can get a chance to learn and re-learn.
Learn the major benefits of the system for teachers:
Students tracking data at the fingertips
Better performance through calculative actions
Reduce the workload and stress factor
Helps in decision-making based on accurate data
What are the modes of formative assessments that are widely popular?
Although formative assessment can be accomplished through different modes, some of them are more apt and popular among tutors. With the easy implementation and positive returns, the following formative assessment variations are widely used:
1. Impromptu Quiz:
It is an easy way to understand the student's understanding of a topic and can be carried out by creating a short online quiz.
2. Polls:
Polls always gather feedback directly from students as they learn. Our formative assessment software allows you to create simple polls to evaluate learners' knowledge.
3. One-minute Papers:
Short-duration papers like one-minute papers can help students to depict their learnings and the teacher can get the idea. This can be a simple 1-minute survey containing open-ended questions.
4. Interviews and Focus groups:
After some intervals, teachers can arrange quick interviews and debate sessions by dividing students into groups. This can be done by having casual interactions with students or through systematic interview surveys or questionnaires. This method gives better contexts for the assessment.
What are the influencing characteristics of formative assessment?
One of the biggest formative assessment benefits is that teachers don't have to wait till the end of the block or topic to evaluate students' understanding. With the above-mentioned methods, they can check it throughout the sessions.
Here are some characteristics of a formative assessment system:
Formative assessment software works as a mediator and is interwoven with the ongoing teaching and learning process.
Formative assessment system is a great way to evaluate the learning process and the learner's progress at the same time.
It is a collaborative process as it strives to offer betterment of both learner's progress and the effectiveness of the teacher's teaching method.
It is a diagnostic method of evaluation that requires teachers and students to become intentional learners.
Immediate results of the formative assessment are delivered to students or teachers without any waiting period.
Formative assessments are non-graded and aim on gathering actionable feedback to improve overall learning methods.
Why one should have formative assessment software?
Formative assessment benefits are incomparable and thus, it becomes an important tool especially when one is transitioning to online learning. It fulfills the need to evaluate the students formatively even if they are not in the room. The software product is a perfect partner for teachers to utilize online classrooms. Here are some top trending advantages of formative assessment software:
1. Defined Learning Goals:
Students can align their learning goals and objectives of the coursework using a formative assessment system. It never lets you go off-track by keeping the learning goals in the mind and enable teachers to resolve the queries of students immediately. It does this by monitoring the student's progress regularly and keeping the teachers and students on the same page.
2. Increased Rigor:
Formative assessment software plays important role in improving overall learning performance. Through continuous monitoring of student's progress, teachers can utilize the feedback to enhance the learning experience and apparently, students' performance. These feedbacks are reflections of students' needs, by understanding them teachers can plan a rigorous learning environment to challenge each student.
3. Enhanced Motivation among Students:
With clear learning goals and an accurate measure of students' success, students will definitely feel motivated. Teachers can encourage students to use a formative assessment system as these assessments spur students to smash their goals and progress towards specific knowledge objectives.
4. Personalized Learning Experience:
Using different methods of formative assessments, teachers can develop a perfect plan for personalized learning experiences. Using this data, teachers can examine instructional practices to decide the best method or products.
5. Data-driven Decisions:
Formative assessment software enables decision-makers to make data-driven decisions. Teachers can accomplish this tedious task using the collected data through frequent learning checks.
Among all available assessment modes, formative assessment is considered as most effective and fruitful assessment method which leaves a positive impact on the overall learning process. Teachers are continuously upgrading themselves to share the best knowledge through better teaching processes. Vidyalaya identifies the need for improvement of teachers and fills the gap with an exceptionally designed formative assessment system. Adopt the system, help your teaching staff with a tech-oriented product and let your institute get fame for student-focused, passionate teaching!