Key Features of Exam Performance evaluation Software that you need to know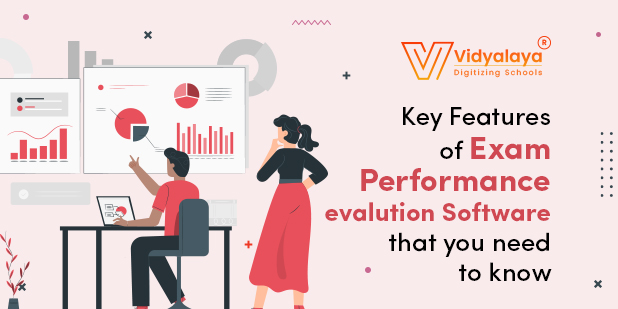 Student Performance evaluation software is a clever piece of software designed specifically to automate the entire evaluation procedure. Test creation, administration, and evaluation are all covered by exam performance evaluation software. It is a reliable, accurate, and methodical approach for conducting online exams from a remote place that is not limited by geography.
Assessment is one of the fundamental foundations that keep the educational system strong. Admissions exams, challenging examinations, annual/quarterly tests, and even weekly tests are all part of the educational process. Challenging tests have already begun to migrate to the online platform, but with the COVID-19 lockout, other sorts of exams have begun to use examination software as well.
Student Performance evalution software is a collection of functions created to give consumers the most convenience and reliability possible.
Examinations conducted digitally are the future of exam administration, according to academic organizations all over the world. They believe that an exam performance evaluation software could assist them in completing evaluations regardless of the circumstances. Organizations must investigate the many aspects of Student Performance evaluation software prior to making a decision.
An exam performance evaluation software differs significantly from a seminar or presentation. It might be difficult for schools to manage their full calendar while also guaranteeing that the exams they administer are completely cheat-proof. Student Performance evaluation software might be an excellent way to simplify the details.
There are many choices in the industry; nevertheless, there are a few factors to ponder while accepting one:
• The system must give maximum data protection;
• This should include cheat-proof monitoring mechanisms;
• It should have an optimal connection; and
• This should have simultaneous and rapid recoveries in the event of technological faults.
For organizing digital assessment procedures, the online test system is perfect. Either it's intelligence testing, academic examinations, or employment examinations, free online test software may assist with all aspects of organizing online exams.
We've put together a comprehensive list of key characteristics to look for prior to actually purchasing exam performance evaluation software.
Planning and sequencing should be automated: It should be able to collect information from students and build up a plan via its web service, as well as process student registrations, issue automatic admission certificates, arrange tests thus accordingly to course, and track presence on replies.
Evaluation Sequence Generation: Evaluation sequence formation is a technological phrase that refers to the process of creating subject-specific study material. Student Performance evaluation software should be able to process a variety of different classifications depending on scores and categorize them according to institute-specific factors.
Questions Library Planning: The system must offer question banks, recommendation sheets, and references link or PDFs on numerous subjects during the exam preparation phases. The question banks should be accessible, with appropriate graphics and a source code editor. The lecture style should be interesting enough yet to capture particular pupils' interest.
Customization of Questionnaire: The system should be able to assist teachers in creating multiple question forms for any topic. This includes multiple-choice, open-ended, quizzes, and other types of problems.
Summative assessments are useful instruments for evaluating student achievement. Summative assessments ensure that information is communicated more effectively than traditional approaches. The grading rubric also encourages student evaluation and collaboration.
Quick Acceptance: Student Performance evaluation software should provide an automatic evaluation tool that allows users to accept and modify created questions simultaneously.
Multi-Language Assistance: Choose one that supports multiple languages, making it simple for you and your pupils to navigate the online assessment procedure.
Customizing test-taking methods: This procedure assists trainers in customizing test-taking methods that are appropriate for specific students. As a result, assisting institutions in making tests more dynamic and unique in their own right.
Alerts Received Immediately: The system must be capable to offer students and parents precise notifications about tests, evaluations, courses, time, and assignments without revealing confidential data.
Integrated LMS: Active integrations with an LMS allow users to add educational information to tests, such as remarks and video clips. As a result, pupils can learn at their own pace. Customizations can be made by admins within the EC (exam committee), allowing for real-time modifications.
Customizable Rights and Roles: Online testing software is required to issue proper permissions and define verifiable roles, ensuring that certain administrators and teachers have complete authority. The availability of specific tests can then be tracked, and the results can be reported in an unbiased manner.
Web monitor and review: Search for systems that allow you to keep track of user participants during examinations. It must be capable of detecting individual student wrongdoing and informing the controller in a timely manner.
Creating Transcripts: Automatic certificate production must be possible using Student Performance evaluation software. Each transcript, comprising student information, grades earned, academic period course details, and so on, should be effectively controlled by the software. To encourage quick release, translations should be provided in many forms.
Dashboards And Reports: It should be able to generate various types of real-time reports for institutions. The manner of depiction is important, as it is clear that multidimensional displays are more engaging to individual consumers. As a result, an online test system that includes interactive dashboard reporting has a leg up on the competition.
Automatic Assessment: Instructors may be biased at times when reviewing papers submitted by individual pupils. Always be on the lookout for software that has many security steps, evaluation handling systems, and click-by-click auditing tools.
Conclusion :
In light of the current situation, when regular lockdowns and social alienation have become the new normal, educational institutions have shifted to an automated road of digital classrooms and lectures. When it comes to administering exams, the same procedures are used.
With its automated systems and robust processing abilities, Student Performance evaluation software is the future of academic evaluations, bringing numerous advantages over traditional techniques. There are many exams performance evaluation software like Vidyalaya Software which is a well-known platform that is already assisting many institutes by responding to their specific needs and objectives. The next days will bring more improvements and less stress in the workplace. Until then, these approaches will assist you in locating the greatest portal currently available on the market.