Top reasons to sign up for virtual classrooms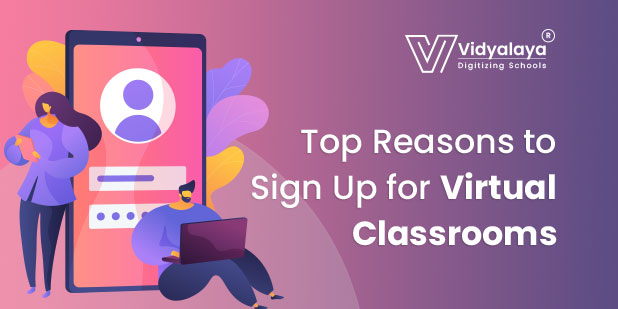 The year 2020 has given a 360-degree change to everyone's life. Not only the professional but also the academic life has seen a drastic change in carrying out the regular routines. As offices are insisting on work from home culture, educational institutes are needed to shift from classroom-led learning to virtual classroom-based learning. To match the requirement, educational institutes need to gear up for a virtual classroom system to facilitate the students to continue their educational routine without stepping out of their homes.
There are multiple educational software providers in the market but not all seem to fulfill the requirements efficiently.
There are certain criteria for choosing the apt virtual classroom system like:
Accessibility
Tablet/mobile support
Facility to schedule or launch live sessions
Attendance report
Instant communication channels
Simple to use
These features make the system capable of providing a seamless learning experience to students and help teachers to make the learning more interactive and enjoyable. Vidyalaya is continuously marking the top-notch position when it comes to providing efficient learning management systems. Here are the reasons that will show why there is a future in virtual classroom software and why educational institutes should invest in it.
Break the barriers of location
It is one of the key reasons behind signing up for virtual classrooms. With the adoption of this, students can get an excellent learning experience without bearing the location barriers. They just need a smart device and a reliable internet connection. And they are ready to sign up for their learning classes.
Vidyalaya will lead you in taking this trend ahead with its virtual classroom system. After the Covid-19 pandemic, the government has also asked to go for online classes to maintain the social distancing and avoid the infection. In that case, virtual classroom software will help you to continue your educational routine. With the help of this software, students from other cities can also enroll and attend the online sessions.
New way of learning
The traditional chalk and talk method of learning offer a limited way of educational experience. Teachers normally follow static methods like flat diagrams, oral explanations, stencils, slides to elaborate on concepts. But these methods have limitations like they cannot explain the detailed working or cannot offer inside details so the knowledge sharing is incomplete.
Vidyalaya's virtual classroom will remove these flaws and will open doors to a new way of learning. In this, learning is not limited to students are listening to what the teacher is telling. It can give detailed study about any concept as the live classes can have access to diverse study material through the internet. Embedded videos, audio, or slide shows can help to explain complex topics thoroughly. Students if kept the recording on, can rehearse the lecture desired times which is nearly impossible in the manual method of learning. Global exposure and diversity will help the students to know about the latest trends or updates in academics.
Cost-saving option
With the traditional option, parents need to bear different expenses like transport, study material whereas educational institutes need to spend money on infrastructure and its maintenance, stationery, electricity, and many other things.
When the learning is shifted from classrooms to virtual classrooms, a significant amount of money can be saved as only a single smart device and reliable internet connection are needed throughout the year. There is no need of printing worksheets, journals, assignments, or even question paper. Students can do all this online without wasting resources like paper, stationery. Vidyalaya will help them in making your institute resource-efficient with virtual classroom software. Also, the saved cost can help to divert the funds for improving the teaching methodology. An initial investment of purchasing the software will help the management to sustain and lead in the progressive era. The cost of infrastructure maintenance, transport management, electricity can be saved.
Better interaction between teacher and students
It was a fear that when students are introduced to virtual classes, how effectively they will get engaged in the classrooms as there is no physical presence of teachers. But this is eliminated as students are more likely to get engaged in this new form of learning.
Vidyalaya's virtual classroom system will help teachers to get connected to their students effectively with the simple to use interface. The chatbot option will allow the students to ask any doubts without disturbing other students. As the teacher can see all students in one glance, he/she is able to monitor the entire class effectively. The videos or material shared by teachers can be seen multiple times and students can ask doubts about it without any hesitation. Teachers can make groups and can enhance the soft-skills like team building, teamwork, collaboration among the students.
Instant feedback and result interpretation
When exams are conducted, students need to wait for the result. This period can make them nervous. On contrary, virtual classrooms can give you instant feedback or result immediately after answer sheet submission.
Vidyalaya's virtual software offers a time-saving solution for teachers as otherwise they otherwise need to take time for conducting exams, making sitting arrangements, taking the papers home for evaluation, and making a list of marks. All this overhead can be saved when the online exam option has opted. Also, parents can get instant feedback from the teachers about their ward's progress.
Easy accessibility and sharing files
In the traditional learning method, study material needs to buy from the vendor or school and other material can be received from the teacher. If students are absent for the distribution day, they perhaps may not get the material or get lately.
This is not happening in virtual classrooms. Even if the student is absent for the online session, the teacher can send all the files in the personal account or on the group so that there is no loss for the student. Virtual classroom software will enable easy sharing of files and will offer easy accessibility.
Now learning has not been limited to classrooms only. With the invention of technology, traditional classrooms are converted into virtual classrooms. The global accreditation after the Covid-19 outspread has boosted the use of virtual software across the world. Vidyalaya with its outstanding and feature-packed product will not only facilitate the educational institutes but also the students in not breaking the chain of learning. Also, both integrating parties will experience a new way of learning that will remove the blocks of the traditional learning system and will open doors to new-age learning. Implement Vidyalaya's virtual classroom system and get ready to provide quality education without breaking government guidelines in this challenging situation.