3 Ways Virtual Classrooms Help Improve Education Quality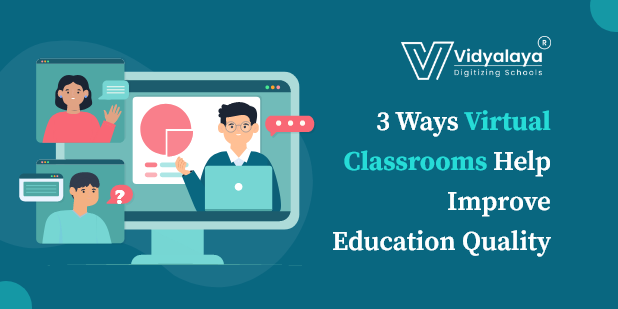 Have you ever imagined that students will learn from small screens and not by sitting on the benches in the class before a few decades ago? No, right! But change is the only constant thing and the education industry and way of teaching are no exceptions to this. Education is not bounded by the walls of the classrooms nowadays but has expanded the canvas unlimitedly with the help of virtual classroom apps available in the market. With the changing trends in the education industry, virtual classrooms made a special place, especially after the Covid-19 Pandemic. And even after that, the education institutes are insisting on sticking to the trend by realizing the benefits. 
What is a Virtual Classroom?
A virtual classroom is a digital replica of traditional classrooms where blackboards are replaced with digital whiteboards, and students and teachers are connected through a single platform where they can interact face-to-face through a video conferencing tool. There are many ed-tech providers that integrate virtual classroom apps in their school ERP to facilitate the institutes with this new way of learning. This is the best learning environment where teachers and students can share the study material, interact with other members, and even work together same as that in conventional classrooms. The only distinction of virtual classrooms is that it happens in a live and synchronous environment where participating entities don't need to leave their comfort zones. 
Why does a Virtual Classroom matter?
Vidyalaya, a key player name in the education software industry in India works extensively to integrate the latest technology into the traditional education system to make it better and sustainable for the future. To make the institutes ready for tomorrow, it integrates virtual classroom software as a core module in its school ERP.
Experts denote its significance as follows:
Virtual classrooms make it possible to avail of distance learning for students.

Sharing of study material is easy with

virtual classroom software

.

Higher interactivity through multiple communication channels.

Student-focused teaching is possible in real-time where students can ask questions or discuss topics in real-time.

The use of different media types in presenting the knowledge to the students break stereotypes of conventional learning. 
How does Virtual Classroom Software Upgrade Education Quality?
Education institutes continuously strive to invent different methods to bring more engagement and fun to the monotonous learning method. Additionally, teachers are loaded with non-teaching tasks that degrade the quality of education. Implementing virtual classroom apps can overrule all these flaws and can present a proficient option to improve educational standards.
Let's see how it does:
Improved Learning Process
If you want to bring changes in the monotonous learning process, virtual learning Software can help you to achieve the desired goals. Conventional learning comes with its own flaws like the emphasis on teacher-oriented learning, redundancy in processes, not being so-effective, and several others. Eliminate these flaws and introduce new ways that will be apt for today's gen-z students. Having proficiency in handling different apps is a cakewalk for today's kids, so fade your worries about handling issues.
Learn how virtual learning can improve the learning process:
Access to unlimited resources over traditional methods will definitely enhance the learning experience.

Schools located in rural areas don't need to spend infrastructure costs when they adopt the virtual learning method as students and teachers can accomplish the learning without location barriers.

Presentation of study material with different formats like audio, video, or text can improve the engagement of students over traditional text-based learning. 

Easy conduction of exams, rapid evaluation, and platforms for discussions will make the assessment process easy.

Record-and-play features will help students to revise the lectures by playing again until they get a clear understanding. 

Reduced overload for teachers as several non-teaching tasks is automated through

virtual learning software

like attendance management, report card preparation, assignment management, and others.
Improved interaction between Entities
How many times we have stopped ourselves from asking doubts in a fully occupied class because of fear of teasing or fear of teachers? People who have taken education before the virtual classes era must have gone through this situation at least once. Do you want the same to happen with your kids? No! Virtual classroom apps will never let this happen as they eliminate the fear factor and offers the freedom to ask doubts without disturbing other class members.
Furthermore, get to know how virtual learning software bridges the gap between teachers and students: 
Virtual classes are almost like one-to-one interaction so more student-oriented than the conventional method of learning.

The scalability feature can expand or shrink the classroom whenever the student count increases or decreases without affecting the quality of education.

Students have access to chatrooms and discussion portals where they can rise the doubts they have or can also ask teachers through one-to-one communication without any hesitation. 

Easy sharing of study material makes the process transparent and easily accessible and students don't need to depend on their classmates for missed classes.

Students can learn at their own pace by listening to recorded videos which is impossible in traditional learning.
Collaborative Education
Collaborative learning is a major part of learning where students work together on activities or different learning tasks in a group. The virtual classroom apps also implement this significant approach in a modern way. It integrates technology aids like discussion forums, chat rooms, and file sharing so that students interact with each other seamlessly and enjoy collaborative learning. This is all to mimic the real-time atmosphere of classrooms without having the necessity to meet physically.
So, here are the ways that help to foster the collaborative learning approach:
Video conferencing, digital whiteboards, and screen sharing will combine all learning groups together.

You can co-construct guidelines and expectations to enhance the learning experience.

Assign roles to students or ask them to choose their own roles to get the responsibility for the accomplishment of the given task.
Amidst all pros and cons, it cannot be denied that the virtual classrooms System in India has changed the way of education. Rather than relying on readable textbooks and professor notes, using a combination of various mediums like text, audio, and video prove to be beneficial for students in terms of a better understanding of the curriculum. Vidyalaya takes this noble approach forward with immense pride with its most-accredited virtual classroom software products and highly contributes to a step towards digitalizing education. Accept it or deny it, virtual classrooms are going to be the future of education.