Top Key Features of Online Classroom Management System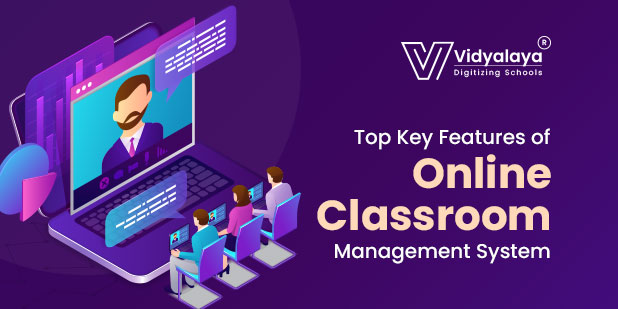 Online classrooms or virtual learning is no more luxury but has become a norm nowadays. Especially after Covid-19 outspread, educational institutes are thinking about the paradigm shift from physical classes to virtual ones. And, technology becomes a great contributing factor in this change. The education industry is taking leverage of the advancement of technology and an Online classroom management system is an example of how technology can bring improvement in the learning process. If numbers are to be believed, an estimate of $325 billion by 2025 is expected to generate by the educational industry in the digitalization process. The benefits of e-learning are tempting and facilitating students with an eco-friendly environment, easy installation, learning from anywhere, and many others. Vidyalaya is acing the market with its top-notch classroom system. 
What is a classroom management system?
Classroom management systems have taken e-learning to the next advanced level. The system ensures that everything in the education process is going on the right track. Instead of infrastructure-based classrooms, students need to attend digital classrooms. So, a classroom management system is a set of applications where teachers and students are fetched down to a single platform to exchange ideas for seeking new information. Monitoring activities like checking, managing, tracking of students are handled by the software with proficiency. The system enables teachers to streamline the teaching activities like conducting lectures confidently, teaching with more grace, and integrating different ideas to improve the learning process.
Vidyalaya is a perfect solution for classroom management system requirements as the experience in the domain makes them the reliable and accredited claimant for this. 
Need for online classroom management system
Challenges for an online classroom system may come in different faces and one of the bigger challenges is engagement and concentration of students during the sessions. There are different types of distractions in the manual classroom-led methods of learning that create the need for the online classroom system. 
Vidyalaya highlights the distractions as follows:
Students get highly distracted by electronic gadgets such as laptops, smartphones. The habitual use of these gadgets makes them harder to keep away for a longer time.

The manual method of classroom management is cumbersome and difficult for teachers to maintain track of each and every activity.

Delays in the decision-making process are one of the hurdles in the manual learning process.

Low-level activities like attendance, assignment, leaves are difficult to manage with the manual processes.
If your institute is also bearing the same issues as above, then Vidyalaya can rescue you!
Top technical factors that drive online classroom management system
There are many players in this domain that releases their products in the market but not all can sustain them for a long time. There are many factors like hardware/software management, web usage report, mobile-app integration that decides the success journey of the system. Vidyalaya has become a father figure in this domain with 20+ successful years, identifies the nerves of the customers, and at the same time, enhances the products to match the volatile demands.
Some of the technical factors that determine the efficiency of the system 
Controlled environment across all hardware and software.

Flawless control over all platforms that students are using like website, mobile app, media.

High-level monitoring on health and security of data and the entire system

Ability to perform remote troubleshooting
Key features of Online Classroom Management System
Vidyalaya's online classroom management software is enriched with various features. These features enable students to learn in the best possible manner.
HD and live video streaming capability
E-learning emphasizes virtual classes and pre-recorded videos to stimulate the traditional way of learning. Vidyalaya offers real-time video and audio streaming features in its online classroom management software that enables teachers and students to better connect with each other.
Grid View
If you want to see your class students as they sit in the class, the grid view feature is there for you. By turning this feature on, teachers will be able to see all participating students all at once on one centralized screen without any visual distraction. 
Meeting control facilities
Irrespective of the method of teaching, the teacher always needs to have entire control of the class to bring more effectiveness in the process. Vidyalaya's online Classroom system enables teachers to control the sessions by allowing setting restrictions on functionalities when needed. This can restrict students from making nuisance during the sessions. 
Screen sharing and live presentation
Teachers can explain educational activities by sharing their personal screens with students in real-time. It enables teachers to demonstrate activities and difficult concepts with ease. Screen sharing and live presentations plays important role in improving the learning experience. 
Interactive whiteboard and other communication tools
Education is incomplete without board and chalk, so traditional blackboard is replaced with a digital whiteboard in e-learning. Concepts that need to be illustrated with diagrams or figures are better to be taught with this whiteboard. It improves engagement and interaction as users can use the same board for writing, drawing together.
Session recording facility
The biggest benefit of adopting an online classroom system is that students are now able to revisit the sessions by playing the recorded videos which are nearly impossible in the manual learning method. Students who have missed sessions or those who need to revisit them for a better understanding of the concepts can use the session recording facility and be on the same page with other students.
Cloud storage and backup
Ditch your old, yellowish teaching material with digitalized copies. Teachers can take the leverages of cloud technology and can transfer entire teaching material on the cloud and access it from anywhere. Easy sharing and storing are possible with this feature. Students can also access the data anywhere, anytime with proper authentication. 
These are the major features that are commonly considered as must-have features in a classroom management system. Vidyalaya's team of expert developers can offer end-to-end customization and can embed the features as per the client's requirements.
If your students are obedient and understand your instructions very well, and are eager to adopt the new-age technology, then you must not be worried about the implementation of online classroom management software. Just a little bit different approach can make your life easier than it was when handling a live classroom. Vidyalaya's constant support and a team of experts can help to participate stakeholders to grace the performance and apparently experience a rich learning experience. The software is making noise in the market with its top-notch features. Go ahead and implement the software and open doors to millennial generation learning.