How Online Classroom Software is changing the current education System?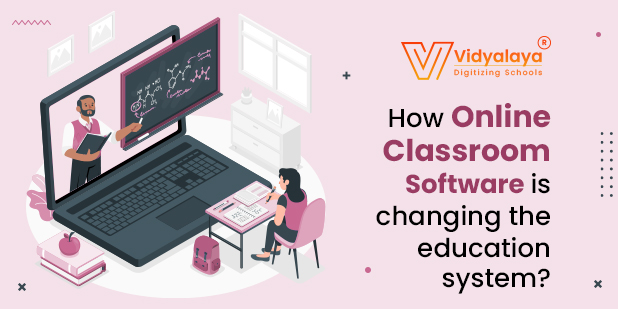 We have seen the evolution of the education system over the years, like from Gurukul to various boards-affiliated schools. And, now from classrooms to virtual classrooms. There may be changes in the nature of education, but the essence of it remains the same. Additionally, the outspread of Covid-19 and its variants restrict us from going outside our home. But as the other industries are offering work from home policies, educational institutes are insisting for study from home. For continuing education in this challenging situation also, online classroom software is playing a significant role. Vidyalaya with its mission of digitalizing education facilitates the education industry with different software that can help institutes to move ahead in this digital journey.
What is online classroom software?
Vidyalaya's online classroom software is a software that connects teachers and students on a common virtual platform for serving the purpose of learning. The software may facilitate its end users' different communication channels such as live chat, online sessions, a common group board along with other features of the digital board, attendance monitoring.
The software aims on breaking the stereotypes of education can happen only in the classrooms, at the same time offering users a seamless experience with its easy-to-handle user interface. The platform has the capability of transforming traditional learning methods into advanced digital learning. Also, users can experience the dissemination of content from traditional books to audio, video, graphics.
How Vidyalaya is helping in changing the current education system with its products?
There is extensive competition in every industry and the education industry is not an exception. Every education institute needs to give some extra to its stakeholders to stand on the ranking position. Parents of today's age are also more proactive for their ward's education, so they want the best facilities at schools to make them fit for the future. Vidyalaya understands all these requirements and introduces a classroom management system. These solutions play a significant role in serving the learning purpose in in-person, hybrid, and virtual modes. The products are rich in features and are contributing to redefining the current education system so that students will not bother with advanced technology-based practices in the future.
Here is how they are accomplishing the change:
Connect to best teachers
When you opt for a classroom management system, you are not limited to limited teachers, limited study material. Students can connect to famous tutors across the globe without going out of their comfort zone, provided that they have a reliable internet connection and learning aid software. Vidyalaya offers seamless communication between teachers and students so that focus is on core learning.
In traditional classroom-led learning, students may have a lot of disturbances in the class that may result in poor concentration. Also, some students may not have that much courage to stand and ask the doubts they have in front of the entire class. These all are necessary things during the educational journey of a student. So, Vidyalaya reshapes the experience by offering an online classroom system where students get a dedicated platform where they can ask doubts, have no disturbances. Also, chat sections, facility to connect teachers will help students to get clearance for their doubts. This will help students to get connected to the best teachers and have a mesmerizing learning experience.
Record live sessions
You must have gone through the experience of missing important lectures because of any reason. The extensive reading or following the teachers for getting a thorough understanding for the same topic, taking help of friends, all these you must have done to refill the loss. That time everyone imagined that how about recording the lecture!
The same concept is implemented by Vidyalaya's expert team in its online classroom software. The software enables the broadcasting of lectures in HD that provides high quality so that students can understand the topics clearly. The facility of recording live sessions will help students to review what they have missed. Also, they can watch the recorded sessions infinite times to get a better grip over the complex topics. This is almost impossible in the manual learning method.
Improved efficiency for teachers
Teachers in the traditional chalk-and-talk method are not less than victims. They have loads of tasks that they hardly get time for core teaching. Activities like taking attendance, preparing reports, designing the syllabus, setting question papers, evaluating the answer sheets, preparing report cards, checking assignments, make the teachers extensive busy. All these activities are tiresome, resulting in losing productivity.
Vidyalaya boosts the efficiency of teachers by offering them a sustainable classroom management system so that they experience reduced workload in the first shot itself. Almost all activities mentioned above are automated through the software, so they need to concentrate on just quality teaching. Teachers can create quizzes, debates, assignments, or can conduct exams without making so much prior arrangement.
School App
Today's world is of smart gadgets. Everyone has access to smartphones and so Vidyalaya decided to bring education into smartphones. The mobile-friendly app of the online classroom system will help stakeholders to connect with each other without bearing the restrictions of place, time. Also, the reduced use of resources will make it more efficient learning. Students need only a smartphone and a reliable internet connection.
Get the parents in the loop
Have you ever remembered that your parents came to school for taking updates on what is being taught every day? They came to school for parent-teacher meetings or report card collection. But Vidyalaya doesn't want to lose parents and keep them updated about the progress of their child using online classroom software. Parents can get updates about what is being taught and what other activities are being conducted using the software.
As new variants of Covid-19 are restricting us from going to schools or colleges, it is also necessary that education must not be halted. To balance both sides, Vidyalaya offers you the Virtual classroom system that will help both participating parties to experience new-age learning. It will help to sustain the skills development when there were no schools open. Understanding the challenges and benefits of virtual classrooms, Vidyalaya offers seamless products that will help strengthen the engagement between schools and parents in the learning journey. Raise your bar in the field of education with the help of Vidyalaya's holistic and innovative learning aids and set an example for others!