Grow Your School With Vidyalaya School Management Software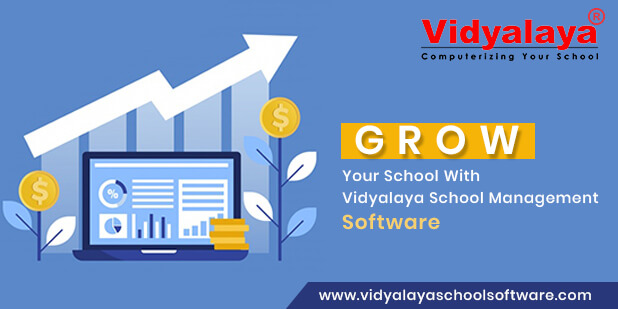 Managing multiple institutions at the same time is not easy for everybody. It requires your complete attention as it becomes hectic, tiring, chaotic, and is also very time-consuming. Being an owner of schools and dealing with everything is already a big task to achieve and it becomes even more difficult if you are using the conventional or legacy management systems to keep things moving. You need expertise in handling different or various areas in school management. As the school management works on many areas on a regular basis such as administration, academics, marketing, accounting, student attendance, admissions, and many others. It needs a system that can lighten the burden on their shoulders. Guess what? We have a solution. All these things can become ten times easier if schools start using school management software. And not only that but if you have a profit-making mindset then the marketing zone will also require your keen attention. So, this can also help you gain valuable insights in the form of reports and alerts. So, you can make big and right decisions to enhance your school business without facing many difficulties.
School management software is basically a school ERP software, collecting all computer instructions designed to manage the day-to-day administrative tasks of schools. It brings all the information on a single or unified platform hence making the users more efficient and productive than they ever were.
It comes with many benefits and makes all the work extremely easy and comfortable. But most importantly, how does it benefit the owners to expand their school business?
The answer lies in six points. Below I have mentioned six ways which can help you in expanding your school business.
1) Customization According to The Diverse Needs of Multiple Schools :
Customizing according to the different demands put forward by the independent schools is one way through which the software helps you. The different schools might be dealing with different things at the same time. Also, they might operate on different systems and operations. So, they will need the software to fulfill all the requirements on time. The customized and properly structured software can manage and club all these requirements. This helps to maintain diversity while keeping the core structure the same in every school.
2) Marketing Automation Leading To Increase In Student Enrolment :
With the new generation bringing all these advanced technologies and software into practice, the school management software is definitely a blessing for the schools. With different modules available with school management software, this can help the schools in increasing student enrolment every year.The software introduces new ways such as inquiry, application for registrations and online forms, etc. These ways along with the management by the admission team is a blockbuster marketing strategy. You can garner all important information to gain access to various admission procedures across campaigns and many more. You can, of course, use the information according to your convenience so that you can benefit your business.
3) Optimizing and Automatization of Human Resource Management To Improve The Efficiency Of The Staff :
We all know that an institution like a school not only needs an owner but a team that can make it a success. It is managed by staff members and everyone contributes their best to make it a respectable and reputed institution. It is not hidden from us that teachers play a very crucial role in making a school business a super hit. Now it's not necessary all the teachers will have equal skills. But with the help of school management software, you can analyze, judge, and generate reports on their respective performances. And then you can take the necessary measures to improve their working efficiency. This will enable them to work seriously as they will know that the administration is keeping an eye on them.
4) Opening Of New Digital Ready Schools :
After you have the customization solution in your hand, you are set to open digital-ready schools instantly. You just need to make a new instance of the school management software for your new school and arrange it according to the requirements of the school. Offline schools face the biggest challenge of coping with the change while transforming all their work into the online platforms as it is new and totally alien to some people. Since digital-ready schools will be online from day one so they will not face such problems. But the administration and the other staff still have to educate themselves on how to operate the software.
5) Automatization Of Academic Progress Of Students :
Just like the teachers' data, the collection of student academic data can also help to enhance student performance. Comparing and introducing healthy competition will arise a sense of responsibility and compulsion in them to perform effectively. Also, analyzing their performance with how they respond to their teachers will help the administration to know their equation with their teachers. You can use this to take useful measures to build an even better and comfortable relationship between students and teachers. Also, with school management software monitoring students' individual performance and progress also become very comfortable. School management software helps the school to make a positive and powerful impact on their students. Thus, the student progress report grows in number and so does your school business.
6) Utilization Of School Resources Effectively :
All the schools have equipment and facilities which they use to fulfill multiple purposes on a day-to-day basis. The school management software will help you to maximize the use of your valuable assets. It allows you to make proper data of all your equipment and facilities. It provides you with the schedules for their use and even for maintenance and repair. This is how school management software helps you to optimize your resources so that you can convert them into long term investments There is so many School Management Software available in the market today. But the smart would choose the smart. Vidyalaya helps you go online and Virtualize your school. An easy-to-use solution for your administration. A popular and world-wide used software with more than 1300 satisfied clients Globally.