Top Digital Marketing Tools to Grow Your Educational Institution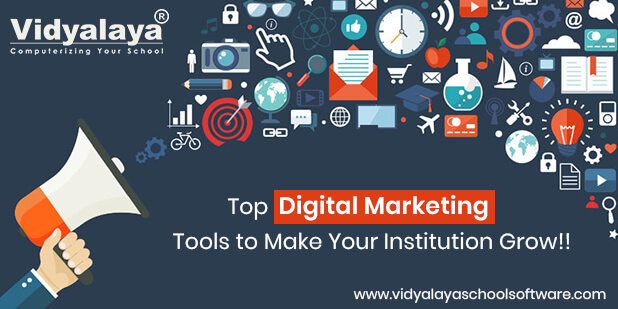 There are multiple changes seen in the marketing field over the years on how one can promote their school. With the time moving forward so fast, technologies are also transforming from human activity to the virtual space. Our work, study material, education, leisure, almost everything is online in today's era. Education sector or rather Education Businesses are not far and this sector too has become more competitive and sophisticated with the advancement of the internet. It would be completely fair to say that businesses in the education sector are using the web platform to get maximum advantage and reach out to more students and parents with a click of a mouse. So, if your is not online, can it be even counted as existing nowadays?
In the last few years, digital marketing has grown so rapidly. Especially in the year 2020, the impactful way to get your school bigger is digital marketing. As it is evolving each day, it has become a kind of mandatory to have their footprints in the digital world. And if you have not taken the first step yet, it's high time now.
But growing your presence online is not an easy task. If you want your school to be on top, you need to be familiar with the multiple digital marketing strategies and how to utilize them for your benefits. To help you strategize and implement the different digital marketing initiatives, there are numerous digital marketing strategies, software and applications available in the digital market.
Following are some effective digital marketing strategies that Educational Organizations must adopt for a successful marketing campaign and drive maximum value:
1) Analyse Your Website :
Your website should be user friendly and informative. Should have all the content that would motivate the students and increase the trust amongst them for your education institute. Not just students, it must also be able to strike the right chords with the parents. Also, most digital marketing tools out there have built-in analytics. Some have social media analytics that shows how your content performs on a variety of social platforms. However, it's important to keep an eye on the data about events that actually take place on your website from clicks to conversions and beyond.
2) Test Your Website :
The smallest changes can make the biggest difference when it comes to getting people to convert on your landing pages. Just changing the colour of your call-to-action button can spell the difference between scoring a free trial sign-up and someone bouncing. From all the digital marketing tools present in your toolbox, anything is a major plus that helps you test or optimizes your site for conversions.
3) Write Blogs :
Blogs are the new way to attract audiences towards your campaign and also a great source to share your knowledge. If you post blogs that share current affairs and educational information on a regular basis, it definitely not only promotes your educational business but also motivates and inspires students as well as faculty members to learn, write and share information.
4) Search Engine Optimization(SEO) :
When it comes to digital marketing strategies, the major help we need is in SEO. Having the right keywords helps drive the targeted traffic on your website. SEO is definitely helping reach out to more and more students via the internet and thus plays an important role in the effectiveness of using this digital marketing tool as a great marketing success strategy. Do the research and add in as many keywords as possible related to online educational organisations and educational blogs.
5) Social Media Presence :
Promoting your business through social media platforms such as Facebook, Twitter, LinkedIn, Instagram can prove to be very advantageous. Social Media is very popular amongst students, faculty, and prospects and is one of the best ways to reach your audience in a friendly manner.
6) Email Marketing :
Sending out an Email that contains the answer that a student is looking out for is the best way to cash out on this type of digital marketing strategy. It is one of the most cost-effective ways of reaching your target prospects without any investment. The ideal way to go about is to create a separate mailing list for different categories of prospects. For E.g. different mails for students, parents or course specified emails.
The first email was sent way back in 1971, so it's kind of strange to think of how big a part it still plays in digital marketing at large. Despite being one of the oldest marketing tools, email is easily one of the most effective marketing channels in terms of ROI. Email usage continues to grow approximately 4% year-by-year and has no signs of slowing down anytime soon.
7) Online Reputation :
Build an online reputation for your institute that surely will attract the required attention and prospects. Maintain best blogs, videos, testimonials, rope in inspirational personalities, faculty interviews, etc. so that it builds interest in the mind of the audience and leads to a great online reputation for your educational organisation.
8) Video Hosting Sites :
Video content is on track to take over 80% of all web traffic by 2021. As a result, video has become a marketing major rather than including it in extra or secondary channels. With much effort needed to create and publish videos, it's important to make sure you get as many eyeballs on them as possible. An effective way to do that is to host them on some of the popular video platforms which draw attention in large crowds of viewers beyond YouTube.
9) Customer Service :
Given that we live in a call-out culture, customers are turning to online channels to reach out to brands with their inquiries and complaints more than ever. If you're not there to engage with these customers it reflects poorly on your brand, and you could potentially lose their business forever. Consider one of these customer services tools to streamline your customer service process and to ensure you're responding to all of your inbound messages.
10) Display Retargeting :
Ads that "follow us around" from sites we've visited or shopped on have exploded in popularity over the past couple of years. These are retargeting ads, and even if you haven't heard of them by name you've certainly been targeted by them in the past. Retargeting is immensely efficient for getting customers back to your site to make their interest and come to your school when they otherwise would have been bounced traffic.
11) Conclusion :
Thus, in conclusion, educational businesses must walk on the path of digital marketing to reach their goal of success and profitability. An honest balance of the offline traditional marketing and online presence is the mantra for success. A good digital marketing agency can help you plan and implement your digital marketing campaigns most facilely. Need a few more tips to contact us at from Vidyalaya school management system