How does Vidyalaya Online School Management Software help in Managing School from Home?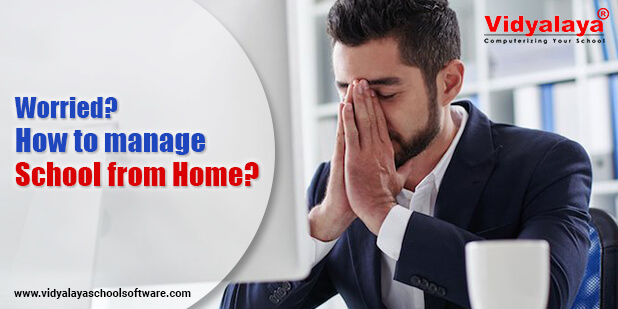 2020 sure has brought some tough times for all of us. Worldwide Pandemic, Floods, Earthquakes, Forest fire, Global Recession, Locusts attack, and whatnot. In just 5 months, everything is upside down. People are locked in their own houses for the safety of themselves and the people around them. And of course, that is what suggested and should be done. But because of that our lives should not stop. It must go on. Especially when it comes to education. Students are the future of the nation, and we need to preserve it. Due to the lockdown, studies must not suffer.
Now the question is, how to manage school from home? As going to school and asking students to come is a risk to everyone's life. In this situation, everyone needs to act smartly and in this era of all new technologies and the internet, nothing is at bay.
Vidyalaya offers you a complete online school management software. Now access your data anytime and from anywhere.
Vidyalaya encourages Digital India, Digital School. With us, take a step ahead and help to Empower Indian Education.
Wondering how Vidyalaya comes in picture? Following are some features how Vidyalaya online school management software helps you within this pandemic situation:
Online Admission :
With Vidyalaya's Admission module, we provide a plethora of features that will help you take your admissions completely online.
With Vidyalaya Admission Module you have access to :
Set minimum merit marks a student should have to have admission in your school
Select students from the inquiry lists for further process.
Take follow-ups of the selected students as per your merit list.
Sort them whoever qualifies for the school.
Fill complete details of the sorted students in the admission form.
Convert the selected students to your school.
Print reports from the multiple inbuilt report formats.
Online Fee Payment :
Vidyalaya Online Fee Payment is one stop where you can take fees online.
With Vidyalaya Online Fee Payment :
Parents can pay students fees online while sitting at home through Vidyalaya Online payment gateway.
Easily Parents can pay fees at their convenience & get instant receipts & reminders on their paid & due fees.
Vidyalaya Online Fees Payment helps you to collect fees instantly & securely.
E-EXAM MODULE :
Prepare students for competitive examinations. Take tests online with the Vidyalaya e-test module. Assess them on a regular basis and help them get ready for their future.
With Vidyalaya E-Exam Module you have access to:
Set Multiple Choice Questions.
Prepare a topic wise tests.
Set the difficulty level of the questions.
Set negative marks.
Set a reminder in the test.
Display results after completion of the test.
Allow students to review their answers.
VIRTUAL CLASSROOM :
Vidyalaya presents you a plate of Online Learning. Provide lectures online or offline through Vidyalaya Virtual Classroom.
With Vidyalaya Virtual Classroom Module you have access to :
Share recorded lectures.
Study material, in the form of pdf, document
Share reference links of some webpages.
Share assignments with students, topic wise or all together.
Also, conduct online lectures just like video conferencing.
Track individual student's attendance as well.
Set their audio and video according to you.
Share screens to highlight some important topics.
Whiteboard option if the teacher wants to explain something by writing.
Set the students you want to keep for the lecture according to you.
Lock the meeting so that students cannot enter afterward.
Vidyalaya Mobile Application :
Connect and communicate with parents as well as students through the mobile application.
With Vidyalaya Mobile Application you can :
Manage multiple logins in one application: Student's, teacher's and Management
Assign User Rights according to roles.
Attend and give lectures through the application.
Assign activities to students.
Give them homework date and subject-wise.
Plan their lessons in advance.
Give them assignments.
Integrate your YouTube channel with software so that students can watch videos through the mobile applications.
Add or see queries of students & parents.
Assign tasks to students as well as teachers.
Take a poll from students for their choices.
Take feedbacks from students or staff.
These are some features that Vidyalaya Online School Management Software offers you and help your organisation's administrative go completely online & to manage your work hassle-free.