Timetable Scheduling Made Easy with Vidyalaya Timetable Software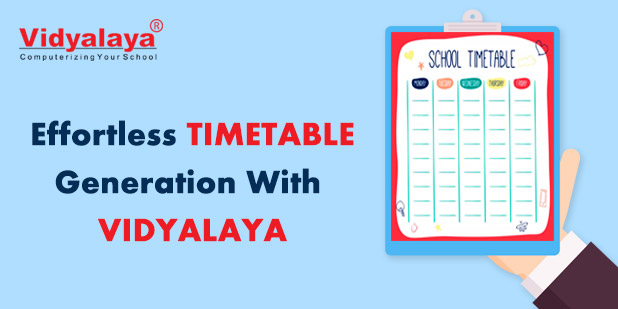 Being India's leading school management software, Vidyalaya always tries to better understand the pain points of School Staffs. After a lot of digging, we found the same type of dialogue/remark coming our way, "We just wish we could automatically generate timetables! A school management system with automatic timetable management would be the best!
Time Table is a very important & daily necessity of any educational institute. Any educational institute has to manage all the different aspects of the process. Assigning of the teacher to the classes, announcing an events or coming up with a sharp change in time allocation for the teachers is a day to day activity. Time Table software in Vidyalaya helps to take care of all the timetable management under one roof.
Vidyalaya timetable software is so simple and user-friendly that makes your daily work & its allocation easy. All one has to do is to enter the basic data and names & Vidyalaya Timetable software will auto-generate the timetable. Also, it allows you to have necessary customizations in your timetable as per institute system.
Benefits Of Timetable Software:
Paper Less Work: Through manual timetable, you are stuck with paper, managing teacher and subjects allocation to the classes, which leads to a very confusing and lengthy process. Here Vidyalaya timetable software helps to create the timetable by just adding basic details very easily.
Customization and Flexibility: One of the major benefits of the Vidyalaya timetable is that you can customize your timetable according to your need. Admin Can set multiple criterias

like assign the first period to the class teacher, proxy setting; continuous lecture assign to the same teacher etc.

Easy Process: By doing some basic steps like assign teacher, assign workload, time setup can generate the timetable quickly.
Generate Report: Generating different types of report with the Vidyalaya is so easy. Different combinations of reports such as subject timetable, teacher timetable, division timetable, school timetable etc are instantly available.
One Time Process: Vidyalaya timetable software is so easy that you have to do the process once & can transfer the same timetable for next batch also. If required you can easily allow do

minor change & can use it for multiple batches.

Save Time: Vidyalaya timetable software is very easy, user-friendly and time saver for the institutes to manage the timetable easily.
The major & unique functionality of the Vidyalaya Timetable Software are
Time Setup: Can set lectures according to teachers availability.
Division Work Load: You can assign weekly subject workload according to divisions.
Teacher Work Load: Manage teacher total week lectures quickly. You can also import the lectures directly on basis of subject assigned to the teacher.
Guest Lecture Setting: Can arrange special lectures of guest faculty in your timetable.
Proxy setting: Set Proxy employee easily through a proxy setting screen.
Teacher Time Off: Can manage teacher time off on weekly basis.
So, let's make the timetable generation easy this academic year with Vidyalaya Timetable Software.