What is the Importance of School Timetable Software?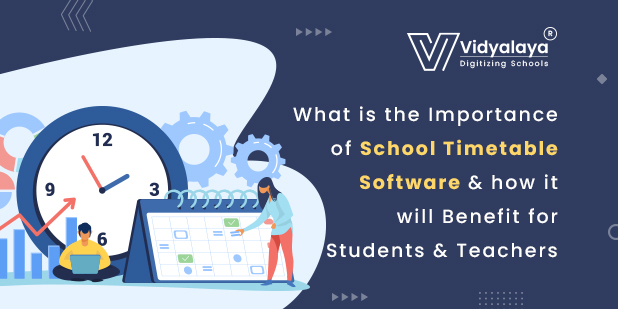 In today's environment, schools must embrace technological advancements to compete and surpass their peers. The revolution in timetable management is a relatively new phenomenon in education There are a number of school timetable software that serve a variety of functions. Schools can utilize school scheduling software to plan their day-to-day operations flawlessly.
One area that is frequently perceived as chaotic, messy, and time-consuming is time management. The use of school scheduling software may greatly reduce the issues that school administration has in the creation and operation of the software. We will go through the main reasons why you should utilize timetable management software in this blog.
If you are a teacher, you realize how time-consuming and irritating it is to manually prepare schedules for each class and change them based on instructor availability. Students can use the Timetable Management System to register for courses and examine how each course component fits into the timetable plan. Timetable software allows for easy scheduling of timetables, in addition to a slew of other advantages for schools, universities, and other institutions.
They are as follows:
Enhanced organization:
All activities at the school may be properly coordinated using schedule management software. Timetable management software can efficiently handle and arrange class times, assigned teachers, free periods, intervals, replacements, and so on.
These processes were exceedingly difficult to perform before the invention of schedule management software, resulting in many difficulties. The development of schedule management software, on the other hand, has resulted in a more organized workplace.
Cost-effective:
You will squander money if you maintain your school schedule on paper, in a file, or elsewhere. On the other hand, implementing school scheduling software requires less cost and is considerably easier to administer than old methods. Timetable software is a must-have since cost-cutting methods are typically accepted.
Time-saving:
In addition, timetable management software saves a lot of time in schools, which can be used for productive purposes. Each operation in the offline approach is carried out with the aid of people, which demands a large amount of paperwork and, as a consequence, a substantial amount of time. However, scheduling software allows us to do all of these tasks effortlessly with a mouse. As a consequence, considerable time will be saved.
Automation of processes:
It will automate the whole offline method with the introduction of school management software. At the same time, different processes such as creating a timetable, assigning teachers to periods, calculating exam dates, organizing free periods, substituting teachers, and scheduling various cultural activities such as school youth festivals are handled automatically. These other processes require manual input to function.
Response time is reduced:
Because the offline technique is unsuccessful and sluggish, if a teacher needs to be substituted, it will take more time. It decreases the efficiency of class performance and interrupts the job schedule. However, due to the school administration software, the teachers will be appropriately assigned for substitute hours. It will result in a speedier response and, as a result, avoid all of the difficulties associated with offline approaches.
Improved planning skills:
When timetables are managed offline, planning becomes a risk and a challenge. It will be prone to mistakes because it is done with humanitarian aid. Better planning, on the other hand, may be accomplished with the introduction of school scheduling software. For example, if a teacher tries to depart, it may take care of all the time allocated to them during that particular day on top of all the other faculties; if an individual does this, there will be many mistakes.
There is no data loss:
When a manual timetable is established, it is stored in hard copies, along with its related activities such as faculty management, time management, and so on, which increases the possibility of physical damage and property loss. If this happens, it will endanger the school's whole functioning. Other possibilities include environmental variables and insects destroying these copies. To help prevent all of these issues, we might utilize software like Timetable Management. The school scheduling program creates soft copies of files, assuring their preservation and protection.
Automation of reports and enhanced efficiency:
Automatic reports based on the timetable may be created using this software. It includes faculty working hours, free times, and time spent on free intervals, among other things. We may utilize the reports to identify management issue areas and apply new techniques to remedy them. It increases the school's overall efficiency.
Eco-friendliness:
The program handles all schedule administration tasks while utilizing timetable management software. It saves a lot of paper and other trash, helping us to be more ecologically friendly.
Brand value has increased:
The use of school software helps increase the value of your school's brand. You may be assured that your forward-thinking approach to activities will attract many kids to your school each new academic year.
These are the many services that a school may receive from a schedule management program.
Conclusion
In today's world, employing a timetable management system rather than manually creating a timetable is preferred. It helps reduce risk and the difficulties of school authorities, notably teachers who are in charge of creating timetables. As a consequence, using software to improve school management is preferred.