Advantages of Implementing a Timetable Management System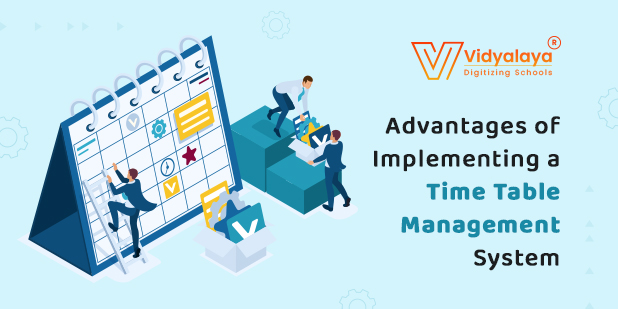 "Time isn't the main thing. It's the only thing."- Miles Davis.
The importance of time has never changed and is applicable at any phase of life. But the importance of time happens to be at its peak in the student's life where the actual life journey starts. Schools are the best place where discipline and the significance of time can be taught in better words and ways. To address this, all schools follow a definite timetable which is mostly designed at the start of the academic year. Understanding the importance of all subjects, their weightage, and the availability of teachers, a timetable needs to be prepared. But considering all these things at a time and coming up with a fully functional timetable may be tedious work to do. With the help of a dedicated timetable management system, this can be a piece of cake! Explore why to switch from a manual timetable design approach to an automated one and what are the other benefits!
Why timetable plays a significant role in academic life?
Creating a timetable may be a daunting task. It refers to different processes like the teacher's schedule, subject-teacher coordination, classroom-subject-teacher coordination, and several others. One may think what if there is no timetable that needs to be followed in the school? If you are also fascinated by such ideas, then first get familiar with the significance of the timetable in the educational sector:
Timetable ensures all subjects get their deserved weightage and are taught to provide an all-around development of the child.

Teachers can face less workload and have a fixed routine which may not be if there is no timetable. This can also add great coordination among the staff.

Having a timetable can promote soft skills like self-discipline, punctuality, orderliness, and regulation which are essential for child development.

Students will carry limited study material as per the day's schedule so they will carry less luggage without missing anything.
What are phenomenal advantages of a Timetable Management System?
A timetable management software overrules all the flaws of manual methodology and makes timetable designing a simple task with few clicks. Here are some advantages of the Timetable management system:
Hassle-free Timetable Creation:-
Noticed the tension bared by teachers and the planning committee just before an academic year starts? Setting a timetable for each class with all available sections is a nerve-cracking exercise and that too every year! Check the subjects, their weights, the teacher's availability, classroom management, and thousands of things to consider before making a timetable. Switching to ERP-integrated timetable management Software keeps you away from all these hassles and gives you a clash-free and hassle-free timetable by inputting primary data within a few clicks. Ditch those worries and let your teachers also have a fresh academic start! 
Clash-free Infrastructure Management:-
Have you ever encountered an incident where the same teacher is allotted two classrooms at the same time? Manual approach to timetable design used to yield such flaws often as it becomes difficult to manage everything manually. Surely, a lot of effort and time is wasted in the rectification of such flaws. But the timetable management Software comes with a flawless timetable considering the number of classrooms, their availability, subjects, teacher's availability, and others. So, it ensures optimum utilization of available resources, including co-curricular activities like lab work, library, sports, etc. This gets highly beneficial in maintaining clash-free infrastructure provisions and making academic life smoother. 
Flexibility in Implementation:-
Remember the chaos when a teacher became absent? Adjusting lectures was such a nightmare in such situations. But no worry, when the online timetable management Software is there! You will quickly get all information about all teachers' availability and you can manage the situation with grace. You can even make sudden changes and can inform students and teachers through online mediums. Also, this approach enables you to configure the timetable according to your educational institute's policies. So, the customization is at its best with timetable management software. 
Overcomes Flaws of Manual Approach:-
Manual approach of timetable design is more tedious. Teachers need to sit around a table considering all the possibilities and availability like classrooms, teachers, subject weightage, and others. They have to take care of avoiding clashes and need to come up with a flawless timetable. Also, making on-time changes in this timetable is not possible. So, this approach becomes outdated. Online timetable management Software overcomes all these flaws and enables users to desire flexibility and simplicity in the process. It also enables you to generate the working hours of teachers and sync with the payroll module. This also eliminates the wastage of resources and makes your system eco-friendly. 
What are the features of Timetable Management System?
The features of the timetable management system fascinate educational institutes to have the module. Here are they:
Automatic timetable creation– Academic timetable is automatically created by skipping the hassles and the same is shared with all stakeholders.
Easy Updates– It is possible to make changes in the schedules and inform the relevant stakeholders prior to avoid consequences. 
Secure and eco-friendly– Digitized version of the timetable is safe with a cloud server and also promotes an eco-friendly approach. 
A timetable has been an integral part of academic life. It teaches us discipline, recognizes the importance of time, and avoids further unfair consequences due to the incompleteness of tasks at a particular time. Taking this significance ahead and making it a simple process, Vidyalaya owes you impeccable Timetable Management Software. It helps to construct a well-organized timetable and establish a natural rhythm and routine, which is equally beneficial for students and teachers. Prefer us for ed-tech products that understand your requirements. Increase the productivity of all stakeholders by having a perfect plan for all academic days by implementing it with a perfect timetable. Let Vidyalaya be the timetable designer for you!