Overview of Curriculum Development: Type, Principles & Process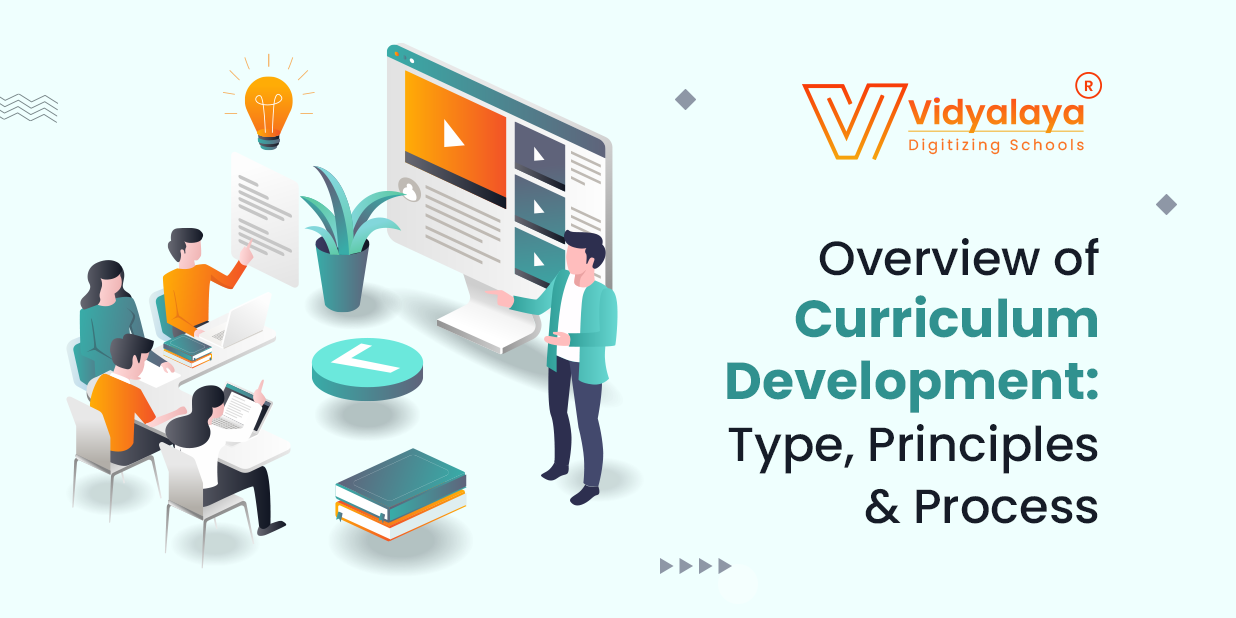 While deciding on a course as a career, what we see is its curriculum. Right? The components of a good curriculum can fascinate students to enroll and make a shining career in the stream. Offering a thoughtfully designed curriculum is a basic prerequisite of a quality education. So, if you want engrossed enrollment, your curriculum portfolio must be impressive and updated. However, the curriculum development process is not as easy as it seems. It requires a lot of planning and preparation. Technology and visual aids have contributed a lot to this aspect to make this daunting task smoother. Let's learn what is curriculum development, and other details about it.
What is Curriculum Development?
Curriculum Development is a process of planning and designing educational programs and relevant materials to meet today's updated educational standards. This step-by-step process creates a plan for the course and involves researching and selecting appropriate educational content, designing manuals, evaluating the existing content of the program, and making the changes to achieve the aim of offering a comprehensive learning experience.
An effective curriculum is related to students' success when: 
Curriculum sets measurable targets and evaluates progress with reliable assessment tools.

It is adaptable to change and modifications.

It is relevant to educational standards for each grade and content.

When it is prepared by sequential process – monthly, grade-wise, then year-wise, considering the knowledge and skills requirements as per the standard. 
Curriculum development is a result of a collective process and several entities are involved in the process like:
Subject matter experts

Education experts

Curriculum program and textbook publishers

Content creators

Government and school officials

Educators
What are the Different Types of Curriculum Development Models?
A Curriculum development process has major three models and any of them can be adopted. Here are the three types:
1. Subject-centred Curriculum:
This is the most traditional approach to curriculum development that focuses on a particular subject. While doing this, one has to focus on the facts and information apt for students' grasping age and grade. This has further subtypes: 
Subject area design

Discipline design

Broad field design

Correlation design
2. Learner-centered Curriculum:
Each learner is unique and is equipped with different characteristics. The learner-centered curriculum is based on this and allows learners to take ownership of a project. The well-regulated liberty enables students to become more active in classrooms under the teacher's guidance. This approach has four distinct attributes:
Context

Construction

Collaboration

Conversation
3. Problem-centred Curriculum:
This form of curriculum development system enables students to have autonomy and responsibility. Students are challenged with real-life situations and more focus is on developing problem-solving, communication, and thinking skills. This approach encourages students to apply their knowledge from one content area and work in teams. 
What are the major Principles of the Curriculum Development Process?
Stakeholders of the educational system are the beneficiaries of the curriculum development process. Having an efficient curriculum and instructional strategy is one of the concrete pillars of the knowledge delivery process. This process is built on the following principles:
1. Student-centeredness:
Conservative curriculum development was stuck to the predetermined set of courses, whereas, progressive one considers a child's capabilities, motives, and needs. The design committee also considers different ways to enrich student's interests while designing the curriculum. It should also foster the learner's mental needs through cognitive learning and practice.
2. Integration:
Different subjects should be part of the curriculum and should be added at different stages of the education. Not only this but existing subjects should be integrated with other courses so that students can relate to the content.
3. Flexibility:
The curriculum development process should be dynamic and flexible. It should serve the instructional needs of the individuals and society. Also, the curriculum must be modified as per the changes in needs and time to attain the updated academic goals.
4. Totality of Experiences:
Curriculum development is not merely relevant as an academic process but it is directly connected to curricular, co-curricular, and extracurricular activities. The comprehensive approach of the curriculum should give the totality of experience to students.
5. Character formation:
Students enroll in schools not solely to obtain academic growth, but also to develop a good personality and character. So, the curriculum must boost this aim and should prosper the process so that students become responsible citizens with values, discipline, and self-awareness in society.
What are the Different phases of the Curriculum Development Process?
As the entire curriculum development process spans a large canvas and consists of several techniques such as task analysis, objective design, selecting teaching and assessment methods, forming curriculum development committees, and so on. Thus, this process is divided into phases to ensure the development of an effective curriculum.
The five main steps are implemented to create an effective curriculum -either from scratch or modification in the existing and they are:
Assess the educational needs, including researching the learner's needs, the scope of the program, educational trends, etc.

Selecting the learning experiences based on the objectives. Also, ensure the smooth transition from elementary to middle school and from middle to high school by taking care of efficiency and impact.

Curriculum team builds a program linked to standards and objectives. Sequential lessons are developed based on increasing complexity and students' prior knowledge and skills. 

Launching of the latest curriculum package. Give sufficient time and training to teachers to become familiar with new course material. Get feedback from stakeholders and commit to encouragement and support.

Timely and accurate evaluation of all the above processes. 
Curriculum development is a planned and deliberate course of action for creating educational programs for schools, colleges, and universities. This ultimately delivers an enhanced quality and impactful learning experience to students.  This crucial process enables educational institutes to bear pace with changing educational needs. EdTech software companies like Vidyalaya, play a prominent role in adopting the changes and incorporating them into academic education. Educational software equipped with progressive tools like virtual classrooms, inquiry-based learning, and personalized learning aids into the curriculum development process and achieving the ultimate goals. Customized learning solutions can enhance professional development, fostering parental engagement, and scalable and affordable factors.