Full Guide about Learning Outcomes-based Curriculum Framework (LOCF)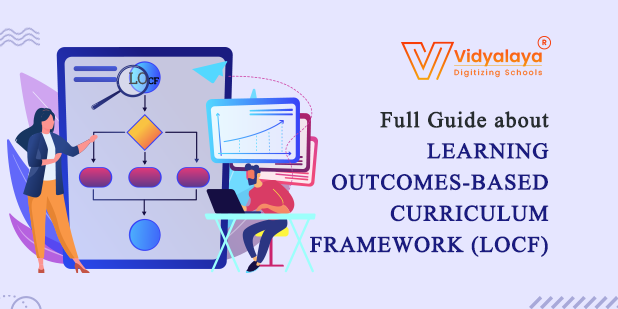 If you are a regular follower of educational news, then you must have come across the revolutionary news of Delhi University reshaping all its undergraduate curriculum programs as per UGC's learning outcomes-based curriculum framework. I Wonder, what is this new funda? Well, the University Grants Commission is rapidly changing its underlying structure and strategies to make a perfect fit for global exposure. This one of the prominent autonomous bodies struggles to ensure the best quality education in the Indian region. Like several other education-reshaping programs, the introduction of an outcome-based approach to learning is expected to provide a futuristic framework for Indian education. If this is a newbie for you, then this article is a perfect place to find answers to all your related questions.
What is a Learning Outcomes-based Curriculum Framework?
The Learning Outcomes-based Curriculum Framework (LOCF) is an educational framework that aims to change the syllabus of the undergraduate curriculum in India. The intention of the adoption of this approach is to make the students more active learners and teachers good facilitators. This framework is crafted such that the current choice-based credit system (CBCS) yields optimum outcomes. Not only the grades mentioned on the report cards, but outcomes will be depicted in terms of various aspects such as skills, values, employability, knowledge, and attributes. 
The Outcome Based Approach to Learning aims to enhance the quality of higher education and encourage students to achieve the best knowledge and skills during their academic journey. Once the final outcomes are determined, teachers need to craft a curriculum in order to achieve the set goals. 
Formulation of curriculum intents to:
Bringing innovation to the teaching or learning process

Assessment of students at different levels

Review of students' performance

Improve flexibility of the learning process

Enhance the quality of education 
What are the Steps covered in the Learning Outcomes-based Curriculum Framework?
The Learning Outcomes-based Curriculum Framework has comprised of different steps and the cycle has three phases that are listed below:
1. Planning:
In this beginning phase, teachers set a specific set of desired outcomes, content, and assessment strategies. This is the primary step in the entire cycle as your academic journey goals are set during this phase. 
2. Execution:
Till here, goals and ways of implementation are set and one needs to execute those strategies to deliver quality education in the best possible ways. Teachers can accomplish this by using innovative ways of teaching as:
Online or virtual classes

Conventional chalk-and-talk method

Industrial projects

Online assessments

Field visits

Seminars and webinars

Group assessment and projects
The assessment aspect plays an important role like any other educational approach. In the Outcome Based Approach to Learning, assessment is divided into two modes:
The direct method of assessment is further categorized as course internal evaluation and semester end evaluation which have weightage 70-75% and 25-30% respectively. It can be carried out based on internal exam grades, daily assignments, seminars, lab work, and other parameters.  
The indirect method of assessment is based on a course exit survey. 
3. Attainment:
The attainment phase is the final step where teachers evaluate whether the set goals have been attained or not. With this evaluation, teachers identify the gaps in the learning process and seek to modify the teaching techniques if necessary. Outcomes can be classified into three levels:
Course Outcomes

Program Outcomes

Program Specific Outcomes
What are the potential challenges of the Learning Outcomes-based Curriculum Framework implementation?
Educational institutes that are willing to adopt the National Curriculum Framework need to face several challenges before implementation. Have a look at it:
Teachers may face challenges in the teaching process subject to frequent changes in curriculum.

Educational institutes need to arrange their best teachers and resource allocation may bring some hassles.

In order to create quality content, one must think of several aspects like assessment patterns, question paper creation, and managing student data. 

The Outcome Based Approach to Learning brings assessment at different levels, so managing examination becomes sometimes a problem. 
Vidyalaya can contribute to addressing some or all of these issues and provide an expert solution. With the help of education ERP software, institutes can carry out admissions to student evaluation in a technology-oriented way. 
What are the benefits of having a Learning Outcomes-based Curriculum Framework?
The adoption of outcome-based education has gained much impetus in the Indian education system. Before riding the wave of evolution, understand why one should go for that. Before planning to implement the National Curriculum Framework, learn what benefits you can get. 
One can achieve desired transparency after the adoption as students know what they expect from a course and teachers know what to deliver through an intelligently crafted curriculum.

No ambiguity between the two parties about the course and overall education process, so it can help to create a precise result. This also helps students to move ahead in their field of interest.

As the teacher can mold the curriculum as per students' needs and thus the assessment methods, too. This flexible approach can help students to achieve their ultimate goals. 

Features of assessment and comparison in the OBE approach help to understand the weakness of students and the required course of action. 
Summing it Up!
Shortcomings of existing approaches are leading UGC to invent more innovative and futuristic variations in the Indian education field. The introduction of Learning Outcomes-based Curriculum Framework has been introduced to make education, especially higher education, more rational, objective, and comprehensive to deliver desired, and optimum outcomes. This holistic experience does not solely deal with delivering the knowledge but also believes in its implementation so that students can develop knowledge-based real-life experiences. Vidyalaya offers an outcome-based education model which is completely student-centric and will facilitate students to be globally fit.