What Is Collaborative Learning? Benefits of Collaborative Learning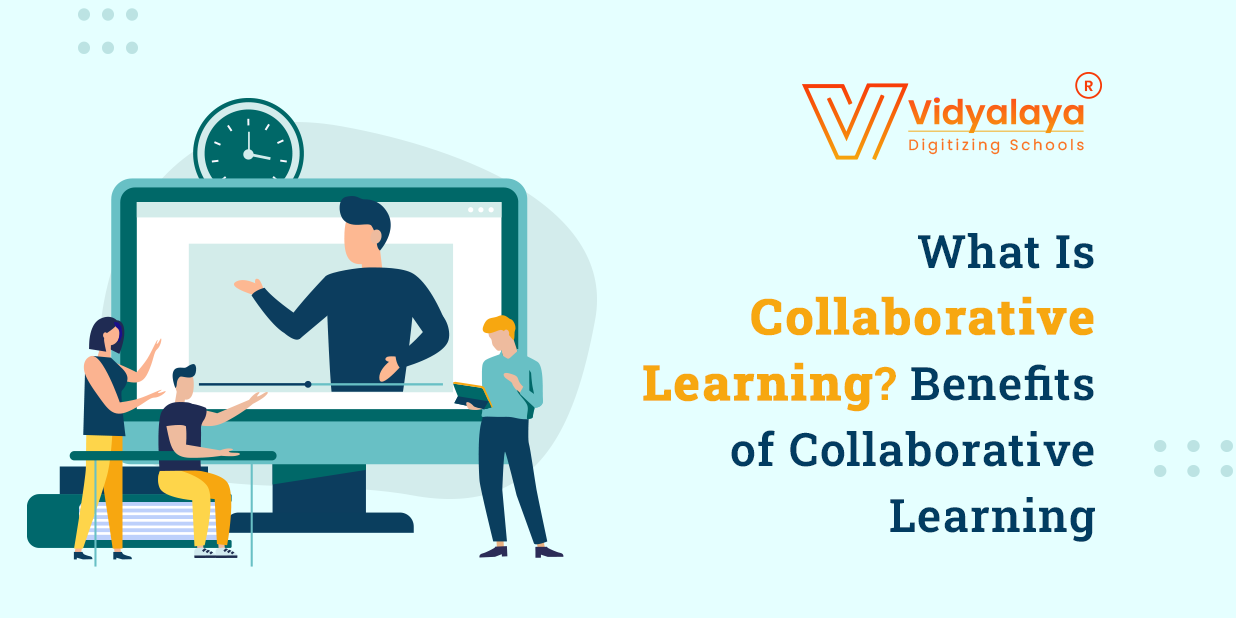 "Alone we can do little; together we can do so much"
So, true for the education sector! Classroom is a micro-ecosystem where students and teachers work together and follow the path of progress. Instead of individual efforts, when united efforts are applied, results are multiplied. And this same analogy is defined by collaborative learning. In this teaching and learning approach that promotes a group of learners coming together to solve a problem or for task completion. This joint venture among the students gives a new perspective to learning as multiple minds are involved. Let's explore this trending style of learning along with types of collaborative learning. 
What is Collaborative Learning?
Collaborative learning, as the name suggests, is a learning style that encourages teamwork and social interaction among learners. Small groups are created where students work together, can ask questions, discuss topics, and share feedback. This educational approach enhances learning by keeping the learners engaged so that they can process and synthesize the information. This beats the conventional memorization technique of learning as concepts are understood in the groups. 
Some people may confuse collaborative learning with cooperative learning but there is a hairline difference between these types. In collaborative learning, there is no administrator to direct the group so it becomes the responsibility of individual group members to self and team learning, leaving roles and resources up to them. Whereas in cooperative learning, team members are responsible for a specific section of their own learning and also the group, providing a director in the team to oversee the progress.
What are the benefits of Collaborative Learning?
Both educational institutes and learners enjoy the benefits of collaborative learning at their own level. Some of them are listed below:
Develops Soft-skills among the Learners:
Collaborative learning focuses on developing soft skills like leadership, teamwork, problem-solving, a high level of thinking, and others. As these skills are much needed in the student's professional career, they need to be developed before they complete their education. While Collaborative learning process encourages working in a team, students can learn how to organize, assign, and learn how to manage other team members as well as themselves while finding a productive way. 
Good Inter-Department Relationships:
This is highly beneficial for departments working collaboratively under a common name of the school. When limited access is given to a person working across departments, it becomes tedious and hard to work. Collaborative learning encourages making new connections and finding more ways to work together. This is a better strategy for online learners as well as school staff working on a remote basis.
Improves Knowledge acquisition and Retention:
A Collaborative learning process always leads to increased involvement and knowledge retention. This method allows learners to participate and interact and acquire improved knowledge. Also, this method redefines the learning process by keeping direct contact with other learners. This bottom-up peer learning process enables learners to capitalize on their knowledge base and others so that, combinedly, they share an exceptional learning experience and upskill.
Encourages Socialization:
Collaborative learning encourages a low-stress learning environment so that students can come forward fearlessly. This is really helpful for students with shy behaviour. They can start achieving confidence in public speaking while speaking in small groups. This also helps students to improve interpersonal relationships while working together in groups. Also, it boosts innovation as many minds come together to foster new ideas. Through this collective activity, a learner may get help in understanding what is the aim behind this learning. 
Promotes Diversity:
With the help of a Collaborative learning process, students with different backgrounds, and intellectual levels come together. This becomes a determining process where students need to hear and interact with a variety of explanations from students with different perspectives. Students among the team may come up with new ideas based on their background and upbringing. As a result, students get exposure to open-mindedness and acceptance. 
What are the types of Collaborative Learning?
Collaborative learning offers an umbrella for diverse educational strategies, inviting joint efforts by both tutors and learners. This method is no doubt effective in project work, research work, and other team-based activities. There are several types of Collaborative Learning, some of them are:
1. Group Discussion:
Students are assigned a topic where a group of students debate over. They discuss the positive and negative aspects of the topic by explaining with examples. This is the best approach where one can understand both sides of a concept. While working in groups, every student can get a chance to apply his/her intelligence to explore the topic. 
2. Drama or a Role Play:
A concept or a story is narrated through a drama or a role-play. Students are divided into groups, based on the characters and every student gets a chance to come forward and dare for public speaking. This gives a good platform to polish certain skills, like public speaking, teamwork, and leadership. 
3. Case Study:
Case study is one of the effective approaches to types of collaborative learning. In the case studies, students are assigned a problem sample from experiences. This structured and student-centered approach challenges students with realistic scenarios. Students need to read a pre-defined data set and scenario with an accompaniment of a list of questions. While working with teams, students can apply their practical knowledge and understanding to the real-life situation. 
4. Problem-based Learning:
It is also known as PBL and is another type of collaborative learning process. Learners are introduced to a specific problem and they have to solve it within a given period while working in groups. It is important for learners to understand the problem first before suggesting a solution. 
Educational institutes always seek different approaches to learning to optimize the outcomes. After peer-to-peer learning, collaborative learning hits the trend where unity is the motto. Students work in small groups to achieve the goal or specific task completion. Vidyalaya takes this united approach ahead by facilitating types of collaborative learning through its products. The products are good for hosting group discussions, chat groups, and group assignments and optimizing results. If you are convinced of the benefits of this approach, what are you waiting for? Collaborate with us and show your students that collaborative learning is the future of learning!