Learning Outcomes – Types, Benefits And Examples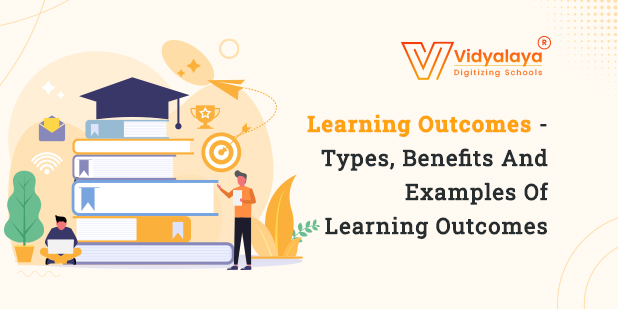 "You can teach a student a lesson for a day, but if you teach him to learn by creating curiosity, he will continue the learning process as long as he lives." – Clay P. Bedford.
This famous quote depicts that learning is a lifelong process and should not be confined to classrooms and books. Similarly, the output of learning is not limited to report cards but the concept should be more precisely focused on the knowledge they get during the learning period. University Grants Commission (UGC) is bringing a new face to traditional learning programs and emphasizing learning outcomes is becoming an important aspect of overall learning. If you still don't have much information about what are learning outcomes, how they are developed, what are types of it, and other information, then spend some time on this page. 
What are learning outcomes?
Learning outcomes are precise statements that tell what students will get after completion of a learning course, program, or project. This concludes an overview of the complete learning cycle and understanding of how much knowledge a student has gained through various modes of learning like assignments, courses, sessions, or programs by the end of the specific learning period. These outcomes are measured on the scale of values, skill set, potential, knowledge, etc. Thus, there is more focus on student performance rather than traditional courses. 
So, learning outcomes can be defined as measurable achievements that describe specific knowledge sets, skills, or expertise that students will be able to understand after the learning is complete. Terms like learning outcomes and learning goals are often used interchangeably but there is a hairline difference between them. The difference between these two terms lies in the focus on who is performing the activities. A Learning outcome is an observable and measurable term where the student is the actor in person. Learning goals describe what a teacher/program/education institute can do.  Also, Checkout our Learning Management System for Schools and Colleges.
What are the five factors of Learning Outcomes?
The major intention behind the idea of student learning outcomes is to increase the potential of students and make them academically skillful and ready for lifelong learning. So, the five factors that make the learning outcomes 'SMART' and attainable are:
S- Specific

M- Measurable 

A- Achievable

R- Realistic

T- Timely
What are the benefits of Learning Outcomes?
Learning outcomes empower students to achieve their aims smoothly. When they are clearly defined, there are increased chances of attaining them. Here are some of the major benefits of them:
Learning outcomes enhance the analytical capabilities and logical thinking of students.

Learning outcomes pay attention to innovation and make students capable of lifelong learning.

Improves relevant knowledge, skill set, and values on individual levels.

Well-planned and designed

learning outcomes

may help in smooth implementation and ease of operations.

The result-oriented approach may help in achieving end results fast and without any hassles.
How to define Good Learning Outcomes?
Learning outcomes, when intelligently designed, give faster results and ease of implementation. Here are some characteristics of good learning outcomes:
Good learning outcomes are specific and clearly specify standards of assessment so that there is no ambiguity.

Student learning outcomes

are student-centric so they explain the skills that students will achieve and may contribute to understanding why these skills are essential rather than focusing on teachers' activities.

More emphasis is on a practical approach rather than theoretical only for getting good scores on report cards. 

Good

learning outcomes

make students ready for assessment and help them feel motivated and engaged by the evaluation process. 
What are the expert guidelines while building Learning Outcomes?
Creating realistic and actionable learning outcomes is a core aspect of learning programs in educational institutes. While building them, teachers and institutes should have a clear idea about what students should understand after completing their learning path. So, there are some expert guidelines during this building process:
Go for a student-centric approach over a teacher-centric one while designing

learning outcomes

. 

Never limit learning outcomes to course outcomes.

Include only those projects that are aligned with

student learning outcomes

. 

Encourage students to focus on the practical implementation of theoretical concepts rather than just memorization of them.

Learning outcomes should be measurable and clearly stated. 
What are the examples of Learning Outcomes?
Till here, you must have understood that learning outcomes are not limited to scores presented on the report cards. Yes, scores are important but for a widened perspective, developing some essential skill sets is beneficial for a lifetime. Here are some examples of learning outcomes that help students to become active learners for life long:
Intellectual skills – Students understand concepts in depth and not by memorization techniques. Understanding the fundamentals of the concepts is the primary skill required in academics.
Cognitive Skills – Developing habits of understanding, thinking, analyzing the concept, and behaving accordingly is necessary for students and comes under cognitive skill set development.
Sharing knowledge– We live in a society where we have to share resources. With the sharing habit, students first acquire knowledge and tend to share it with the world.
Motor skills– Motor skill is linked with a student's potential to think and execute on physical levels. The proper relation between mind and actions is developed under this skill set. 
Personal growth – Learning outcomes develop students' behavior, skillset, values, and knowledge. On personal terms, it is necessary to have a balance between personal and professional life, and thus skills like remembering, application, comprehension, and analysis become important to think out-of-box. 
How Vidyalaya can extend the Learning Outcome implementation?
After learning all the theoretical explanations about learning outcomes, here is how Vidyalaya can help you in this process:
1. Designing curriculum and assessment:
Vidyalaya helps design a competent curriculum that can challenge students' potential so that they get encouraged and develop an improved mindset. With the help of our products, you can design a curriculum that follows Bloom's Taxonomy and help students at different education levels. In the case of assessment, we provide different means like online assessment, MCQs, and descriptive quizzes to evaluate them better. 
2. Implementation of Educational Models:
Vidyalaya's innovative products may help in the seamless implementation of UGC's recommended educational models, such as LOCF and OBE. We try to reduce the complexities of the implementation and offer a complete learning experience to students. 
3. Analysis of Student Performance:
Vidyalaya not only believes in providing the essentials for the academic journey but we also aim for the comprehensive development of students at knowledge, skills, and at personal levels. So, our in-built analytical tools perform far better to give you exact scenarios about students' development and performance. 
Learning outcomes are important as they encourage both students and teachers to widen their views about learning beyond the on-paper grades. With learning outcomes, students can experience enhanced skill sets along with higher levels of knowledge. Vidyalaya, a pioneer name in the Indian education sector, welcomes the revolutionary National Education Policy (NEP) and integrates the same guidelines into the products. We aim to feature a seamless and exceptional user experience, along with enabling students to be lifelong learners. Develop an out-of-the-box mindset for your next-generation students so that they contribute to the welfare of society. Let Vidyalaya be their technology partner in this thriving journey.