How to Improve Student Outcomes With Educational ERP?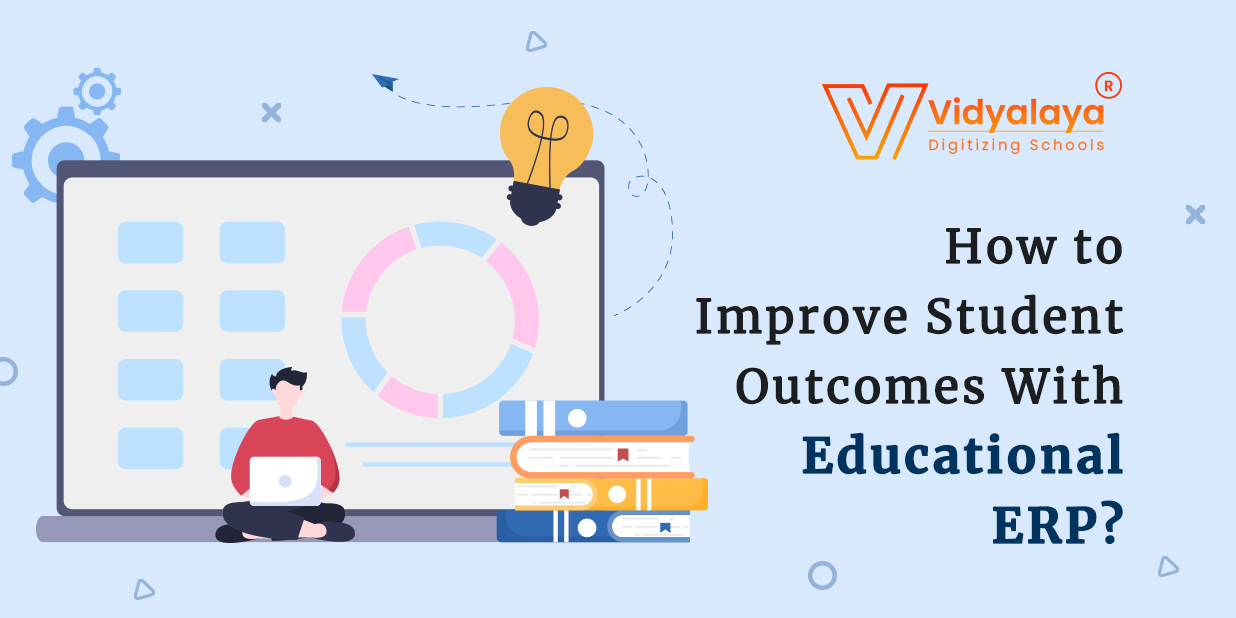 Use and implementation of Educational ERP System has become a norm nowadays. Its futuristic features have taken the entire education system to the next high level. It helps educational institutes to provide the right platform where students can excel and acquire their desired career goals. With continuous evolution in the education sector, only the right ERP systems can improve performance and help your students get global exposure. This symbolic relationship between school and parents will help students to experience their academic journey smoothly. As school ERPs provide a holistic approach to student development, features like storing and using student data are used as fuel to thrive through this challenging process. Learn how an Education ERP system uses student data to flourish results and can make you stand out in the crowd!
What is an Education ERP System and why are conventional methods not effective anymore?
Conventional methods are running over the decades but with the advancement in technology, they have become outdated. Here are the prime reasons:
Traditional methods involve lots of resources and even after that don't give the desired level of efficiency. 

Traditional teaching methods may trigger self-discovery but lack scope for improvements if students are unaware of this method. 

So, educational institutes must update themselves with a technology-oriented approach that provides a scope for creativity and innovation. 

Only a robust

Educational ERP system

can promote enhanced learning and desired development in students. 
Thus, an educational ERP system works as a sheer enhancement tool and covers all gaps that may be missed during traditional intervention. It streamlines both academic and non-academic operations and lifts the efficiency level. It works as a common platform where all stakeholders can come together and work together to achieve desired goals. The importance of data has given school ERPs a new dimension. Student data has become an integral part of an educational ERP, so student information system are now in high demand. 
What are the ways to improve Students' performance with the School ERP System?
In the absence of school ERP system, teachers used to rely on inefficient data and were away from several benefits. But the educational ERP system came as a ray of hope and enlightened this darkness of inefficiency.
Here are the ways a school ERP can bring an era of sheer improvement in students' performance:
1. Streamlined Process:
The invention of the educational ERP system, itself, includes the aim of streamlining the processes involved. So, educational institutes can adopt this approach to have a better-organized way to execute the complex processes like admission, fee management, academics, transport, and others. Eventually, it gives a better academic experience to students and can show affirmative results in their academic and overall growth. It improves teachers' productivity by reducing workload and automating monotonous tasks like preparing timetables, setting exam papers, checking assignments, preparing report cards, marking attendance, and so many.
This way,  teachers can concentrate on core teaching and ultimately can improve students' performance. Additionally, teachers can find entire student information under the student information system to process it easily and flawlessly. Having all the necessary information in one place will help teachers to decide the plan of action and changes to enhance the performance levels. 
2. Improved Parent Involvement:
Parent's role in the ward's educational journey is essential and nowadays it has become proactive, too. So, it is important for educational institutes to have healthy communication with parents. Traditional ways, like notice boards, and paper-based circulars have their own limitations and cannot provide the desired efficiency. Collecting and maintaining student information in a place, it helps for institutes to establish smooth communication with parents and discuss their progress. Features like student data management will help to decide the scope for development and decide necessary actions. With the ERPs, parents can communicate through various modes like parent portal, SMS, email, or through apps. They can track their ward's progress and check their achievements anytime through real-time communication with the school. 
3. Dashboard Analysis:
A conventional method of school management lacks the efficiency and accuracy in reports as that of the educational ERP system. This modern approach integrates dashboard analytics to find areas of improvement. Teachers can access standard and customized reports within a few clicks and have a clear picture of a student's entire background. They can have a visual representation of students' attendance, grades, progress parameters, achievements, and other aspects. This will make the process easy and quick to analyze student performance and decide what actions need to be taken. It also allows you to re-examine the reports to testify whether the modified practices are fruitful or not. The rapidness of fetching the data and presenting is due to integrated entire student data management and the use of cloud technology. 
4. Automatic Attendance:
Attendance leaves a powerful impact on students' academic life. A manual attendance management system is full of flaws like the possibility of wrong interpretation, difficulty in maintaining the record, increased use of resources, time-consuming process for reporting, and lot others. Educational ERP system has a solution for these problems and automatic attendance is the answer. With biometric or RFID-based attendance, educational institutes can have accuracy in the entire process and have real-time data available within a few clicks. Also, with a predicted analysis of this smart attendance, it is easy for teachers to make necessary changes for student's improvement. This smart approach also sends notifications to the parents' mobile and gives assurance of the safety of their wards. 
Summing it up!
Who has ever imagined that students will learn by sitting at home and not from blackboards but from virtual smartboards? However, the education ERP system has made it possible. Software providers recognized the increasing importance of data and molded products accordingly with new features. Along with school ERPs, student data management has opened doors to innovative activities like progress tracking, making all data available in one place, and making future predictions by analyzing their overall behavior and progress. Vidyalaya has already recognized this transition ahead of time and released renowned EdTech products to facilitate the entire education sector. Know how you can multiply your students' outcomes with our award-winning products. Just call our helpline number or draft an inquiry mail!