What is OBE Outcome Based Education vs Traditional Education System?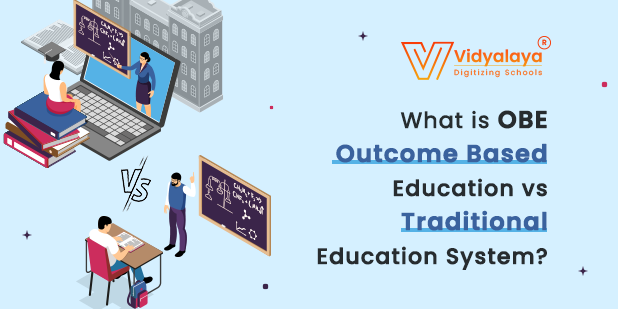 Following the recent news of the National Board of Accreditation, only programs based on outcome based education system or OBE systems will get accredited as they meet the objective of quality assurance and core aim of disciplines such as management, engineering, etc. With the advancement of time, the OBE System has secured much impetus in the education sector. Ditching the tough and tedious practices in traditional learning, this method produces outcomes based on potential factors like scalability, real-time data, and accuracy.  This method provides a framework where all parts of education are concentrated on the outcomes of the course. To address the problems of unemployment, it is necessary to have a skilled man force, and the OBE system is introduced to bridge the gap between industry requirements and curriculum, which can lead to reducing unemployment. Let us explore the affirmative approach in modern education which is the best fit for the current age! 
What is OBE or Outcome Based Education System?
An Outcome based education system is a framework that concentrates on developing skilled students proficient in professional and social skills. This personalized learning model can be customized based on students' preferences and institute needs. In this method, every aspect is organized around a set of goals such that students can achieve them by the end of the curriculum of the education period. The OBE System focuses on evaluating students based on their performances through outcomes. Adopting this model can lead the students to learn as per their choice and obtain a developed set of knowledge and skills. 
Why choose Outcome based Education for your education institute?
Adopting an outcome based education offers increased self-esteem for students as well as teachers and higher academic success, reduced dropout numbers, and several other advantages. Here are some of the reasons for the form of features that influence you to have this modern approach of education in your institute:
1. Flexibility:
An outcome based education system does not define a specific method of learning. Teachers can design the curriculum tailored to students' needs and can change it after the evaluation. This flexible approach highly contributes to achieving the desired goals. 
2. Comparative Approach:
The assessment methods of the OBE System compare the achievement of every student and then the further course of action is decided. Also, in a wide view, educational institutes can compare themselves as an entity and can identify the areas of improvement.
3. Precision:
Unlike the traditional learning method, outcome based education has a clear set of goals where students are expected to develop the skills and learning. A clear picture of expectations between the two integrating parties contributes to creating a precise outcome and offers freedom to students to flourish in their chosen field of interest. 
4. Participation:
Improved students' participation is a vital part of the OBE system. When students are stretching themselves to achieve the set goals, parents and teachers can get involved either by designing a curriculum or altering it as per the requirements. This move can uplift the standards of education and help students to be prepared for life after. 
What is the difference between Outcome-based Education and Traditional Education System?
The traditional education system is slowly getting defamed because of the cons of the system. If anyone wants to make a shift, then he/she must understand what she/he is getting in return. So, understand the difference between the two methodologies first so that the move to outcome-based education is smooth.
1. Curriculum Design and Outline:
One of the biggest advantages of the outcome-based education system over the traditional system is the flexibility to design and alter the curriculum through remodeling and restructuring. The core aim behind this is to carry the previous knowledge to the next generation of students. Curriculum plays a determined role in offering deeper insights into the students. A student-centric approach always extends opportunities to develop more practical skills so as to ensure a career worth pursuing. Adopting an OBE system will leave an everlasting impact on their excellence and innovation. The curriculum is designed in such a way that output is achieved by the end of the academic period. This needs to be supported by the inputs from teachers and K12 faculty members, like the determination of skills required to ace a specific subject and design the curriculum by keeping the same in mind. 
2. Scalability:
The modernized approach of the OBE system allows identifying of the factors that play the role of catalysts in student improvement. That's why this adheres to education standards set by NEP 2020. This is one of the major differences between traditional and OBE Systems. When an OBE system is adopted and implemented, the progress of each student can be tracked based on their performances and at different levels of growth. The OBE system is also integrated with various reports such as students' yearly attainments, course-level attainments, and student-specific reports. This also provides a wider and quick view of the student's performance in well-represented ways. 
3. Grading System:
Grades are important, although they cannot alone decide the future. But the OBE system differentiates from the traditional system here also, as it does not evaluate students from best to worst. While compared to the traditional system where students are given 'A' grades for higher scores and 'C' for low scores. But this does not bring clarity about the exact performance of students as there are no exact numbers as well as does not specify whether the students have learned new skills or not. In the OBE System, what students have learned is emphasized and offers a flexible approach to evaluation at different levels. This level-wise assessment may help teachers to identify the student's academic weaknesses and strengths in easier ways. 
Summing it Up!
If you want to transform the learning experience of your students, then an outcome-based education system is the best option to embrace. Students get the freedom to gain knowledge, develop their set of skills, and ability to develop a better thought process. Teachers can have the flexibility to design a curriculum while monitoring its success. Vidyalaya School Software, a leading ed-tech software development organization, offers this modernized approach integrated with their educational software products. Give us a call or drop an email to know more!