What Is a Computer-Based Test? A Comprehensive Guide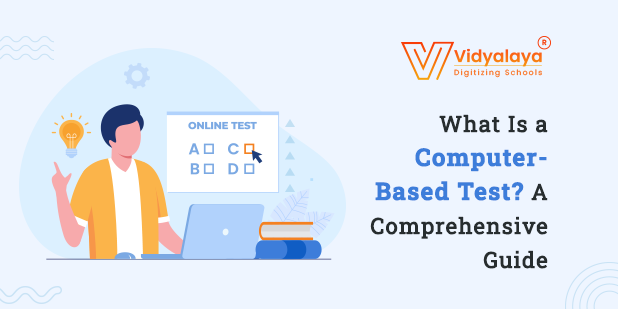 Each one of us has gone through the trauma of examinations, right? They are an inevitable part of every educational system. With the changing nature of education, educational institutes are now evolving with new patterns and practices to offer a seamless and engaging learning experience. Many educational institutes have started to take exams online using online examination software but still are in a dilemma of whether to switch to it or stick with the traditional pen-and-paper model. This is an exclusive write-up for those who hesitate to adopt computer-based tests. Wait for some time on this page and get all doubts cleared.
What is the computer-based test?
Before moving ahead, we must answer the question of what is a computer-based test. A computer-based test is an alternative to the conventional pen-and-paper exam model, where the candidate uses a computer device and a mouse to answer the questions. As these tests use computers, they are conducted online or with the help of a computer-aided facility. Generally, there are three to four sets of question papers that are randomly allocated to the candidates. Going further about the nature of question paper, we would like to say that several types of questions can be integrated like multiple-choice questions, descriptive, and analytics-based questions. As the assessment is carried out by the integrated online examination software, there is no burden on teachers and we can expect zero or negligible risk of errors. 
What are the advantages of computer-based tests?
As computer-based tests are here to stay, let us dig more about the advantage side so that you should have increased levels of reliability on this technology-driven way of assessment. Here are some of the striking advantages of computer-based test system:
1. Convenience and Personalization:
Unlike the pen and paper model, these tests are conducted with minimal setup, and no extra arrangements are needed. Thus, these types of exams offer a lot of conveniences and can be conducted all year round. These systems offer freedom of place and sometimes time to students for appearing for the exam. Also, they also do not have to travel long to reach the exam centers so cost, time, and energy are also saved. Some aptitude-type test windows are open even after the exam date for some specific duration so that candidates can choose a suitable slot. Many exams are crafted such that aspirants can decide the difficulty level on their own and appear for the exam. This is highly immune to personalized learning aspects and offers freedom to students to learn at their own pace. Students can share their personal views and opinions and can contribute to better assessment programs. 
2. Scalability:
Imagine a scene for an entrance exam where thousands of candidates are rushing toward their allocated rooms at the same time. Heaps of question papers and answer sheets were produced to accommodate these applicants. And the biggest burden of evaluating such a massive number of answer sheets and updating them about the result. All this can be outsourced when you avail the advantages of computer-based tests. This method hosts a large-scale assessment online by cutting down the waiting period on an individual basis and maintaining the highest standards of quality. The computer-based test provides a wider reach as it can be conducted from any corner of the world.
3. Auto Grading System:
The computerized test system eliminates the chances of human intervention errors in the assessment system and reduces the burden of evaluation duties on teachers. Also, the instant auto-grading delivers instant report cards and cuts down the waiting time to receive the result sheets. This faster evaluation and analytics based on the data enable the tutors to gain some insights regarding the weaknesses and strengths of students.
4. Explore Exceptional Level of Thinking:
Educational institutes are stretching to introduce different practices to improve engagement and offer a seamless learning experience to students. Gamification is one such practice that boosts problem-solving and critical thinking skills. These graphics-based tests also evaluate their rationale behind decision-making and focus on digital learning games. 
5. Resource Efficient:
Compared to the old pen-and-paper model, the tests conducted through online examination software are more resource efficient. One can save time and paper in setting question papers, answer sheets, and even report cards by opting for a digitized way of assessment. Don't impose a burden on your teachers, instead, opt for digitally-proctored tests that will auto-monitor the tests all the time. By saving resources at each level, you are on the side of saving money and making your system eco-friendly too. 
6. Hassle-free and Smooth Process:
When observed, the normal exam process derives lots of hassles and management tasks and includes preliminary preparations which can commence much prior to the actual exam dates. Educational institutes need to hire invigilators, and moderators and need to pay extra to staff for assessing the answer sheets. All this can be brought down to zero by automating core processes through tailor-made software and availing the advantages of a computer-based test. 
Are there any disadvantages of computer-based tests?
Yes, as every coin has two sides, there are some disadvantages of computer-based tests. Here are they:
The initial investment cost for implementation is high, which may hamper the desire to have this system in the school.

These systems are more technology-oriented so produce their own limitations like technical glitches, power issues, internet problems, and others. 

Not all exam centers are well-equipped with the infrastructure required for this type of test. 
How does the computer-based test work?
After understanding what is a computer-based test, let us understand how it works. The functioning involves the following steps:
Students complete the registration process as a first step in applying for the exam.

Teachers create question paper sets and send invites to students to join the exam.

The student's ID is verified before starting the exam.

The exam is monitored in real-time.

Students can get exam results/assessment reports after the exam.
There are two types of computer-based tests and they are:
Offline Assessment:
The student uses the exam center's single computer system to appear for the exam which cannot be conducted simultaneously on multiple systems. Also, the assessment of this type is conducted in manual mode.
Online Assessment:
True to the name, students can appear for the exam, which is conducted through an online examination software, remotely where a single exam is conducted on multiple systems simultaneously. The system itself assesses the student's performance and gives reports immediately. 
The post-pandemic challenges underlined the need for computer-based exams. Our education ecosystem needs such an alternative that will keep academics immune to such disruptions. After learning several advantages of computer-based tests, you must have concluded that it is a one-stop solution that adheres to new-age problems. It provides a scaffold by reducing the administrative workload of exam conduction and bringing efficiency to the core processes. Vidyalaya offers a readymade framework that will initiate the process and eliminate the overheads by streamlining the educational assessments. Choose us over the traditional pen and paper method and conduct the assessment in a futuristic way.