Benefits of School Apps for Parents and Students in 2023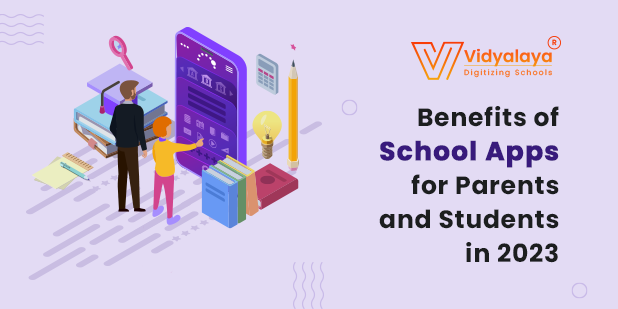 Educational institutions now provide classes using Hybrid Learning Models Online + Offline. The reason for this is that online education has several advantages over traditional schooling. Students are able to learn at their own speed through online courses. Also, kids may access study materials whenever they want via the internet, and parents profit greatly from this innovative teaching strategy.
Learning at home gives parents additional chances to interact with their children. They receive regular updates on their child's development from it. Today, every school requires a dependable School ERP app to efficiently organize school activities. You can bridge the gap between parents, instructors, and kids with the aid of these apps. Without a doubt, we can state that online education is a successful strategy.
What Is School Mobile App?
School mobile apps are specialized apps created for online education. It is the ideal tool for parents and instructors to communicate remotely. Using school applications, parents can learn everything they need to know about their children's education. These apps allow teachers to keep track of attendance and give students access to their assignments and homework.
Everyone may use these School apps from their smartphones because they are user-friendly. Also, the majority of mobile apps in India operate on the cloud. 
What Incorporates a School App?
The goal of a School mobile app is to streamline school activities. Here are some school app features.
Attendance Management:
Students and teachers' attendance can be easily entered using an automatic attendance management system. Through their smartphones, teachers can control student attendance. Teachers should be able to use the mobile app to analyze the attendance of the students by subject or month. When a child is absent from class, parents are immediately notified. Compared to the traditional attendance marking approach, this function is faster and more accurate.
Personalization:
Customization is yet another key component of a school app. Each user should be able to personalize their experience with the app. Every student learns differently and at a different rate, as you are aware. So, users must be able to personalize the app to meet their specifications.
Live Classes:
Teachers and students can communicate with one another virtually from various locations. Education must also include effective communication. So, it's essential that teachers and students can communicate without getting diverted. Teachers can connect with students online and engage in real-time communication thanks to the live streaming capability. Teachers can answer questions that students have and provide timely answers. 
Notifications:
All school ERP apps have always included push notifications as a key feature. The reader's attention will be captured quickly by this brief sentence. Students should receive reminders from the school's mobile app regarding the due dates for homework and other tasks, exams, etc. Also, parents will receive alerts regarding their children's attendance and the deadline for fee payments. The students will receive updates about significant events at the school.
Multimedia File Sharing:
Another important feature that enables users to share photos, videos, and documents is file sharing. Teachers may easily speak with students and share pictures and videos with them. Every content is available to students directly. Students can immediately share their assignments and homework with teachers. With the help of this feature of the School mobile app, carrying heavy textbooks and piles of paperwork can be avoided. Furthermore, teachers can communicate with parents using this function.  Instructors can send photographs of school activities to parents. In order for parents to easily watch their child's performance at home.
Integration of Social Media Platforms:
Nowadays, everyone has a social media account.  Every school will eventually have a social media account to advertise itself. Hence, if the school app could interface with several social media networks like Twitter, Facebook, and LinkedIn, that would be really helpful. The app itself enables social media posting by school officials. Schools can build online communities where parents can exchange information about events, images, and more.
Progress Tracking:
This function presents graphs or charts that show each student's progress. Teachers can quickly assess individual students' performance by simply looking at the dashboard. It helps teachers in ensuring that every student consistently meets their academic objectives at the appropriate time. Teachers can identify which topics are challenging, which areas require work, how long it takes each student to complete a topic, etc.
Reasons Why School Apps Are Important for Parents and Students:
1. File Sharing:
With only a few clicks, students may share their assignments and homework with teachers using the school app. Students and teachers can both access educational videos, pictures, and papers. This allows parents to view their children's performances from home while also receiving images and videos from the classroom in the School ERP App
2. Easy-to-Access Study Material:
Students can always quickly share their course materials. Students can access all of their study materials at any time from any device because they are all stored in the cloud. Students are allowed to work through the material on their own pace.
3. Online Fee Payment:
Parents are no longer required to visit the school to pay the fees. Put it another way, parents can pay for their children's fees from the comfort of their homes via a school mobile application. Using UPI, credit card/debit card, or internet banking, they can securely pay the money.
4. Keep Track of School Updates:
Parents who use the school mobile app, receive automatic notifications about everything that occurs in the classrooms. As a result, parents can communicate with the school from their homes. Also, they don't miss any important school events or meetings. These notifications can be tailored by parents to meet their needs.
5. Easy to Communicate:
School mobile apps are made to increase involvement. So, parents and teachers can discuss academic issues on the perfect platform. Parents can instantly message teachers with any questions. Compared to SMS or email, this function is more useful. In educational apps, text messaging is most likely free to use.
6. Manage Time Efficiently:
They can effectively manage their time because the school apps for parents and students allows them to study at their own speed. There won't be any stress due to the regular timetables. Less time can be spent on easy topics and more time can be spent on challenging topics. The school mobile apps make it simple for them to set up group study sessions.
7. Save Time and Money:
You may save a huge amount of time and money by using parent-friendly school apps in a variety of ways. You don't have to commute to school every day, for instance. You can avoid wasting time and money on travel. Also, because the mobile app contains all the resources, you can avoid paying for study materials.
8. Instant Notifications:
Parents will receive immediate information from the school application regarding everything happening in the school, as previously discussed. Parents won't simply miss key occasions or academic meetings. These notifications can be adjusted by parents for their convenience. These notifications are less likely to be missed than SMS and email.
9. No Paperwork:
No longer, are students required to carry heavy school bags to school. They will have access to all learning resources via the school app. Also, students don't have to spend their valuable time browsing bookstores or libraries for books. They always have access to resources.
Conclusion:
In general, technology has changed many things in school administration. New teaching strategies, such as project-based learning and online learning, are becoming more and more popular. We are fortunate to have the required software to use these advanced technologies effectively.
Students now use school apps as part of their education, as stated above. Through their cell phones, parents and students can quickly access the app. The app's main benefit is that it increases parental involvement in children's education.