Why Every School Needs School Parent Apps to Communicate with Parents?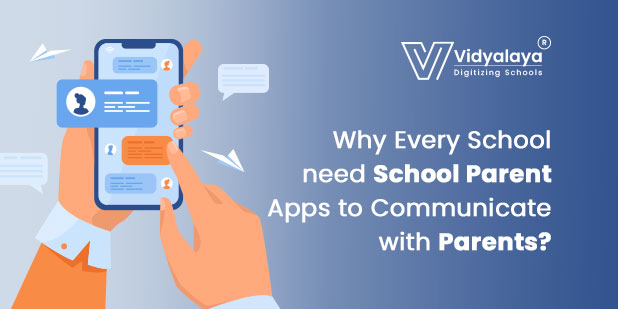 Revolution is not limited to industrial and scientific fields only. The origin of all fields where knowledge is progressed from one generation to another also seeking to get upgraded. Yes, the education domain is where teachers shape students' careers and polish them for better security. Not only teachers and students but other stakeholders of education systems are being surprisingly active and the change is revolutionary. Gone are the days where parents used to come to school for paying fees or receive results. Revolution and awareness in every aspect make today's parents more responsible and proactive about their ward's education. This is a happening change for students as well as the school management.
Mobile apps are the new assistants that can handle much of your daily work at your fingertips. So, Vidyalaya researches in this field and thinks of facilitating parents with dedicated school parents apps. Expert team of software designers invest their long experience and come with an impeccable app that will start a new beginning to school and parent relationship. But if one can still lag behind and may not be aware of what is the need for a school parent app when there is staff for communicating with parents.
If questions like this bother you, then read out the article below:
Go paperless
We all are aware that we should protect our planet and should opt for more eco-friendly alternatives. Vidyalaya always fulfills its social responsibilities and insists on school apps so that there is less paper generation. School is a warehouse for a lot of paperwork in terms of assignments, answer sheets, notebooks, notices, and office documents. Vidyalaya cuts the paper usage wherever possible and advises to go digital. School management needs to contact parents for various reasons. Sending details in form of papers is risky as they can be lost, tampered with, or tear-out. End result is poor or missed communication between school and parents which apparently can produce loss to students.
Vidyalaya rules out this possibility by introducing effective school apps enabling school management to get connect with parents. Now, they don't need diaries to maintain track or record homework. Parents can check the apps and get updates about various activities.
Reduce the burden on your school staff
School staff needs to pay attention to diverse things like handling academic activities, communicating with students and management, streamlining daily chores, and many others. This hectic schedule can lead them to pay less attention to communication with parents. Or otherwise, the school needs to hire dedicated staff to maintain the efficient connection pool with parents. This can lead to an increase in the burden on existing staff or may imbalance the financial budget. Also, many of the parents are working so they cannot make it possible to visit the school physically for every activity.
Vidyalaya can take you out of this tricky situation by releasing school parent apps that can play the role of mediator between school and parents. The easy and interactive UI helps school staff to send messages, notifications to parents instantly. Custom or standard template messages can reduce the workload significantly. Also, the ability to create different parent groups can make it easy for school staff to communicate with specific groups of parents. Also, embedded modules like fee management, attendance management can send auto-notifications to parents' registered number/mail after completing the relevant activity. Parents can check the updates according to their free time and the need for coming to school for checking updates will be auto eliminated.
Parents are well-informed
Being a parent, you must be checking your ward's diary daily for updates for the day. Children busy with various interesting activities may not come up with a complete diary that may miss the important information. Parents always remain in worry that what teacher will give remarks for assignments submitted, what is the result of the unit test conducted, and many other issues happening in the school. Not all students convey the updates to their parents, they become helpless but to ask teachers about it. Even school bus transport update is a concerning issue as it involves the safety of the wards. So, there is a need for a platform dedicated for parents only which can relieve the parents and give real-time information about their ward's education.
Vidyalaya fills the gap and school app integrated with different modules are capable enough to stay parents updated and relieved. Now, parents can check the assignment remarks, test results, or bus schedules with just a few clicks without contacting the relevant school staff.
Save the time, save the money
Time is money and it is proved from ancient ages. Nowadays, parents are busy with their careers or chores that they hardly get time to visit schools. But at the same time, they don't want to run away from their parental responsibilities. In that case, they can think of a medium where they can get all needed information under one roof from school without going to school physically.
Vidyalaya understands the importance of time and comes to help parents in dilemmatic situations with strong, competent parents apps. With authenticated login ID, parents can communicate with teachers, check the event information, pay the fees, track the location of the school bus. Parents can check the photos and videos of the events celebrated in the school anytime, anywhere with the help of these apps.
School ERPs are being introduced and many institutes are taking leverage of them. Vidyalaya, being a front-runner in this revolutionary race is continuously backing up the progressive ways that can improve the educational system. Experience not only counts the number of years of services but also proves what level of understanding you have about the domain. 20+ years of experience and 1300+ happy clients enrich the experience diary of the organization without fail. Parents have become proactive stakeholders in this technology era. So, Vidyalaya is happy to keep them on the same page with the help of the school parent app. Cleverly designed apps understand the needs of new-age parents and offer relief from their ward's educational progress end. No wonder parents of your institutes also insist on the outstanding apps to sneak into their ward's educational journey!