Role Of School Management System In Student Data Security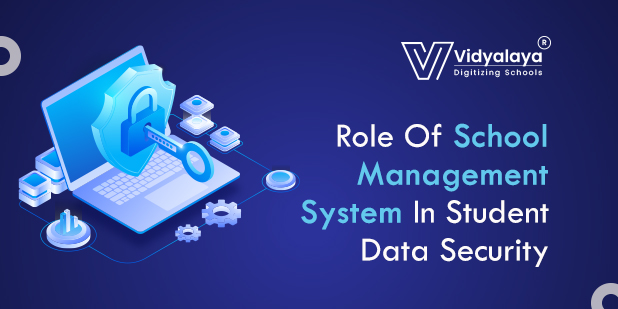 We all live and breathe in this digital world. Data has become the new necessity in today's data-oriented life. The education industry where everyone's future is shaped is not an exception. This industry is also revamped and searching for new roots to establish itself in this new era. School EPRs, virtual classes, and e-exams are gaining buzz in the town. As there is a paradigm shift, new policies must be designed to match it.
The educational sector is trying to match the new change by implementing advanced software like a school management system. School management system ensures an online way of learning along with streamlining the academic and non-academic activities. Through the online classes medium, students have access to e-vast content regarding different subjects. As every coin has two sides, the same terminology applies here also. Accessing data online requires some personal information from the user. What if a student's sensitive data is breached and used for unethical purposes! Some premium applications may require bank details at the time of payment. So, parents' bank details are also at risk.
To overcome these types of fear, the data security feature of any school ERP is important. Data security touches almost every stakeholder and multiple sectors across the education system. Younger students may not be aware of the severity of data security. So, they may expose themselves to multiple vulnerabilities.
On a prior basis, students' information seems to be a novice to hack, but if this information may mishandle. Like, if students' personal details like address or contact number are grabbed by ill-intentioned people, then they can know the exact location of the student at a given point in time. The life of the student can be in danger. So, not only this, but all information stored in the school management system must be safe and secure.
How school management software can provide a secure layer to student data security?
Nowadays, schools are adopting school management software to manage and streamline major functionalities. These systems store all the relevant data. So, there must be utmost security and safety embedded in the ERP software. Here are the ways how secure school management software prevents wrong handling of data:
Privacy Protection
Hackers attack the school management system to steal the students' details like addresses, contact numbers, photos. Exposure to this information may become dangerous and it can be used in malicious tasks. A University management system with well-defined security can protect the privacy of students and teachers by protecting the information.
Online admissions
With the help of the school management system, the educational institute provides the feature of online admissions. An admission process engages more sensitive data. The manual method may have various limitations like slow processing, paper usage, and the requirement of a lot of manpower along a less secure process. On the other hand, online admission is carried out with security procedures. Each student access only self-information and access to the system is limited and secured with a password. There are very negligible chances of data hacking in online admission, thus providing better security to students' information.
Payment Gateway
Schools are encouraging parents to pay the fees online. All crucial information like credit/debit card details, the bank account numbers can be achieved from the hacking of a poorly secured school management system. An effective and secure school management system embeds a highly secure payment gateway that will ensure the safety and security of payment transactions. An increase in online transactions can be seen if the school provides a secure payment option. An automated fee collection system also reduces the human handling of payments resulting in a reduction in errors due to human interference.
Rights for data access
School ERP provides a common platform but there are different modules for each stakeholder like student, teacher, administrator, and parent. Users are given perspective rights to access their modules but they are not allowed to access data of other modules to which they don't have rights. Apart from the authorized rights, each user account is protected with a password. So, two-layer security is provided within the secure school management system.
Third-party data security
Many times, a school ERP may integrate with a third-party application and the level of risk increases. In that case, only the right third-party software must be chosen to integrate otherwise institutions and data are at risk. The right combination of third-party software and school ERP gives the best quality of services and security assurance. Also, if the school management software is cloud-based then there are additional security features embedded in the system like role-based access, and automatic data backups.
It is said that data is the new oil and data security importance is at its peak. School management system stores voluminous data about students, parents, school administration, and academics. Providing security fencing around the stored data is one of the major features of any school management software.