How Vidyalaya Student Database Management System help to Secure School's Data?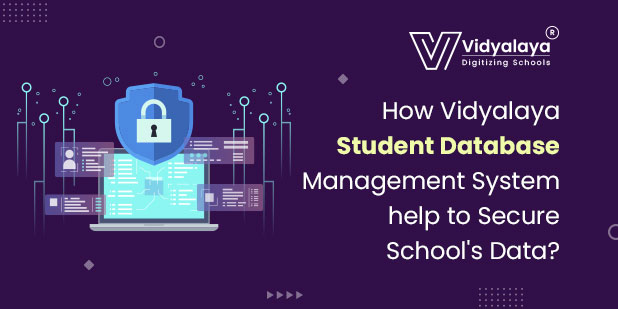 Schools and colleges must handle and retain a large amount of data about the activities of their students and institutions. As a result, many schools have invested in high-performance student database management software to simplify the process. When information is stored and organized on cloud-based servers, it may be accessed, changed, and updated whenever required by users. We may implement the same in both small and big educational institutions. Aside from data management, the cloud-based information system may help with a variety of other administrative tasks.
Vidyalaya Student Database Management System Highlights
Our Vidyalaya student database management system is designed to secure your school data. Here are some of the key features of our student database management software:
• Extremely safe and dependable
Manually stored data is much less secure and reliable than a cloud-based management system. Furthermore, role-based access safeguards your sensitive data from unauthorized access.
• Reduces paperwork
A database management system allows you to handle students' records conveniently. It maintains a digital record of student information, reducing paperwork.
• Easily supervise several branches
A student database management software may help you manage various branches of your school and offer a consistent learning environment for your students.
• Helps Create a Helpful Alumni Network
Alumni of the institution play a significant role in helping students to obtain placements. Talented alumni act as mentors and provide career advice to students, as well as assistance with employability.
• Make Use of Convenient Apps
Given the popularity of smartphones as daily drivers, school administration software worth its salt must incorporate apps.
• User-Friendly User Interface
Any program that is to be successful must have an easy-to-use and well-designed user interface.
Here are some of the most important advantages of a Vidyalaya student database management system.
Helping with admissions management

Transparency is gained by digitizing the admissions process. The software's admission management function is one of the most important advantages of a student database management system. Tasks such as evaluating online admission applications, completing the registration process, processing submitted documents, and arranging interviews may be coded into software.
Parents may rapidly receive answers to their admission-related questions while filling out online forms since schools can incorporate chatbots on the institute's website to interact with their system.
Cloud storage is very safe and dependable
A cloud-based student database management system is more dependable and secure than software that operates on local servers. Role-based information access guarantees that only administrators authorized access to the data through registered devices and a secure internet connection.
Companies that provide cloud-based servers have the finest data protection measures in place. Furthermore, it releases security updates to keep the system up to date to cope with attacks. The institution's financial records, as well as the data of its pupils, are completely safe. Backups are generated automatically at regular intervals. Because of this, there is no danger of losing access to the information. Said, there is no reason to be concerned about hackers targeting school management software.
Help with library functions
The significance of a library management system has never been greater. Even in the age of the Amazon Kindle, school libraries have managed to retain their relevance. Libraries now provide books and research materials in digital forms such as PDFs, MP3s, etc. Library management software may help instructors and school librarians monitor, categorize and distribute physical and digital copies of books.
Because the software is part of the institute's student database management system, library users may use the school website or apps to check the availability of different books and available formats.
The technique may be used with other methods to create unique barcodes for physical copies of books and papers. Administrators can control and track the progress of various items that are delivered to individuals. It may automatically send notifications to students about the resubmission of allocated library books.
Assistance with transportation management
Individual records for cars, drivers, bus attendants, daily routes, and students who utilize the service are required by government requirements for schools and universities. Furthermore, they must monitor all school vehicles in real-time to verify that the drivers and bus attendants obey all rules.
The Vidyalaya student database management system assists in the upkeep of all data in the institution; it also aids in sharing the vehicle's GPS location with parents through the app and send warnings if the bus is running behind schedule.
Administrators may keep an eye on things from various places
Using the same software, learners at different branches of the school may get a consistent learning experience.
Administrators may save, record, and modify performance reports, working hours and leave information for tutors at different branches. From security concerns to student attendance to comments for instructors provided by trainees, the institution administration may oversee all branches and provide input as needed.
There is hardly any paperwork.
Schools are responsible for keeping track of each student's annual curriculum, assignments, test grades, project information, and, of course, attendance. They must also keep track of the trainee's medical history, home address, contact information for parents, and overall accomplishments.
The institution must keep these records for several years. Fortunately, the Vidyalaya student management system aids in the maintenance of digital records with little paperwork. At a later stage, It may recover details in seconds.
Most importantly, instructors and parents have access to the same information. As a result, both may monitor the child's development.
Organizing lectures
Scheduling lectures based on classroom and tutor availability is one of the most difficult challenges school managers confront. Making a schedule is a job that takes many hours to complete. It's powerful, sophisticated features aid in achieving scheduling objectives by reducing conflicts and streamlining different processes.
The system generates a weekly/monthly schedule arrangement, sends digital forms to tutors/guest lecturers to determine availability, and then allocates classes appropriately. The program also functions when it comes to assigning digital classroom sessions. As a result, the feature has remained important in the post-COVID-19 environment.
Improves communication among different stakeholders
While emphasizing the advantages of a student database management system, the software's ability to connect with the school website, forums and parent-teacher applications deserves particular attention.
It allows instructors and school officials to exchange academic information as well as comments and recommendations. To communicate, all three stakeholders may utilize emails, text messages, or app alerts.
The child's guardians may ask questions, request assistance, and provide comments to instructors. They may also use forums to get help from other parents.