How School Management Software Help Student and Teacher to Connect in This Covid-19 Situations?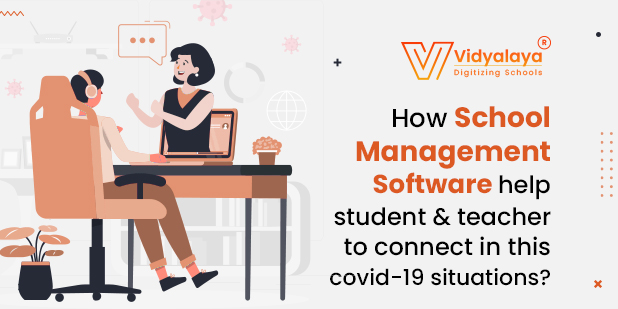 In the month of February 2020, alarm bells started ringing, which were signs of taking the precautionary measure due to a deadly virus named Covid-19. As the entire world was halted, India was not an exception! To prevent the infection risk in the younger generation, schools were first shut down for a few days and then for a longer period. Even the school gates were closed, education apparently the students' progress should not be halted. To balance this challenging situation, Vidyalaya offered a perfect solution in the form of school management software.
A school does not just deal with classrooms and other academic aspects, but it also must deal with several non-academic aspects. A school administration includes school admissions, school fees management, parent-teacher communication, exam management, and several responsibilities. The administration and academic staff carry out these tasks in collaboration. But they face lots of hassles and experiences extensive workload when they accomplish these tasks manually. How convenient if these tasks are carried out by a dedicated school management system and staff is allocated for more productive tasks!
Vidyalaya integrates this innovative idea and releases tailor-made software for school management so that your staff is free for concentrating on their core tasks. Teachers and students being the core stakeholder of any education institute, need to maintain a healthy relationship with each other. The effective relationship results in students' progress and apparently the institute's impression. Let us now explain how software can eliminate the hassles in the students-teachers communication process.
Effective attendance management
In the chalk-and-talk method, teachers need to take attendance every day and need to enter into the register without any mistake. But when institutes shifted to online learning systems and classes were conducted online, teachers were confused about how to mark attendance, or they need to check the login of every student and mark it. Vidyalaya removes this confusion by automatically marking the attendance of each student participating in the virtual classes. This method seemed to be very useful for teachers as a lot of time is saved as attendance task is outsourced to the dedicated system.
Even in offline schools, biometric or RFID-based attendance reduces the entire attendance task and let them concentrate on core teaching task. Vidyalaya's school management system software removes the burden of attendance activity, instead, teachers can allocate more time for teaching. Also, the management will get accurate attendance as it is free from human intervention.
Non-overlapping timetable creation
The academic year starts with timetable creation. Before the timetable is released to students, there are sleepless nights and several hours behind it. Teachers need to check the teacher availability, subject weightage, vacations while designing a timetable. This becomes no less than a headache for teachers.
To cut down this overhead, it is advised that just adopt Vidyalaya's school management system. The system will design a non-overlapping, efficient timetable that will best allocate your resources. Not just the school timetable, you can even craft unit tests, semester exam timetables using the software. During this Covid-19 situation, teachers' availability became most crucial as it may affect by internet connection issues, illness factors. So, change in the scheduled timetable can be easily conveyed to the students to avoid further inconvenience using the same software.
Hassle-free exam management
Exams need to be properly conducted and managed for accurate results. There are so many things that need to be reviewed like question paper design, evaluation, seating arrangements, moderation management, result declaration. Now let Vidyalaya's school management software do all this work, and teachers and students also experience the joy of exams, not the tensions.
The software can easily design question papers in any form like MCQ, or subjective type. Also, the evaluation of answer sheets is easy, rapid and the software can give results immediately after the exam. So, students and teachers do not have to wait. The software will prepare a report card for each student and will send it to the parents' mobile number or email address. This will highly reduce the teachers' manual work.
Easy parent-teacher communication
Effective communication between parents and teachers is important for the better growth of students. As the target of both parties are the same, collaboration of two can give you desired results easily. Understanding the changed routine of parents during this Covid-19 pandemic, Vidyalaya helps them to better grip their ward's education with the school management system. The system will keep the parents in the same loop so that they are well-aware of what is happening in the online sessions. As parents can access the assignments, grades, timetable using the integrated parent portal, they can better co-operate with the ward's education process. The chat forum, ease of contact details will help to improve the communication between parents and teachers.
Assignment management
Almost all schools have implemented assignment policies to evaluate learning and these assignments greatly contribute to internal grades. Teachers need to assign, evaluate, record results for assignments and need to submit them for further result calculations. During the Covid-19 outspread, students submitted assignments online so there was a need for a dedicated assignment management system. Vidyalaya's school management software is a complete
package that has an integrated assignment management module that will look after your assignment process.
Better engagement
Classroom learning is always fun as students can have the company of their friends, teachers. But Covid-19 guidelines restricted students being at home and learning online. To integrate better engagement, teachers initially needed to implement different practices. With Vidyalaya's school management system, teachers can implement group discussions, group poles so that students are more engaged in virtual learning.
As the shift from traditional learning to virtual learning has been normalized during and post Covid-19 outspread, school management also realized the importance of school management software. The software facilities the ease of communication by removing all alleged hassles. This is the symbol of the effectiveness of technology integration with the education system. If you observe today's ed-tech market, the persistent performance of Vidyalaya's products makes it the most deserving key player in the education sector. A perfect understanding of clients' requirements, integration of apt technology, excellent customer support, and feature-rich products make the clientele grow day by day. Let the organization's signature products cut down your workload and make your education institute an ideal workplace for your staff too during and post this challenging situation. Get along with Vidyalaya's school management system software and be the role model for emerging institutes!