Top 10 Reasons Why School Inventory Management Software is Important for Educational Sector?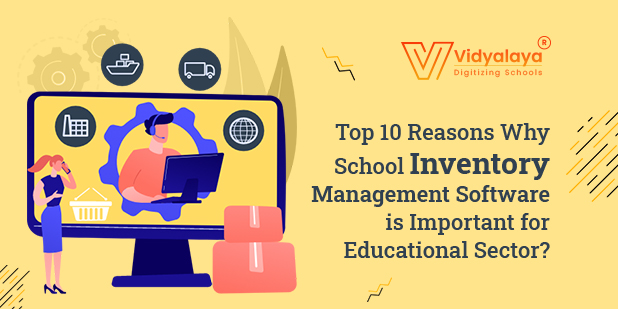 Inventory of any type should be maintained and managed well. Without proper management, a lot of problems can occur like loss of assets, imbalance in financial transactions, wastage of resources. Not only the staff but also the users of the inventory may suffer due to poor management. School inventory also has its importance as schools possess valuable assets like projectors, laptops, classroom furniture, and others. Before the invention of a dedicated school inventory management system, educational institutes used to maintain a register and a pen for keeping track of all assets. This manual system has lots of drawbacks that push the demand for tailor-made software. Vidyalaya grabs this opportunity with its most satisfying product of the school inventory management system. Clients who are already using this system on their campus are extremely happy as they can track any asset at any point in time.
Here are the top 10 reasons that can illustrate why these clients preferred Vidyalaya's school inventory management software:
1. A sorted and organized way of inventory management:
Manual inventory tracking lacks several flaws like asset theft, the incorrect status of assets, un-optimized use of resources, poor maintenance cycle, asset damage. This can prove a major setback for your educational institute as it may incur a financial loss. To rule out this, Vidyalaya helps you with its outstanding product of school inventory management software. The software automates core functionalities, assigns a unique identification number for each asset that makes tracking easy. One can get the real-time status of any asset. You can have standard or customized reports of assets registered with faster data retrieval and more accuracy.
2. Multi-campus inventory tracking:
Many schools have multiple campuses at different locations, where asset sharing may also happen. In that case, tracking assets becomes difficult. Vidyalaya makes this task easy by offering multi-campus inventory tracking through its school inventory management system. Unique identification of assets makes it easier to keep a systematic track.
3. Low stock alerts:
Have you ever experienced a situation where an asset manager doesn't have any idea about the low or restored level of assets and students are suffering from scarcity of assets? If yes, then you must switch to Vidyalaya's inventory management software as it gives alerts and reminders for low stock. It helps the staff to create a purchase order for the assets that are low in quantity or re-collect them from the users.
4. Mobile App:
The mobile app provision helps the inventory manager to access the system anytime, anywhere. Thus, it will eliminate the need for visiting the school campus physically to perform any inventory activity. Vidyalaya will help the staff of the inventory department to make a perfect balance of work and life by providing access to data and applications on their smartphones using the mobile app for the school inventory management system.
5. Reduces manual work:
Inventory management staff suffers lots of work when new assets are purchased, they need to categories them, assign a number, register them in the system, make it available. In daily transactions also, staff needs to maintain different registers for recording the in-out entries, stock update entries. All these can be handled without any hassle when Vidyalaya's inventory management software is installed. As the software assigns a unique identification number using bar code, or RFID tag, the system, scans the code and makes the further processes within a few clicks.
6. Software with customization:
The software also offers customization in terms of data entry, and other processes. Users can make bulk entries using spreadsheets. Also, data can be exported to customizable pdfs, and CSVs files as per the requirements. Vidyalaya integrates with different file formats without any hassle and offers the desired usage of data.
7. Preventing the loss and asset theft:
When there is poor management of assets, there are chances of theft or loss of assets. Vidyalaya's school inventory management software will help school management to prevent asset loss or damage with its live tracking feature. Also, following regular maintenance of service schedule will increase the life of assets so a significant amount can be saved on purchasing new assets.
8. Transparent record keeping:
School funds are divided into different expenses. These funds are fixed and need to be used carefully. Transparent record keeping helps in funding compliances. Vidyalaya keeps a record of every asset transaction so that compliance can be fully-proof. Cloud-based storage will help the security of the data and faster data retrieval making the entire data processing transparent. Role-based access is given to the data so there is no issue of ownership.
9. Insights for asset performance:
Every asset which is used in the school is registered under the school inventory management software. The relevant details like the life cycle of assets, service cycles all are stored under the system. The system gives reminders for service schedules along with asset details. The inventory manager can keep a tab on all asset performance, which are in working condition, which is damaged, which are scheduled for service within a few clicks.
10. Accounting tools:
If your educational institute is using other accounting tools and so you are worried about the collaboration of Vidyalaya's school inventory management system and the accounting tool, then you need not be. Vidyalaya integrates with other accounting tools seamlessly or you can use its accounting system. The hassle-free collaboration will give you exact results when you do it manually and that too at a faster pace and with more accuracy.
In the modern age, school administration shares great responsibilities of providing quality and time-fit education to their students. To bring the school in the main flow and be sustained, they need to be equipped with required assets that are too insufficient in numbers. As the cost of each asset is pretty much, it becomes another responsibility to protect and track their usage. To fulfill this requirement, Vidyalaya's steadfast product of school inventory management software comes into the picture. No matter how big or small your school is, the software is capable of handling all your inventory transactions with the same efficiency. Outsource the inventory management to the software and you just concentrate on building the future of your students by providing them the deserved quality education along with modern assets.