Top 5 Reasons to Implement Library Management System in Educational Institutes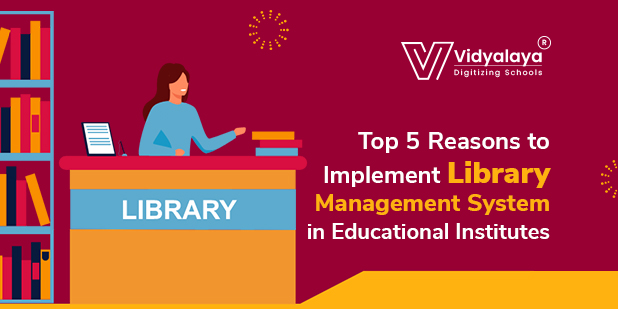 "A library is the delivery room for the birthplace of ideas, a place where history comes to life!" quotes like these inspire students to visit libraries frequently. If you also want that your students should spend more time in libraries and brainstorm their ideas, then your institute must offer a potential school library management system for them. And, Vidyalaya is the perfect destination where you can get your desired requirements fulfilled. The long-serving experience prepares a firm foundation for delivering high-level systems that are widely accepted and accredited.
In recent years, as schools are becoming smarter, underlying sections also need to be updated with time. In contemporary systems, books exchange activity is recorded in registers. These registers need to be maintained for audit purposes. Staff also needs to maintain separate registers for procurement of books and need to be updated with every purchase. All these methods are monotonous and clumsy and thus need a paradigm shift. With Vidyalaya's school library management software, it is easy to give a new direction for library management.
What is school library management software?
By definition, a school library management software automates all library functions and brings efficiency in the processes so that a high level of user experience can be delivered. All book exchange activities are performed under the software and that significantly reduces the operational costs. Also, other activities like searching books, checking the availability of books are performed by the software without wasting too much time.
Vidyalaya's library management software can facilitate not only schools but also colleges, coaching centers. The software has redefined the way of working of libraries at many schools and they are really happy to have dedicated software for library management. As the designers of the software understand the education system thoroughly so they design a streamlined software that can give detailed information about a book like the name of book, edition, author details at any point in time.
What are the core functionalities included in an efficient school library management software?
Vidyalaya divides the school library management software into two users. One admin user will control the activities and student login will use the system to avail of library activities.
These activities make the library system efficient:
Every authenticated user of the library system must have access to the system with proper validation. Much advanced software offers RFID or OTP-based login to provide additional security. The administrator and student login must have different interfaces according to their roles.
Adding and updating books
As books are newly added or updated frequently, the core functionality completes the management of books. Various levels of users like librarians, clerical staff may have access to this functionality depending upon the school policies.
Exchange of books is the day-to-day activity and digitalization of this will save time and effort for both interacting parties.
Admin of system must check the status of any request or order.
What are the top 5 reasons behind investing in dedicated library management software?
Vidyalaya's library management software has an integrated barcode system to identify each book separately. With this automation, you can eliminate the flaws of a human-led system and offer an impeccable option for your students.
Here are the top 5 reasons which fetch school management attention to install separate software for library management.
1. Increase Librarian's Efficiencies
A manual library management system imposes many flaws that limit the efficiency of the system and library staff. Vidyalaya's school library management software lets staff increase the potential and converts every process more feasible and apt. For example, a barcode-based system lets counter staff do their daily work at a faster speed. The manual process is time-consuming and monotonous that can affect the efficiency of staff and apparently the process.
2. Use anytime, anywhere
Library staff needs to come office for any pending work or they need to spend their quality time in school after completing their working hours. This affects work-life balance. Vidyalaya's school library management system boosts your personal and professional life balance by allowing you to access the system from any corner of the world, anytime. The mobile app of the system enables its authenticated users to use the system anytime, anywhere. Also, the mobile app will let you use the system with your smartphone eliminating the need for a large setup.
3. Remove flaws of manual system
The manual system of library management has several drawbacks like monotonous processes, insecure data, no authorization, work overhead, no streamlining in processes. To avoid this, there is a need for a system that will overcome all these flaws and will facilitate the users to do their work effectively. Vidyalaya fills the gap with library management software. The features like barcode integration, availability of books online, library attendance will make it a complete school library management software.
4. Easy searching, adding of books
Library functioning mainly spins around adding, searching, updating, viewing books. Going through every section of books and finding the desired book is tedious work to do every time. Vidyalaya offers an easy interface for these frequent activities in its library management software so that the end-user can quickly get his/her work done. Filtering books, sorting, and filter-based searching will make the user comfortable using the system easily.
5. Customized reports
Reports are pieces of evidence that prove that everything is going on smoothly and successfully. Vidyalaya offers a separate menu for reports that present data in an attractive and elegant manner. Cloud-based software fetches the data rapidly and represents it in standard or customized form with its school library management software.
In the era of smartphones and tablets connected to the ocean of information- the internet, usage of books has become significantly less. Users of the millennial generation may feel bored using the traditional book exchange method. So, if you want to boost them and fascinate them towards books again, then you must provide a capable system to them. Vidyalaya will help you in driving your students' attention from digital books to hard books. Let them smell the essence of new books and dive into the ocean of information by physically turning the pages. Vidyalaya's school library management software will help institutes to offer such software so that in-house reading experience can be enhanced. The software indeed will help you to turn your library from just book repositories to a house of imagination!