Why Campus Management System is good for Every School?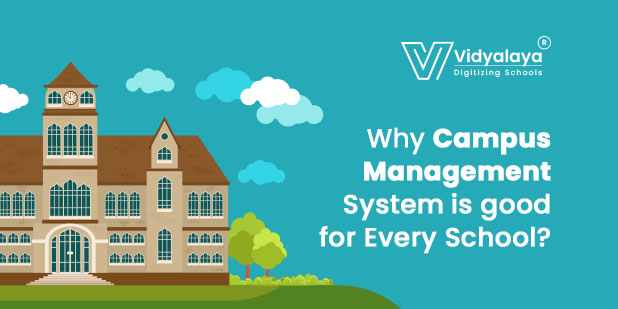 Campus picture is beautiful when it is managed efficiently. And a campus management system can become a great contributor in painting this picture beautifully. An efficient system fulfills the requirements of all stakeholders. The needs of each stakeholder are different. Teachers need to concentrate on academic aspects and need to spend time with students to improve their learning experience. Parents of today's generation are taking interest in their ward's education proactively. They want to ensure that their ward is getting all required resources adequately. On the other hand, school administrators who want to work smarter, need to make efficient decisions to build a better future for the institute. The only potential educational software providers can understand all of these and deliver a product that can satisfy all participating entities.
Vidyalaya being the flag-holder in the ad-tech software industry releases cutting-edge campus ERP software that can reduce the overhead of all stakeholders and makes their life easier than before. The campus ERP product is the best in class for improving the efficiency and effectiveness of educational institutes and apparently improves the quality of teaching. The product analyses, compare, and control data regarding students, institute, data across departments, and administrative staff.
Here are the lifecycle leads to key features of Campus ERP software:
The student portal needs student details like personal information for course admission, application, fee management, and for the alumni management system too.
Administration of data regulates the data, modules it, and catalogs for various purposes.
Exam management performs planning, organizing, and documenting of exams, results declaration, and certificate generation.
Reporting module supports decision-makers with standard and custom reports using business intelligence and CMS database analysis.
Not just academic but complementary sections like a library, hostel, fee management, inventory, and transport complete the education life of a student. They are strong pillars of an educational institute that will contribute to the institute's development. Here are some of the selected scenarios that will underline the need for campus management software for every school.
Scenario-1 Make the admission system human error-free:
We all know that manual admission system lags behind automated admission systems due to several flaws. Long queues, human intervention errors, difficulty to manage, less reliability, difficult to store, and less eco-friendly are some of the flaws that enforce adopting an online admission system. Vidyalaya overcomes these flaws and provides a single platform that will facilitate the admission to be error-free. Campus ERP software is integrated with a dedicated module for online admission that will complete the admission cycle and deserving candidates will get admission.
Scenario-2 Ditch those long queues for fee collection:
Fee payment at the start of every academic year is a must-to-do category task that every student/parent goes through. Paying fees wastes lots of resources like manpower, time, and money. Vidyalaya facilitates students and parents by offering a campus management system. The system converts the manual process into automated and offers freedom to the stakeholders of paying fees from anywhere, anytime.
Scenario-3 Get connected to stakeholders more actively:
In absence of a School management software platform school administration needs to contact through phone calls, or emails to convey important updates to other entities. Separate interaction can grow different troubles and makes the entire process less effective. So, Vidyalaya prefers a single platform where all stakeholders can communicate with each other without any hassle. Different groups and chat corners enable group discussions or enable management to get connected to a particular or all entity group.
Scenario-4 Let reports give power to decision-makers:
Higher management needs accurate data that too presentable manner for making futuristic decisions. These decisions impact the future of the institute so need a reliable and robust system that will empower analysis and decision-making. Vidyalaya's campus management system will help higher management by processing, generating, and displaying the statistics and in an easy-to-read format. All types of reports like payroll, academics, fee collection, donations, and expenses are generated and management can retrieve data quickly.
Scenario-5 Forget the worries about data security:
If you want to discard the picture of your office buried in the files and folders and make it neat and maintainable, then make a shift to digital storage. Vidyalaya tightens the security of data and application by offering the cloud-based option. Campus ERP software offers secure and safe payment transactions through a reliable payment gateway. The cloud server enhances the security and will promote 100% data security and role-based access will prevent unauthorized access.
All these scenarios drop lights on different aspects that depict the need for a comprehensive campus management system for every school to be listed as star-rated. Vidyalaya promises to offer software that will accomplish the academic and non-academic aspects of every institute.
Vidyalaya's software offers features that will fulfill the checklist of being a good campus management software:
Efficient multi-school management
If your foundation deals with branches based in different cities, Vidyalaya's School ERP software will empower you to handle all branches using a single platform. This is greatly helpful for higher management to keep an eye on every branch without visiting the branch physically.
The entire academic routine can be managed with a single software. Starting from syllabus circulation to timetable management, classroom management to examination management, all can be handled with great efficiency and optimum resource usage. Grades fulfilling different criteria like ICSE, CBSE, State Board, and IB can be managed without much trouble.
Books in libraries are a great asset for any institute. Vidyalaya eases your responsibility by offering a dedicated platform that will help you to manage all non-academic activities also through School management software. With this software, users can handle all library-related activities like book issues/submissions, library fee payments, and book inventory management.
School transport management
Secure your school transport with a GPS-enabled transport management system. Let the campus management system send the auto-notification when the commute vehicle leaves and enters the campus. The system will send notifications to the parents in case of an emergency.
Manage and streamline your hostel activities like a pro with Vidyalaya's campus ERP software. Starting from hostel admission to hostel fee payment, checking the availability of rooms, or sending reminders and entering in/out time to parents, everything is possible with a few clicks.
School campus is happening place in academic life. Vidyalaya's campus management software makes it more happening with its advanced features and streamlines the activities. The integrated platform manages academic and non-academic activities and provides online access to relevant information. Extensive quality of education can be achieved when all correlative processes are carried out with optimum efficiency. Let Vidyalaya become the journey partner and thrive your institution to success path.