Why Campus management Software is Good for Every Educational Institute?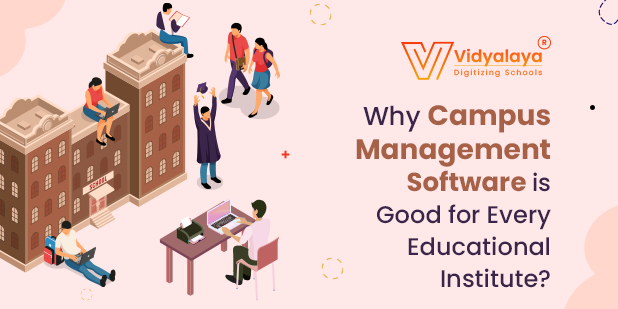 The word campus brings a huge canvas of diverse things to our minds. Canvas not only relates to academic things but also sticks to non-academic things like transport, admission, events, and many more. Due to different departments being involved in campus management, thing becomes complicated and vast. And, this leads to a need for a comprehensive solution for campus management. Engagement and user experience are the two newly added aspects that have gained immense importance in new-age software. It is important to offer extraordinary engagement in the education sector. New-age software providers have understood the importance so well that they are incorporating them into their products. Vidyalaya's campus management software is the perfect example of a feature-rich product along with an excellent user experience. It places emphasis on what is really important: students. The student-centric software integrates modern technology and empowering features to fetch the best results.
What is campus management software?
Campus management software is a cloud-based education ERP system that is used by educational institutes to streamline campus activities, automate administrative activities. The software facilitates the stakeholders of the institute to carry out paperless management and access the available resources with optimized usage.
What challenges are being faced by the educational institute that leads to the implementation of tailor-made campus management software?
Educational institutes that are relying on manual systems are facing different challenges. Some of them are mentioned below:
Admission
The manual admission system forces students to stand in the long queues and face different counters for completion of admission cycles. Loads of paper-based documents need to be maintained and the human-led process introduces several flaws like inaccurate, biased merit list, huge usage of paper, wastage of resources.
Fee collection
Constant follow-up for fee payment is an additional overhead for clerical staff. Also, a large amount of cash handling during the admission period is a big risk for educational institutes. When the number of students increases over the years, manual collection of fee payments becomes tedious.
Less security
There is absolutely no or very trivial level of security for documents submitted by students in the educational institute. Also, highly sensitive documents like address proofs, results cards, payment details, question papers require additional security which may be lacking in the manual system.
How these challenges are overcome by Vidyalaya's campus ERP software?
Now, as we know the challenges faced by educational institutes, Vidyalaya, with its expertise in the domain, facilitates them with its comprehensive campus ERP software. Let us take the chance to explain how we do this:
Replace long-stranded queues of admissions with online admissions
Manual admissions were frustrating for students as well as for institutes. Lots of paperwork, static data handling, in-efficient use of resources are the flaws of the manual admission system. 
The shift from manual to online admission system is a smooth transition with Vidyalaya's admission management module of the campus management system. A login-based system will automate the admission process such that there is little human intervention. It provides a complete solution for the entire admission cycle and can facilitate institutes of any scale. 
Compliance-proof institute reports
Vidyalaya improves the existing system such that users of it are able to create standard and customized reports that are based on real-time data. The dynamic reports make you ever ready for any type of audit, compliance-testing. Also, the reports are simple and easy to read. You can now ditch the paper-based reports and can completely rely on digitalized reports that are more accurate and presentable. The campus management system is self-efficient and stores data on centralized cloud storage such that it can retrieve data faster than a manual system.  
Shift to digital payment for fee management 
Are you tired of the manual fee management system? Want a flawless solution that will give you real-time status of your fee management process? Vidyalaya has a better thing for you! The online fee management module of campus management software will enable you to have the fee management process online. 
School staff can set different reminders for the fee collection process and they are sent to parents automatically. Parents can get reminders as Push messages, app notifications, SMS, or Emails and can pay fees without thinking twice as the system is crafted using secure and reliable payment gateways. Also, the auto-account management will make the accounting process easier for the clerical staff. Institute can keep the right track of fees collection, donations, alumni sponsorships using a single software.  
Know your stakeholders better with smooth communication
Parents' involvement in modern education is considered to be a significant factor for students' overall growth. Vidyalaya avails you of a strong communication platform that will bridge the communication gap between all stakeholders and keep everyone on the same page. The campus ERP Software will provide online forums, group chat facility to establish dynamic communication. Parents or students can get the updates like due date fee reminders, event updates, exam schedules, attendance reports on the emails or through the app. 
A fence around your data and application with advanced secure technology
A problem with the old-fashioned school management system is there is no security to the data collected. The paper-based documents are open for tampering, loss, or can be lost in incidences like fire, flood. Vidyalaya enables you to be away from these flaws with Campus management software such that entire data is stored on the centralized server or cloud server. The 100% data security guidelines set by the Indian Government are followed while designing the software. 
To sustain in this throat-cutting competition era, educational institutes need to think beyond the traditional CRM. A complete package that will help you throughout the academic cycle, right from the admissions to retention, alumni is the need for hours. Vidyalaya has rightly recognized this need and introduced Campus ERP software to facilitate the educational institute's ranges of all scales. The software is the perfect companion not only for students but also for each stakeholder of the educational institute and fulfills their needs at every stage of their academic lifecycle. Let the campus ERP software product eases of doing business for the educational institute and makes ready for the new-age challenges.