Top 5 Good Reasons to Use Online Exam Management System for Every School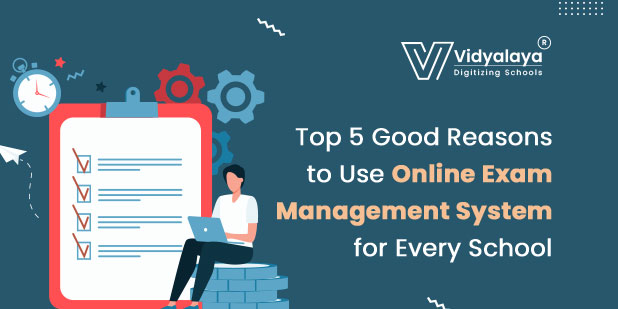 Education is becoming more widely available. As a consequence of technical advancements, education is no longer limited to the four walls of a classroom and a chalkboard; it now extends to your fingertips. Many academic institutions are already utilizing technologies to make operations such as admissions, exams, and fee payments publicly available so that they may be optimized and easily traceable.
What is examination technology for the internet?
An online exam program, commonly referred to as an online test system, allows academic institutions to conduct assessments in a virtual environment. Schools, colleges, and institutions assess individuals' education and knowledge by using social media and the internet to administer tests. The examination method is comparable to that of the online play, with the exception that the whole practice test and completing process takes place online instead of in physical locations. We wouldn't have the statistics to prove the magnitude of the assessment ecosphere disturbance convincingly. Such figures, on the other hand, may come as a shock to those who have stayed on the periphery of technological improvements in the educational environment, choosing to stick with conventional assessment methods. Many variables have influenced their choices, and delving into the details is beyond the scope of this article.
An Online Exam Software's Benefits and Characteristics:
Consider administering a classic pen-and-paper or maybe even a facility test to educate yourselves of the steps involved in providing evaluations. That's all there is to it! That's all there is to it when it comes to scheduling your online exam. Your organization should first establish the objective and get an understanding of the exam's parameters. Is this a midterm or an admission exam? What is the likelihood of a large number of test-takers participating in this project? How many educators do you think you'll need to ensure a smooth test process? What kinds of questions would you ask: elaborative, conceptual model, essay-style, or multiple-choice? What might the grading system be? What would you give them on a scale of one to ten? However, many response pages would a single examiner be responsible for identifying? These are just a few of the many questions that can be answered even before the online test may be conducted.
Online tests are similar to middle or conventional pen-and-paper exams in that they simulate much of the procedure. However, they differ greatly in terms of adaptability, comfort, and a slew of other issues which we've already discussed in the first few sections of this article.
Let's look at the processes and perks of an online exam, as well as the privileges it provides to administration, assessors, and standardized tests. Let's take a closer look:
A stronger online learning platform alternative: 
Given the current circumstances, schools have an increased possibility to have they allow users to interact. Exam schedules have been delayed in the near term, resulting in a shift in scholastic timetables. Organizations are completely unaware of the book Corona's quick surge of instability. Online evaluation systems can be a lifesaver in instances like this, allowing students' performance to be assessed and recorded at all times, including during slowdowns. Students can take tests from everywhere they want. Fast broadband connectivity is all that is required. Examinations can be defined with numerous timetables and time zone differences in online test platforms, allowing students from all over the world to take tests the way they wish. Teachers, on the other hand, can assess students from any location. There are possibilities to set up several tests for different subject areas. All of this may be set up to be available 24 hours a day, seven days a week, so students can take tests whenever they want.
Offline marketing tests necessitate a large number of written examination papers and the creation of suitable timetables. Exam creation in an online exam Management System is simple and quick. It takes only four steps to develop and publish tests in Online Exam Maker, and then students can take the exams.
There is no need for manual grading because the system offers automated scoring that is both quick and precise. In terms of functional questions, the system is capable of making decisions on its own. Keywords can also be used to designate multiple-choice questions, allowing for sophisticated grading. Just after tests, a full report will be produced for kids to assess their weaknesses, as well as a ranking list to determine their students learning in the classroom and overall grades. It truly fits the school's and students' needs for long-term development!
The organizers merely need to send out the relevant URL and QR codes, or mail students to remind them to take the tests. Exams can be taken on a computer or a smartphone phone as long as the student is accessible. Students do not need to be concerned about being unable to come on time if they do not have access to a computer or a phone.
No Hassle to manage Examination Centres:
An online test system enables the students to take the exam from anywhere. With the use of a web recording device, exam monitoring can be carried out. Virtual proctoring is a term for this type of exam administration. When an examination is held remotely, tens of hundreds of students can take the test without having to pay for travel or lodging. This also removes the issue of organizing exams among multiple exam centers, employing proctors, securing these centers, and so on.
Conventional examinations need students to meet at a specified time and location. Online tests do not require students to collect at a certain time and location. Schools and academic facilities are currently closed due to the current conditions. It's difficult to get a group of students together. Using an online exam Management software is a forward-thinking tool for the present and future. It may be used to organize not only tests and quizzes but also questions. It has a lot of educational resources that can be used in the classroom.
Automated grading systems:
Organizations use virtual platforms with automated scoring systems to administer online exams. As a result, schools are excused from personally evaluating the test answers with your most vital asset, your staff. Furthermore, they do not need to be concerned about prolonged deadlines for grading the papers. It's possible that you'll have to evaluate subjective or objective responses. Essay-style questions, chemical equations, or algebraic equations, as well as a proficiency test such as an English exam, are examples of subjective questions. Assessing different types of questions, such as Comprehension questions, is also simple. To put it succinctly, all forms of subjective and objective questions can be easily evaluated. Also, wave farewell to all those time-consuming and laborious sessions to determine the marking method. To my senses, it seems like wonderful music!
Exams are an inescapable aspect of today's modern educational environment. To keep up with the times, one must be aware of evolving technology as well as the expectations of a globalized society. Only an online assessment system, which automates, digitizes, and simplifies the testing process to verify software quality and record institutional performance, may save the day.