Comprehensive guide to School Fees Management System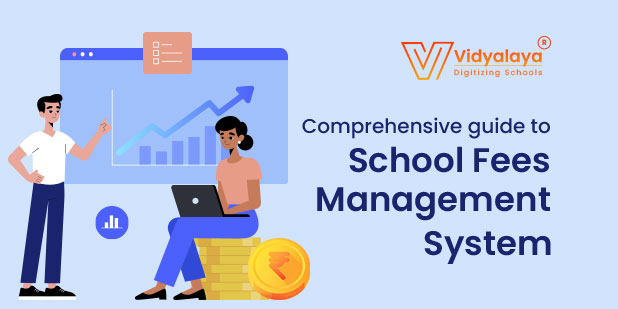 The year 2020 taught us to live life differently. The Covid-19 pandemic enforced a home-based lifestyle, resulting, us all being used to relying on online platforms for doing our daily activities. Be it doing shopping online or paying school fees online. Vidyalaya takes the honor to facilitate the school stakeholders with advanced school fees management system. The comprehensive module serves as a one-stop solution for all fees-related activities like paying fees, keeping track of dues, sending notifications to parents. No matter how the process is complex, the dedicated system makes it a piece of cake.
What is school fees management system?
School ERPs are the dedicated system designed as per the school's requirements so that flaws of the manual method are overcome and new provisional ways are introduced. The fees management system is one of the core modules of any school ERP system or it can be deployed on an individual basis. It is responsible for carrying out school fees processes digitally by simplifying the process of fees collection and organization.
Once the setup is installed, school management can take a review of the entire fee management process anytime, anywhere. It also sends instant notifications in different scenarios like fee payment, due date, changes in fee structure which were carried out manually in the contemporary system.
Why one should implement school fees management software?
School management always needs to think out-of-box to sustain in this throat-cutting competition. They need to adopt software that not only meets their requirements but also offers excellence and convenience for other stakeholders. Vidyalaya understands both sides of the coin and connects them through fees management software.
Some of the major benefits of the software are mentioned below:
Reduced workload
This is the motto of any automation. Reducing your staff's workload makes them concentrate on more important activities. The increased productivity can be consumed for other academic and non-academic activities.
Vidyalaya experiences the pain of staff especially during the peak admission period so the school fees management software gives instant relief for them. The shift to online payments deletes the need for the dedicated staff at the counter and do the transactions. Parents can easily pay the fees without the help of staff and get the receipt of it as proof. Staff can also manage the transactions on their behalf from their comfort place. As online transactions are carried out with smartphones, computers, laptops there is no need for infrastructure or maintenance. This can be proved to be a cost-efficient solution for both integrating parties.
Fee structurization
School fees include different types of sub-categories like:
House fees
Classes
Fee type
Medium of instructions
All these factors define the fee structure. Manual categorization makes the process complex and can cause human intervention errors. Vidyalaya's fees management software is designed as per the client's requirements so there is no need for keeping the records manually. No queues, no multiple forms, just pay the fees with a few clicks.
Discount management
Many times, certain students are eligible for discounts on fees due to various reasons like economic status, excellence in sports. Students get scholarships and their school fees are discounted. In a traditional fee management system, the staff maintains a separate register to record these special transactions.
Vidyalaya aiming at a paperless office facilitates special provisions for discounted fees. Users can simply add the required details and fees management software will automatically calculate the fees for students and record them properly. So, school clerical staff no longer need to change the fee structure every time as it is stored in the database.
Power to pay fees anytime, anywhere
It is the major benefit of online fees payment. Parents are no longer need to take dedicated time out from their hectic schedule and visit the institute for paying fees. Rather, they can seat at their comfort place and pay fees anytime.
As schools are operational for a specific time duration that cannot be possible for working parents to come and pay the fees. So, the alternative given by Vidyalaya's school fees management system makes them feel capable of paying fees anytime, anywhere.
Robustness and secure way of payment
Cash handling is never been easy neither for parents nor for institute staff. During the peak period of admissions, a lot of cash is gathered which needs to be transferred daily to make it secure. Eliminate the risk of cash handling and transfer to the bank by adopting the fees management software.
Many parents hesitate to do online transactions because of cybercrimes. Vidyalaya ensures them with robust payment gateway integration with the software. The transactions made are 100% secure and details are safe.
Data backup and synchronization
How long you will maintain those yellowish records in the jargon? At the time of audits, auditors gave an annoying look by seeing the old-fashioned records. Ditch this method and adopt the new one. Transfer all your transactions to the digitalized platform and retrieve them whenever needed.
Vidyalaya with its fees management software offers hassle-free synchronization. The cloud-based software offers the benefits of cloud technology and stores your entire data and application on the clouds safely. The authentication and authorization features make the access of data open for valid users only.
Ditch the papers
Free up your office space by shifting your registered-based fee processes to fee management software. Eliminate the necessity to record everything manually or print and staple in the files. Digitalization of records can be saved instantly and can be retrieved within a few seconds and can be shared with concerned authorized entities without printing them on paper.
The resource-efficient software enables school management to proudly associate with eco-friendly objectives as efficiency in the entire system will help you to achieve the aim.
Vidyalaya enriched with all these features makes it a complete, fee management software. Moreover, if your institute follows any custom fee management process, it can be also incorporated as Vidyalaya offers 100% customization and satisfaction.
Setting a mission like digitalizing education is not just about online presence and digital platforms but it is all about advancement, convenience, awareness. Vidyalaya having a brand slogan of 'Digitalizing schools' aims on providing all these factors regardless of budget, scale, the spread of the institute. Just adopting digital platforms is not enough, but the leading organization is bound to provide exceptional software that can touch every aspect of the education process with a professional hand. The fees management system is one of the finest examples of this. Collaborate with Vidyalaya and open true doors for digitalizing education!