Check out How Biometric Attendance System Can Benefit Your Education Institute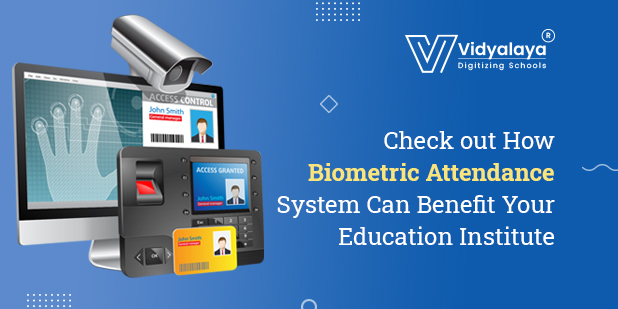 You must have seen a biometric attendance system installed in various organizations where staff punches their attendance. The concept became so popular that it is being used at every possible place. The reason behind being popular so rapidly is its features and the increased importance of security. The educational institute is another place where attendance matters. Every day, sometimes every lecture attendance is recorded and that contributes to internal grades. Understanding this importance, Vidyalaya brings you a time-fit alternative that will facilitate you with unconventional biometric attendance software that will take you ahead of time.
If you are looking your educational institute ahead in this throat-cutting competition, then this software will help you to achieve educational goals. As attendance and students' progress are interlinked, accuracy in attendance is a must. All these lead apparently to the entire educational institution's growth, school management must consider this to be installed on their campus.
What is biometric attendance software?
Biometric attendance software is a system used for recording the person's attendance using physical characteristics like a fingerprint, voice pattern, face recognition, or iris. As this system is to be installed inside an educational institute, Vidyalaya prefers to use the student's fingerprints as their identity measure.
What are the flaws of the traditional attendance recording system?
In absence of biometric, educational institutes depend on the manual method of punching the attendance in which the teacher records the attendance of each student in a register manually.
This system has several flaws like:
Teachers need to bear the overhead of punching the attendance of every student that can affect their core task of teaching.
As it is accomplished manually, human intervention errors can occur like the wrong entry of absence/presence.
It is a time-consuming process if the number of students is large.
Attendance registers need to keep with security as they can be lost/damaged/tampered with.
Class-teachers need to draw records of every student manually to mark internal grades.
Subject-wise/teacher-wise attendance is not possible or difficult to draw.
How biometric attendance software can help your educational institute?
Vidyalaya's Online attendance software offers the desired functionality regarding attendance management so that educational institutes can completely rely on it. It can help your educational institute to achieve its academic goals in the following ways:
Increased accuracy
Vidyalaya's online attendance system overcomes the aforementioned flaws of the manual attendance management system and yields better results. This system can be implemented not only for the students but also for the staff. Staff attendance can be recorded accurately and the payroll module can fetch this data internally to make the salary calculations. As the biometric measures cannot be altered or duplicated, the accuracy in maintaining the right attendance can be achieved through Vidyalaya's fingerprint attendance system. This can give accurate records to process further calculations. There will be no more 'buddy punching'!
Speed up the process
Taking attendance is the first task that every teacher does after entering the class. If the number of students is more, this task can take significant time. On the other hand, Vidyalaya's biometric attendance software reduces the overhead of teachers to zero and only students need to punch their attendance with their own identity only. With this software, teachers can concentrate on the core job of teaching without wasting time on attendance marking.
Increased accountability
As we know that class attendance directly impacts the student's growth. Vidyalaya's fingerprint attendance system improves student accountability as the system is designed in such a way that school management can retrieve student/subject/month-wise data of a particular student. This can depict how a student is progressing.
Also, the staff of your educational institute will remain bound to their duties during the working hours if a biometric attendance system is installed for staff also. It will be easy to track down employee's work, lunch hours, break timings. This will give an actual picture of an employee's productivity.
Notification to the parents
In a manual attendance system, parents' involvement in the academic routine is limited to PTAs. But, when Vidyalaya is there, every stakeholder is on the same page. Parents have the right to be known about their ward's whereabouts, progress. So, Vidyalaya's fingerprint attendance management software is crafted such that when a student punches his/her attendance, a notification/SMS is sent to the concerned parent's registered mobile number. This can keep the parents in the loop about attendance updates of their ward.
Improved compliance
The world has changed a lot and so have crimes also. Educational institutes must prepare themselves too stiff to occur any crime. Manually registered entries can be altered or damaged, so to make the entire attendance compliance prone, Vidyalaya's biometric attendance software becomes a necessity rather than a luxury. Clearly maintained records can help to track down the individuals and take quick and best possible actions.
Effective decision-making
Student's attendance reflects the performance of the teachers also. So, the higher the attendance, good the quality of teaching of the teacher. Educational institute management can take necessary actions if there is less attendance for a subject teacher. The attendance recorded by Vidyalaya's fingerprint attendance management software cannot tamper so actual facts will tell the real story.
Security at its best
Attendance registers are kept in the teachers' room where there are chances of getting altered or damaged. This issue can be resolved if Vidyalaya's fingerprint attendance system is installed. As entire attendance data is digitalized and stored on servers or cloud servers and can be accessed if you have only authorized access permissions. So, there are fewer chances of tampering or deletion of data.
Attendance is a compulsory aspect of academic life. It can significantly lead to educational success. There are hidden skills like time management, punctuality behind the attendance developed in the students if they are regular and punctual with their attendance. Successful educational institutes are encouraging their students for coming to schools regularly as the attendance rate significantly depicts your educational institute success stories. To achieve this goal, none can compete the Vidyalaya's Biometric attendance system. Make a paradigm shift from traditional attendance muster/register to biometric and experience the change!