Vidyalaya School Transport Management System: Definitive Guide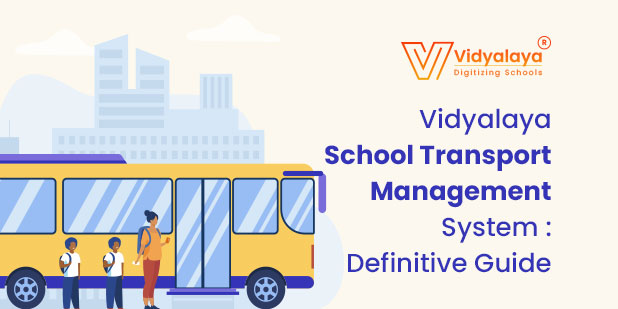 With the provision of commute, there are lots of advancements in the transport sector. Technology integration has embraced the sector with grace. Educational institutes are now offering transport systems for their students. An advanced transport management system has become a necessity more than a luxury. As students from different areas enroll in the educational institute, a secure and feasible school transport management system is a need of the hour.
If you are an educational institute holder or a parent then you can certainly understand the need for such a system that will monitor the entire commute system of the school. Vidyalaya is a strong option provided by industry experts that are completely designed by understanding the needs of an educational institute. It is a complete school transport management software that streamlines and manages the school transport cycle and involves every stakeholder efficiently.
Looking at the importance of a feasible transport management software, here is the list of the reasons why there is a need for it:
A good transport system can ensure the safety of the students.
A transport system with technology integration can prevent unfavorable incidences or can take immediate actions to stop further damage.
It can save cost overhead due to excessive maintenance costs.
A comprehensive system can facilitate the payroll of transport staff easily.
If you are also looking for such a good alternative for your current or manual student transport management system, then end your search at Vidyalaya. Vidyalaya is a complete school management system package in which a transport management module comes as one of the core modules. Basically, the module is designed by understanding the transport process carried out within the schools. It will cover all aspects of the commute process along with supplementary processes so that the entire cycle is covered.
Features of Vidyalaya as a comprehensive student transport management software that can help you to adapt it to redefine the transport management system of your school:
Notify the parents about change in schedule
Process the transport fee collection and its management
Easy reporting to track the process
Transport staff attendance monitoring
How Vidyalaya can satisfy your need for an efficient student transport management system?
After knowing the fruitful features, you may want to dig more about transport management software and Vidyalaya's striking features can increase your excitement to adopt it as an efficient transport management partner. Know what will you get in returns after the implementation of Vidyalaya as a transport management system:
Know the real-time location
Student's safety during the school commute is the utmost priority of school administration. Connecting with a GPS-based vehicle tracking system, Vidyalaya lets you know the real-time location of the school buses. This can ensure the safety of the students as the bus is continuous under monitoring. This location is shared with parents, school administrators. This will provide an extra sense of security so that parents can have updated information about their ward's whereabouts and they can breathe easily.
Instant Alerts for parents
Parents always wish to get notified when there is a change in schedule or else, they get restless and annoyed. The integration of the SMS system or email system with Vidyalaya, school transport management software keeps you updating about the change in time of departure or arrival. This can help the parents to be on the same page even if they miss any regular updates. Keeping the parents updated about emergency situations will increase the level of trust.
Increases the accountability on transport staff
It is obvious that everyone gets more alert when they have been continuously watched. To carry out the transport by following proper safety measures is a major responsibility of entire transport staff. When the entire system is monitored by a progressive school transport management system, there is an increase in accountability on transport staff and they perform their duties with more efficiency.
Staff can get instant help
When the staff and the educational institute are connected through an interactive system, the staff can get in contact immediately with the educational institute when there is any unfavorable situation or need. In case of accidents or emergency situations, drivers or supporting staff can contact admin staff and they can get instant help and can prevent much damage.
Eco-friendly solution
Vidyalaya helps you to stand out from the competitors by taking a progressive perspective for running an educational institute. The awareness about the environment is the necessity of the time and Vidyalaya will provide you an eco-friendly school transport management software. This will cut down your resource usages and use them with utmost efficiency. There will be no more bus passes, no notes.
Inclusion of new routes and reduce the delay
Human intervention in the system can affect efficiency. Tracking bus routes to select the best route during the peak time manually can be laborious and not that fruitful. Taking the help of leading software like Vidyalaya, it will be a cakewalk. Data collection through these advanced methods can be beneficial and accurate with time. The real-time data collected and routes can be decided to avoid delays during peak hours.
Transport staff payroll processing
Drawing pay-outs at the end of every month is a cumbersome task for school administrators. As the transport staff is generally appointed on an hourly or contract basis, the complex structure of calculation will be difficult for them. An advanced system like Vidyalaya's student transport management system can solve your problem and manage the pay-out processing easily.
Easy maintenance of records
As transport systems can play a significant role in secure commute for school students, maintaining records with security is necessary for further references. The records contain various expenses information regarding fuel, maintenance of the vehicles, renewal of license, pollution checking certificates, and others. These all are essential to carry out the service with maximum safety and feasibility. Vidyalaya understands the need for these documents preservation and gets them available when there is a need.
We frequently come across mishaps about the school transport system whether it may an accident or kidnapping or any other fatal incidences. We can take advantage of technological advancement and can eliminate the risks involved. Vidyalaya, the advanced school transport management software can help you to achieve this and set you tension-free regardless of your role in the education cycle.