Definitive Guide to Examination Management Software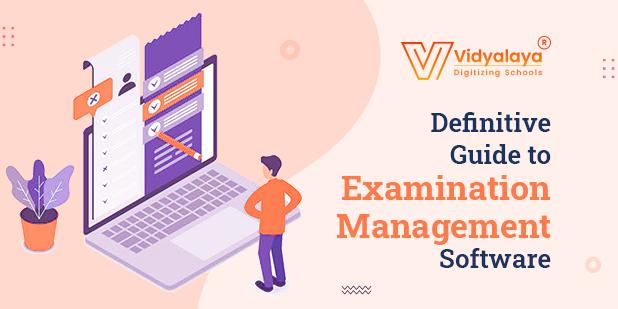 According to Albert Einstein, "Education is not the learning of facts, but the training of the mind to think!" Exams are the measures to test the knowledge of students and the evaluation is considered important to upgrade them into the next standards. Conducting classroom-led exams was the norm and online exams were limited to competitive exams or entrance exams. The Covid-19 outspread broke the stereotype and enforced everyone to shift to online education. Online exams replaced moderator-supervised exams. After the wave, education systems realized the need for an examination management system to cope-up with the changing nature of exams and apparently online learning. Vidyalaya, a leading name in the ed-tech industry is continuously enabling the education sector with its wide range of products. If you are still lagging and hesitating about adopting an online platform for school exams, then this is the perfect destination for you!
What is an examination management system?
It is an online platform that manages various aspects of conducting exams. It offers planning, invigilating, evaluating, and replicating offline examination systems using a complete software package and proctoring technologies.
During the Covid-19 outspread, online examination management system emerged as bliss for all stakeholders of the education system in equal measure. The enriched system enables to conduct of scalable and remote-based exams with the help of advanced technology.
What are the different types of examination management software available in the market?
Depending upon the requirements of the educational institute, there are different types of exam management systems available in the market.
Systems that provide an online platform for exams only.
Systems offering examination platform along with proctoring services
A complete package that offers an examination platform, proctoring services, and assessment service
What are the pillars of Vidyalaya's school examination management software?
Experts from Vidyalaya craft each software with thorough research and analysis. Like other software, school examination management software is based on three strong pillars:
Examination Platform
This offers a detailed exam system that includes a controller, administration, and setting up faculty, giving fruitful inputs. The offering of Vidyalaya's Online examination management system exam platform consists of:
Enabling bulk upload for data related to candidates, proctors, and assessment
Channelize your energy on more fruitful tasks rather than wasting it on the slotting of candidates.
Sends auto-invite to students, detailing exam date and time.
Anonymity will help to evaluate the papers without biasing.
The system enables automated question paper creation, leading to saving of time, and anonymity.
The system creates a question paper on basis of auto-randomization that improves validity and effectiveness.
Multiple types of questions like long answers, diagrams, multiple-choice can be inserted in the question paper. The diversity will probe students in different ways.
No-cheating features
Cheating cases in the exam are not new, but Vidyalaya is bound to introduce a no-cheating feature that makes your system fully proof. The school examination management software is based on AI-based algorithms making the software accurate. It offers:
AI-based proctoring instantly detects suspicious cases.
Enables manual plus live invigilation
Thorough candidate authentication
An ideal examiner
The future-fit system ultimately aims at a comprehensive and unique solution for school exams. Not only exams but Vidyalaya extends a helping hand through its hassle-free assessment solution. The examination management system works as a perfect solution for all kinds of exams assessment. It facilitates the stakeholders through:
Project governance
Offers clear and unambiguous visibility for answer sheet submission.
Allows you to set different reminders for incomplete works
No more waiting for results
What are the features offered by Vidyalaya's school examination management software?
After learning the meaning, base pillars of the school examination management software, let us elaborate on the features offered by the system:
No restrictions for diverse boards
When the country joins the globalization wave, the education industry was ready to welcome the different boards like IGCSE, IB, ICSE, CBSE and set the standards of education to new levels. Vidyalaya adopted the different cultures of the education systems and crafted the software such that it can serve the purpose of the education board well. Also, the system offers different evaluation methods like CCE, CWA, GPA and makes your system self-efficient.
Tailor-made report cards
Each institute may have different repot card formats and specifications. They are normally impression of the institute's theme. Vidyalaya offers complete customization and enables teachers to select and print single or multiple templates.
Implement digitalization
This is the main feature of Vidyalaya's school management system that enables digitalized implementation of education. The examination management system offers a digital version of exams and evaluations. It eliminates flaws in the manual exam system and offers a robust solution. Question papers are created just before the exam and allow access to authenticated students within the pre-defined time period. Limiting the resource usage to a single computer and reliable internet connection, the scalability of the exams can be extended or shrunk depending upon the requirements.
Improved Communication
As all stakeholders like students, teachers, school administrative staff are using the same examination management software, there will not be any communication gaps. Vidyalaya lets you set different reminders and send auto-notifications about important updates of exams. Students/parents can receive the updates through SMS or Emails relevant to upcoming exams.
Safe and secure way
Safety measures are the most concerning feature of any software. In the education sector, as exams have immense importance in academic life, it is an unwritten convention that they must be carried out without any safety leak. Vidyalaya bounds the examination management software with cloud-based security so that content is accessed by only authorized users. The role-based users, login-based access makes the system secure.
Also, in manual exams, there are chances of biased evaluation, which is completely ruled out when exams are conducted using school examination management software. The masking evaluator and student credentials are unknown so the entire process is carried out without any preference leading to true evaluation.
Irrespective of the scale of your education institute, allow Vidyalaya's school examination management software to upgrade your standards. Let the features of the software evaluate your students without fail, and the speedy results break the waiting period and anxiety. Reduce the workload of your administrative staff during the peak exam period and engage them in more productive tasks to shine your brand name. Be a proactive member of a never-before mainstreaming of online examination system with Vidyalaya's examination management software! Let our mission of digitalizing schools help you to offer digitalized education and make your next generation fit for the future.