Definitive Guide to School Vehicle Tracking Software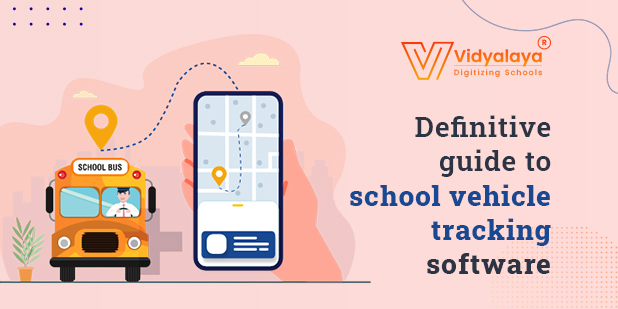 Do you all remember how we used to go school during our time? Either public transport or cycles or by walk. Right? With the new inventions, we have progressed our lifestyle to a better phase. We all know the flaws of using old-school ways of school commute. As time flies, factors like the risk involved in taking the public vehicle, the number of vehicles on the road, child safety gradually became more serious. So, instead of taking private or public commutes, schools started offering their own commute system for students.
As parents also became working parents, the school commute option suits them from all perspectives. But listening to the fateful incidences of school vehicles, parents became worried about their ward's safety. End of the day, the school administration needs to answer all queries from parents. So, how will you handle this?
Vidyalaya can come to rescue you from all worries regarding your students' school commute. Upgrade your existing system to Vidyalaya's school bus tracking system and let the technology track the entire journey. If you still hesitate to get collaborated with Vidyalaya, then this is the right place to be aware of school vehicle tracking software.
What is a school bus tracking system?
A school bus tracking system is a tailor-made software that identifies the geolocation of school vehicles and connects the school management, parents, school transport section so that they can locate the location of school vehicles in real-time.
With the integration of the Global Positioning System aka GPS technology, the system detects the live location of school buses and is shared with core stakeholders. This will help institutes to achieve the trust of parents. The system is not only limited to location tracking but it deals with relevant functionalities like driver/attendant details, vehicle servicing schedule reminders, emergency contact facility, and others. With an efficient system, the school administration will be able to offer desired safety and quality standards within optimized costs.
How a school vehicle tracking system will help in efficient transport management?
Vidyalaya understands both side concerns of parents and school administration and come with a solution that will give them a relaxed breath. Let us understand how Vidyalaya's school vehicle tracking software boosts efficient fleet management.
Driving Route Efficiencies
As there are many intermediate halts for a school bus, the route should be designed such that time, fuel, manpower will be saved. Also, it is impossible for bus attendants to manually keep track of bus locations and update them. But Vidyalaya lets you cut down the dependency on humans by integrating GPS technology into designing the bus routes. The school vehicle tracking system just imports addresses of students, and route duration, and the system will offer you the best and most optimized routes. This calculation will not save your time but also fuel costs. The routes can be optimized depending upon the timing of the day, traffic. And, parents and school administration can access the real-time location within a few clicks. This will also help to avoid heavy traffic routes, accidents so that bus commute will be punctual.
Put your students' safety first
Even though the initial investment in technology may seem expensive, the benefits are long-lasting. School bus commute without vehicle tracking system causes later expenses like bus damage, breakdowns, and others. Also, the inconvenience caused to students is more painful. And, that's why Vidyalaya's bus tracking product plays a significant role in boosting fleet management.
The system not only provides you the live location but lets you be aware of the status of your vehicle, commute staff. The transport manager can have automated reminders for the maintenance cycle of each vehicle to keep your vehicles up-to-date. Vidyalaya takes care of your school vehicles also increases the accountability of transport staff. It will send notifications about exceeding speeds, delays. Thus, drivers and attendants will experience continuous monitoring and can offer a maximum safe and secure journey to students.
What benefits do parents get from Vidyalaya's school bus tracking system?
It is natural that parents get panicked and call school administration when the bus schedule is missed. To avoid this, Vidyalaya involves parents in the loop and keeps them updated about the status of the school vehicle.
Here is the list of benefits offered to parents when Vidyalaya's school bus tracking system is installed:
– Timely updates about ward's whereabouts by locating the real-time location of the school bus with the live route map.
– Have peace of mind as they can check the other details like timings, a number of halts, emergency contacts, attendant contact details through a single platform.
– Receive real-time notifications about bus departures and arrivals to parents' mobile numbers. This will avoid the wastage of parents' precious time.
– Live bus tracking help to check the traffic condition, delays in real-time.
– Check the travel history of your ward.
What benefits are offered to institutions through Vidyalaya's school vehicle tracking system?
An Institution is a place where parents will ask for any update regarding the school commute. So, check the benefits offered:
– Real-time location access to school vehicles through the vehicle tracking system.
– Smoothens the communication with parents
– Monitor the fleet staff performance
– Transport fees management
– Optimize the fleet costs, vehicle performance
– Easy report generation
– Bus speed monitoring
– Stop unauthorized access of school vehicles
– Compliance-friendly data storage.
The span of school life has been advanced from ancient Gurukul-based education to modern virtual classroom-based sessions. Why depend upon the traditional public or non-GPS-based transport system when Vidyalaya can provide you fully secure school bus tracking system at an affordable cost! We, the leading ed-tech organization in or without integration of our school ERP are facilitating educational institutes a reliable, robust software that will help you to tighten the security around your school commute and offer a technology-monitored secure commute to your students that they deserve!