Online Examination System: A Solution to Minimize Disruption in Learning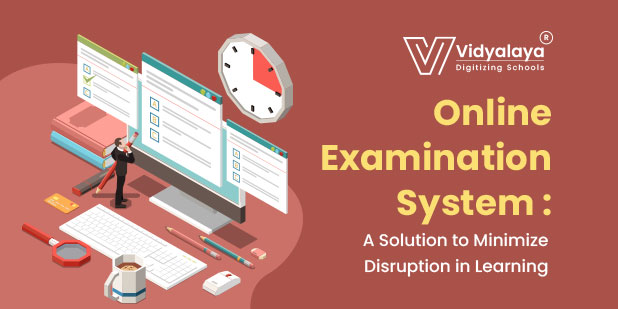 The Indian educational system has progressed over time. Because of its scalability and cost-effectiveness, technology will continue to play an important role in the future. With the aid of advanced technologies, the examination procedure can be made easier. Our country's education industry is booming. With 315 million students, India has the world's highest student population. To put this in context, India's student population is approximately equal to the total population of the United States.
The Covid-19 pandemic, which has expanded to 191 nations, is still wreaking havoc on a variety of businesses, including education. As a result of the pandemic's entire or partial closure of schools, colleges, and universities around the world, it is predicted that 90 percent of the world's students, or 1.6 billion people, are affected. India alone has a population of 320 million people.
The school kids taking their board tests, some of which have yet to be completed, have certainly been the most negatively impacted. Aside from the numerous obstacles that the administration face, such as completing assessments, notifying results, and then providing curriculum in a severely condensed new academic year, the emotional effects on students is crippling.
With its rising population, Indian education is encountering new challenges that we may not have foreseen. Technology's pervasiveness at all levels of society has undoubtedly made our lives easier, but it can also be exploited as a widespread tool of wickedness, capable of wreaking havoc.
At some time, the educational ERP products were supposed to sell like hotcakes on the market. However, the primary focus of attention is the growth of students' skills and the improvement of teaching-learning services. And nothing beats school ERP software with an online testing system for ensuring educational continuity while also keeping tabs on students' progress.
Before we look at the advantages of online tests, it's important to first grasp what an online examination system is.
What Exactly Is an Online Exam System?
The Online Examination System (OES) is software that automates examination-related tasks such as designing the assessment or test pattern (MCQs or descriptive), setting exam grading criteria, exam objectives, exam administration, and evaluation rules. In a nutshell, an online examination system is a platform that allows educational institutions to administer whole exams online.
The Advantages of Using an Online Exam System:
I've highlighted the top benefits of online examination management systems to assist you to realize what kind of impact it can have.
A) Pre-Examination and Post-Examination Procedures:
The possibilities for online examination management systems and platforms are endless.
Teachers can easily build up question papers thanks to the easy-to-use navigation of school administration software. They can also upload e-content to improve students' spirits and assist them in properly preparing!
You already know how difficult it is to be a professor. On the one hand, they oversee activities such as test-related paperwork and student attendance, while also ensuring that the exam syllabus is completed on time. Isn't it squandering both ends of the candle? This is why the online assessment tool, with its vast range of features and functionalities, is a time, effort, and resource saver.
B) Platform from afar Accessible 24 hours a day, 7 days a week
The online examination management system can be used as needed by educational campuses because it is digital, tested, and robust school ERP software.
Students are no longer required to do so
Exam rooms should be visited.
Print their entrance tickets
Write the evaluations on paper with a pen
The School Management Software allows for remote exam administration and management. Students can be supervised remotely using proctoring techniques, and they can create and submit descriptive and MCQ tests using e-learning platforms. As a result, children from all around the world can take online tests without having to travel to them.
C) Privacy & Secrecy

Hold your horses if you fear the online examinations' secrecy and security may be jeopardised.
This is far from the case! First and foremost, the examination administration system's password and user Id authentication feature set the stage for highly secure online tests. Aside from that, school officials can construct randomized question sets to prevent exam malpractice. Most crucially, they have the authority to postpone the test or ask pupils to retake it if necessary.
D) The Greater Picture – Effective Learning Outcomes for Students
As far as the faculty is concerned
Make a number of questionnaires
Upload electronic content in a variety of formats
The journey of a student's advancement should be charted and measured
Exams can be taken safely and securely online
Auto-assess the exam and provide results
Give positive feedback to kids
What Is the Process of Taking an Online Exam?
Exams conducted online are similar to those conducted on paper, with the exception that the platform is virtual! Students must follow the steps outlined during online examinations and evaluations tests.
Log in to the portal for their online examination system
For the greatest experience, make sure you have strong internet connectivity
Exam guidelines should be read
Start the exam, go through it again, and then submit your answers online
After the exam, they will receive their final score
In comparison to traditional examination systems, online examinations are faster, more reliable, and provide instant results.
The Importance of a Computerized Exam System
For both students and instructors, the online testing method is critical. It assists students in improving their abilities and knowledge by keeping track of their development over time. Similarly, it increases teacher efficiency by allowing them to quickly "evaluate," "analyse," and "maximize" student learning results. Not to mention, it saves them a great deal of time and work. In the long run, the online exam method improves student employment prospects while also increasing the institution's return on investment!
Nothing can stop students from getting the finest learning outcomes with an online testing system!
Isn't it as if the waters are being boiled? It isn't!
So, whether you want to automate your school or college or want a university examination administration system to eliminate the exam-related headaches that come with a university, you can rely on the software.