Why Institutions Should Use Student Database Management Software in 2022?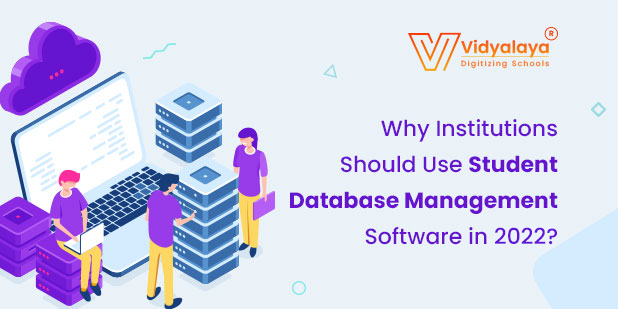 Educational institutions must handle massive amounts of student data to administer school matters in an organized manner. Many educational institutions are investing in high-performance student database management software to simplify maintaining student data. The cloud or web-based software allows you to store and manage student-related data in a centralized database, making it easy to access, modify, or update data as needed.
The student database management software automates the data processing procedure, saving you a significant amount of time. Furthermore, it reduces the possibility of human mistakes. The greatest part about student database software is that it is available 24 hours a day, seven days a week.
The program also has a slew of useful features for simplifying school administration. Now that you know what student database software is, consider the advantages of utilizing a feature-rich student database management software:
The Top Advantages of Using a Student Database Management Software
1. Is in charge of student information
A student management software keeps track of students' attendance, assignments, academic reports, curriculum details, project details, test details, grades, accomplishments, medical history, address, accounts, and much more. It also makes it simple for instructors to obtain all student-related information.
2. Facilitates Communication
A student database management system improves Communication between students and instructors, between parents and teachers, and between students. Teachers wrote letters to parents in the school journal, but that is no longer the case. Teachers may use student database software to instantly inform parents about key school activities such as parent-teacher meetings, sports day/annual day celebrations, and so on.
Teachers may also use the program to send immediate information to parents through SMS or email regarding their ward's attendance, performance reports, disciplinary issues, kids' bus boarding, school bus arrival, and much more.
This system also makes it easier for instructors and students to communicate by enabling them to collaborate outside of the four walls of the classroom. The program enables engagement through an online application, where instructors may reply to students' questions in real-time.
3. Admissions Administration
An effective student database management software also handles the admissions process. The program handles the registration procedure, admission approval, document uploading, exam, interview scheduling, and much more, greatly lowering workloads.
Student database software also enables students and parents to complete application forms at their leisure. As a result, students and their parents do not have to wait in lengthy lines to get an application form or address their admission-related questions since everything is done online.
4. Reduces paperwork
A database management software allows you to handle students' records easily. It maintains a computerized record of student data, minimizing paperwork. Aside from personal data, schools produce and maintain a plethora of papers daily, such as admission applications, student records, financial assistance paperwork, and so on. It is critical to keep these records secure, not just for future reference but also because they may include sensitive information about pupils. Managing and protecting huge quantities of paper files is difficult because you risk misplacing the papers or having them slip into the wrong hands.
When using student database software, you don't have to worry about security concerns or losing any physical files or sensitive documents. The program securely saves each document and allows you to locate the necessary document in the blink of an eye.
5. Extremely safe and reliable
A cloud-based student database management solution is much more secure and dependable than manual data storage because of student and school-related data; student database software stores all this information on a cloud-based server. Furthermore, role-based access prevents unwanted access to your sensitive data. The program provides several automated data backups to ensure that you do not lose your important files. Furthermore, automatic security upgrades prevent hackers from hacking the program.
6. Makes Attendance Management Easier
A database management software uses biometric technologies to assist instructors in keeping accurate attendance records for their pupils. The program includes student attendance control capabilities that require students to scan their fingerprints when they enter or exit the classroom or school grounds. Without any human involvement, the program automatically manages student attendance, including partial days, late arrivals, and so forth.
As a result, the student database management system spares instructors from the tedious process of calling out each student's name for attendance. It also prevents proxy attendance and gives summaries of absentees and frequent latecomers to instructors. Furthermore, this function enables school administrators to keep track of teachers and other staff members' attendance while also assisting them in swiftly and correctly calculating leaves.
7. Simple Library Administration
The database management software includes library management features to help simplify managing school library in-house operations. The library management application has many advantages for school librarians, students, instructors, and parents. It gives a barcode to each library book to simplify book tracking, categorization, and transactions. Users may also use the service to search for, check the status of, and read books and magazines online.
8. Efficient Transportation Management
A school transportation tracking tool is included with the database management system. It assists schools in managing student addresses and enables school officials and parents to follow the school bus's position and monitor the activities of the bus driver in real-time. In the event of an emergency, the school bus tracking technology informs school officials and parents. The program also keeps parents informed if the bus is late arriving at the stop.
9. Timetable Administration
A student database management software may also help with improved classroom administration. Creating a school schedule is one of the most time-consuming administrative jobs. Student database software has a timetable management function to assist you in scheduling courses by topic. This tool assists you in meeting the criteria of many educational bodies.
The program also allows you to modify a schedule by canceling a class or adding a new class. Changes in schedules are communicated to instructors through the timetable management application. It also shows instructors' availability and unavailability. Finally, it provides daily updated schedules for parents and students for their convenience.
10. With Ease, Supervise Multiple Branches
A student management software allows you to manage various branches of your school and provide students with a consistent learning experience. The program also assists you with streamlining different procedures between branches to maintain consistency and cohesion among branches.
You may allow the many branches of your school to record and save student/teacher/employee data, manage performance reports, and view various student and administration-related information in real-time with the assistance of feature-rich student management software.
In conclusion,
These are the ten advantages of investing in the high-tech student database system. Suppose you want to increase the efficiency of your educational institution. In that case, it is time to invest in effective student management software to remain relevant in the era of digital change.
However, before making a final purchase choice, ensure that you choose a user-friendly and fully-featured student database software that meets the needs of your educational institution. Last but not least, do some internet research to choose a trustworthy provider with effective support staff available 24/7 to address your problems.