Top 10 Advantages of HR Management Software in School that you need to know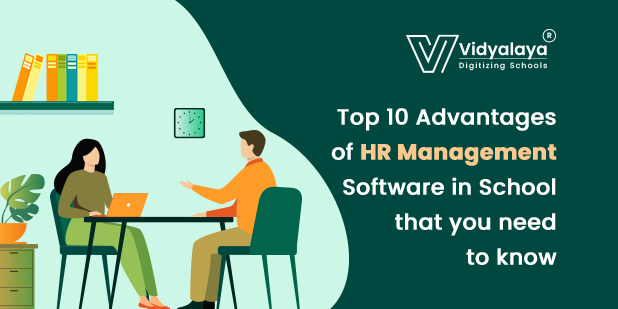 HR software can reduce the amount of paperwork and extra duties that can clog a school system. Here are some examples of how HR management software can aid a school's efficiency and success.

HRMS is an abbreviation for HR Management System. It refers to a software package used by corporations to manage internal HR operations. HRMS software assists HR professionals in managing the current workforce, from employee data management to payroll, recruitment, benefits, training, talent management, employee engagement, and employee attendance.
Is the HRM management system important for schools?
HRMS systems, also known as human resources information systems (HRIS), provide information about a company's most important assets to those who require it. Human capital management cloud solutions have evolved from yesterday's HR software and HRIS systems.
Because not every HR software is suitable for schools, it is critical to choose a solution. When comparing the features and usefulness of different systems, keep your School's HR needs in mind, as well as the specific criteria and peculiarities of your district. When considering your alternatives, make sure to take customer support into account and the experiences that other schools have had with software solutions.
1. Assists schools in hiring excellent teachers and staff
A school's foundation is built on its teachers and personnel. The HR software can improve the hiring processes of your School and enable you to identify and hire top professors and staff, spend less time on things like posts, evaluations, references, and interviews. The software can also benefit your School. You may want to use an "all-in-one" HRMS solution that incorporates recruitment features, or you may want to invest in a separate applicant tracking system (ATS).
2. Provides Development Opportunities
It can enable access to training programs and learning management systems through HR Management Software. Accessing these programs and systems via mobile devices and computers allows teachers and staff to participate in professional development opportunities independently and quickly. It can help ensure credentials are obtained and also aid in continued education.
3. Manages Scheduling
School scheduling software can assist schools in meeting all of their scheduling requirements. Subjects may need to be scheduled throughout the school day by teachers. Administrators may need to schedule replacement teachers to fill in for absent teachers. Teachers and staff members may be required to keep account of their working hours. School scheduling might be tough to manage because there are so many different sorts of timetables. Education scheduling software can assist in alleviating this stress and make it much easier to keep track of timetables.
4. Assists with District and Compliance Requirements
As employment regulations are revised and amended, compliance can become difficult. Different districts may have varying rules for benefits, time tracking, screening of school employees and teachers, and other concerns to complicate matters further. HR software may help you keep track of all your data, keep you updated on changing laws and rules, and assist you with reporting.
5. Aligns Goals Across the Board
Goal setting and communication are critical in ensuring that all students obtain a consistent education, learning crucial elements about each subject despite having different teachers. HR software created exclusively for schools may assist in creating goals across classes, schools, and districts to ensure that every student receives teaching that will help them advance and prepare them for the future.
6. Improves Staff Autonomy
Teachers and school personnel are frequently overburdened, constantly expanding their knowledge and participating in community events while grading papers, developing lesson plans, and organizing future events and classes. Many HR software packages include self-service portals that allow teachers to check and update their personal information, request time off, and view salary information while on the road. It can provide teachers more autonomy, allowing them to focus their time on more meaningful activities.
7. Centralized database
The days of keeping racks of files and stacks of papers and folders of spreadsheets and documents you can't remember where you put them are long gone. An HRMS's centralized database will assist you in storing all of the department's data in a centralized hub that everyone can access. You will be able to obtain real-time data updates, which will improve data accuracy. Because a strong HRMS includes encryption and many layers of protection, the security of confidential data will be increased.
8. Employee data management
Keeping track of employee files is a lot of work. As a result, every decent HRMS contains a module dedicated to assisting you with your personnel data management challenges. The component will assist you in digitally storing employee data ranging from significant dates, personal information, remuneration, and work history. Everything will be nicely organized in one spot, allowing you to access any data or document at any time easily. Managers will thus be able to obtain data with the press of a button.
9. Attendance, absence, and leave management
Keeping track of staff timesheets, attendance, and scheduling is a big challenge every HR manager faces. The time and absence management component of an HRMS has several tools that will assist you in dealing with all of your difficulties more effectively than ever before. It will assist you in managing timesheets, creating workforce schedules, keeping track of leave requests, and more, all while integrating all data with payroll management. As a result, recording, evaluating, and analyzing employee time and absence records will be a lot easier.
10. Benefits management
Another significant feature of an HRMS is benefits management. The module should have features that assist information on employee benefits that a person is entitled to and receives and any expenditures associated with them while also simplifying the employee management documentation process, which will be useful in the IRS process. The module will also assist you in simply monitoring and reviewing financial data, allowing you to keep employee benefits in line with the School's financial picture.
Is your School seeking a HR management system (HRMS) to help manage HR processes and tasks? We can assist you in locating the program that will best fit your School's requirements.