Advantages of School Transportation Management Software in School ERP Module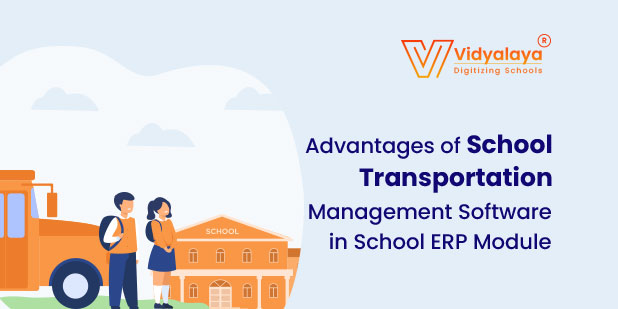 Going to school by public transport or take a walk or private van has become old school concept. These ways are risky and lack security for the students. Fatal incidences can happen while going to or from school if there is no proper transport system. Both parents nowadays are working and children live in the nuclear family so there is no one to look after the children's school commute. School administration can relax parents by giving them an option of an advanced School Transportation Management Software. This type of software is boon for parents and school administrators.
As the awareness about education has increased, parents are ready to send their kids to schools that are far from their residence. Otherwise, the major consideration was close proximity to the school. Providing them with a secure system is like supporting their decision and depicting that your educational institute is ready to take care of their wards. Vidyalaya, a leading education software will help you to share this responsibility with its great features. With the help of Vidyalaya, you can ensure the parents that their kids no matter from which location they are can get a quality education and they do not need to worry about the transport anymore.
Vidyalaya, the school transport management software can be adopted individually or in integration with school ERP. It is much more than traditional pick-ups and drop-offs. The software provides role-based access.
The admin of the system is capable of different functionalities like:
Assigning new routes
Assign stops at various places
Assign well-equipped vehicles
Create safety guidelines
Instructions to take place in case of emergency situations.
Along with these core functionalities, the entire software has more in its kitty. Here, are the advantages of school transport management software:
Fulfills the transport requirements
Vidyalaya is a complete package of software that fulfills the transportation needs to the fullest. It covers all the transportation processes and implements automation wherever possible. This Software can manage the transportation module for student and staff tracking. All transportation details are recorded with the software and can be retrieved whenever necessary.
Real-time tracking of location
The main concern of parents is that they do not have an idea about the location of their wards. But with GPS integration, this concern can be defused. Vidyalaya school transport management system shares the real-time location of the school vehicle with parents and school administrators. They can check the location at any point in time. This tracking of location is useful in case of fatal situations or emergency situations. Administrators can reach or extend help when the location is known.
Increases accountability on the transport staff
Students' security and safety is the prime responsibility of transport staff. Their responsibility includes secure transportation, safe drops-pickups, and any other activities that can help the students during the commute. Real-time tracking increases the accountabilities of the transport staff as they are under continuous monitoring. Vidyalaya's school transportation management system keeps a check on transport staff and defines the safety measures so that they should not go out of track.
Alerts are sent to the parents
If you implement Vidyalaya's school transport management software, you will not hear any more complaints from the parents that they are not aware of changes in the bus schedule. Any minor or major changes in bus timings, commute issues, changes in staff, and availability of vehicles are conveyed well in advance to the parents' registered mobile number through app notification or email, or SMS.
Easy payroll processing and transport fee collection
In the integration of the school ERP module, the payroll processing of school transport staff is a piece of cake. School administrators do not need to worry about the nature of employment of the staff, hourly or contract or permanent basis. The system itself calculates the payroll correctly and will save the reports.
The collection of transportation fees from students is an overhead task. But this is made easy with Vidyalaya as the system sends reminders on the parents' registered mobile numbers. Also, receipt of the transport fees is updated in the system such that they can check the payment status anytime.
Mobile app access
Vidyalaya provides a capable mobile app for school transport management systems. This app can be accessed by parents anytime, anywhere. This will break the location and time barriers and data can be accessed. They can even check various notifications and locations with the help of the mobile app.
Structured maintenance of vehicles
As all commute vehicles are registered in the software, the admin can keep a close eye on timely servicing, and maintenance of the vehicles. Even admin can set different reminders for servicing schedule eliminating the need for keeping everything in the mind. The school administrator can even check the PUC certificate, license, and contract renewal certificates in the system and take further action. These safety measures are necessary for a secure and safe journey that every school student deserves.
Eco-friendly solution
As everything is filled in the system with the help of Vidyalaya's school transport management system, there is no need for paper. No more transport fees receipts, no paper notices, no notes! The participating party will get the needed information in the system itself. This can help to build an eco-friendly environment and set an example for your students.
Also, the regular maintenance of vehicles will help to leave fewer carbon prints in the environment. And, the system records the fuel consumption reports, servicing reports that will help the administrators to consume resources feasibly and control the expense.
Students' safety is the topmost priority of school administration. After leaving home for school, it is their responsibility to take care of all necessary steps to provide the utmost security inside and during the commute. Implementing school ERP that goes in hand with a comprehensive system is a hit formula. Vidyalaya will help you to win these tricky situations as it comes with the transport management system in built. Go for Vidyalaya and offer a secure commute to your students. This is a win-win situation for educational institutes as with Vidyalaya's implementation, they can offer a secure environment to their students as well as they will achieve the trust of parents.