How L.P Savani Group of School Reduced their Administrative Workload by 80%?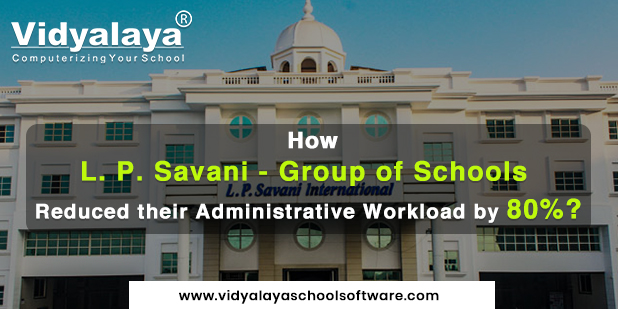 L.P Savani Group of school is one of the prime educational institutes in Gujarat. Vidyalaya educational software for schools is happy to say we are their digitization partner. The management and staff's duty is being reduced magnificently. Let's see how L.P Savani Group of school has digitized its system and minimize staff's workload to 80%
1) Certificate generation : Certificates are a significant document for the student's identity. So with Vidyalaya educational software for schools, L.P Savani Group of School are generating various certificates like Bonafide certificate, Leaving certificate and other certificates. School can also make a customized certificate and then, later on, take the print of it.
2) Exam setup and report card generation : With Vidyalaya' s assessment module L.P Savani group of school are creating whole exam setup and then teachers can do the mark entry from the app. And teachers can also generate numerous reports like progress card reports, analysis reports used to analysing weak and bright students and mainly generating the annual mark sheet. So with Vidyalaya's assessment module staff's job reduces to almost null. Moreover, students can view their mark sheet or their marks in the app.
3) Staff's payroll management : In any organization payslip generation is an important and thoughtful method. L.P Savani group of school uses Vidyalaya' s payroll module to reduce their workload. In Vidyalaya schools can take attendance of the employees and then create the whole pay setup. L.P Savani group of school uses this module and after completion of the pay setup, they can show the attendance of the employees and payslip in employee's mobile application.
4) Front Office and security : Security is first and foremost for any institute. So whenever visitors come to the L.P Savani school they capture the pictures via gate pass generation. In the front office whenever any items of the student or employees are found then school capture's the image and then executes it in lost and found register. So that students or employees can check it in their app and find out their lost items.
5) SMS and Notification : For sending important or predefined messages SMS is used. So L.P Savani uses Vidyalya's SMS integration and mobile app's notification to reduce their workload. It is an end to end communication. Schools can send any predefined or customized SMS or notification to the students in an effective way.
6) Admission : With Vidyalya's admission module L.P Savani enrols the students for their admission. In it one can register admission inquiries, can do entries of admission follow up, mark entry for admission interviews. The whole admission method is digitized with the admission module of Vidyalaya.
7) Books management : L.P Savani group of schools uses the library module to decrease their staff's workload especially librarians. With Vidyalaya 's library module one can maintain the record of the books, magazines, newspapers etc. Librarian can take the image of the books and select the location of the rec's. After that student's or employees can issue the books. So by this process school can productively manage their books.
8) Events and activity management : L.P Savani group of school uses this module in such a great manner. In this module, schools can add their events like annual function, seminars or activities like sports activity, cultural activity. Then can also take the attendance for the same and manage the record of events or activities. Also, teacher can add the whole holiday list in the events.
9) Time table management : Time table is an important part of a student's academic life. So with Vidyalaya' s time table module L.P Savani group of school create the whole time table set up according to the teacher's workload and proxy settings. Students can check it in their app and plan their studies accordingly. Furthermore, employees can take their time table and view in the mobile application.
10) Class Work and Homework generation : L. P. Savani uses this module in such a comprehensive manner that students can get the notification whenever the teacher adds the classwork or homework. They can also attach the files like worksheet assignment in it for student's reference purposes.
11) Attendance : Attendance is an important criterion for student's progress. Even the government nowadays asks the schools for filling the attendance in the government's portal. So L.P Savani uses this attendance module for recording student's attendance and later on they can generate reports of the student's average presence, present days, monthly or annual reports can be generated. Even they can reflect on the annual report card. They can indeed enter the remarks of student's late arrival, early departure.
For the above-noted peculiarities, we can see that paperwork is reduced massively. Teachers can follow the steps of attendance or exam settings and take generate the different reports. The accountant can follow the payroll process steps for generating the employee's payslip. Clerk just needs to generate the receipt for the fees management. A security person can verify the parents by generating a visitor's gate pass. For the administration we have consolidate d's reports screen like admission inquiries, fees, assessments and they can also search the employees or the student.
Vidyalaya educational software for schools is proud to be their administration digitization partner. Want to reduce your staff workload by 80% too, Contact Vidyalaya today!!!