Let's see what's new in Vidyalaya – The best ERP software for schools!!!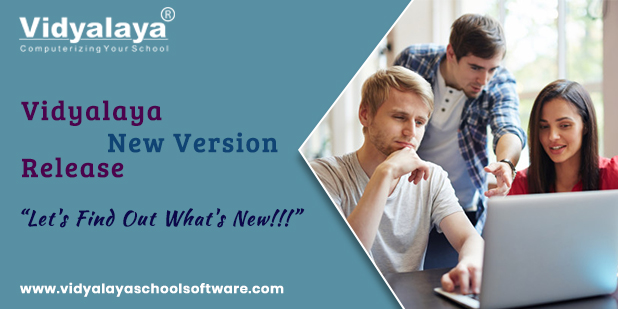 "What leads and drags the world are not machines but ideas".
With that note, we are pleased to announce that our new version of Vidyalaya has been released which includes class status batch-wise, Circular based on Principal/HOD's Approval, Custom search, Employee 360'view and history, Dashboards of Certificate, Fees, Admission, Biometric.
1. Class Status: We had added status in the student module which states that student is active, inactive or left. Class status is similar to that but it will show batch-wise i.e., he/she is active in that particular batch or not. Also, earlier if the student's left standard and current standard were different then also student was being left. but now both should be similar to left the student.
2. Circular based on approval: Circular is used for sending an important message to parents. Now, we have a provision that based on principal/HOD's permission circular could be sent to maintain the proper hierarchy system.
3. Custom Search: As the name suggests this type of option is used for report purposes as per the school's requirement. That means a school can get the report as per their requirements such as Fee custom search, exam custom search, employee custom search & generate reports as per the requirement
4. Employee 360'view and history: The 360′ view in employee module shows us entire data of the employee in the new tab such as basic details, attendance, payroll, appraisal, etc. The history option saves all the data of the employee until today's date.
5. New Dashboards: The dashboards of Certificate, Fees, Admission, Biometric have been updated in the portal with graphical analysis for a quick overview of the school
In the certificate dashboard, it will give us the update of the student's certificate chart-wise and in the tablet form as well as certificates such as Bonafide Certificate, Leaving Certificate, Character certificate, etc.
In the Fees dashboard, it will give us the update of the student's fee's total, paid and pending chart-wise and also in the card.
The admission dashboard will give us the counts of total inquiry's admission count and converted student's count.
In Biometric, the last synced data, total present and absent data which has been punched in the machine will be shown in the dashboard.
With each & every release, we continuously work to provide you with the new & enhanced features to provide the user with the best experience & to make Vidyalaya the synonym of best ERP software for schools.
Also, let us know how we can improve your experience more with Vidyalaya. Do let us know in the comments section below.