Why Top Schools of Kanpur Should Choose Vidyalaya for Their School Management?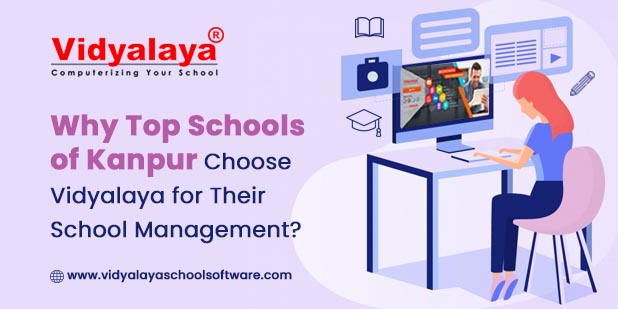 Kanpur originally called Kanhpur, the city was established by King Chandel who was A Lord Krishna devotee. So he firstly named the city Kanhiyapur and later it was abbreviated to Kanhpur. During the 1857 revolt when British Administration was ruling they called Cawnpore. Finally, in 1948 the city was renamed Kanpur. Kanpur, which is located on the banks of the river Ganga is the largest city in Uttar Pradesh. Apart from cotton, it also largely produces wool, leather, Vegetable oil, sugar, and chemicals. Hence Kapur is also known as the industrial capital of Uttar Pradesh.
Kanpur is also one of the cities of Uttar Pradesh which is renowned for its Colonial architecture, the Kanpur Central Railway station, and Kanpur Memorial Church are prime examples of the beautiful Colonial architecture in Kanpur. Kanpur is also famous for its parks and gardens. Parks such as Blue World Theme Park which is a great amusement, theme, and Water World park, Nana Rao park which was built in honor of great Maratha ruler Nana Saheb Peshwa II, Kanpur Zoological Park which has some beautiful creatures, has got beautiful greeneries. For devotees, there are some outstanding Temples such as J.K Temple, The Kanpur Memorial Church, Jain Glass Temple are located in the Kanpur. Ganga Barrage and Greenpark stadium are also famous in Kanpur city.
Kanpur, the leather city of the country is also one of the topmost countries of India for students to educate. Kanpur city follows the education system of 5+3+3+4 pattern which is explained as follows.
1) Pre-Primary Schooling : (5+)
The child whose age is 3-8 will come under the pre-primary stage which will be divided into two parts pre-primary classes and primary classes. The main focus of the schools will be to train students in activity-based learning.
2) Primary Schooling : (3+)
The children whose age group is 8-11 years will come under the primary school and will study the standards of the third to fifth. Here the main focus of schools will be on Mathematics, logical and creative thinking and subjects like arts, science, social studies and language subjects will be introduced.
3) Secondary Schooling : (3+)
The students whose age will be under 11-14 will come under this age group. A deeper knowledge of the subjects will be provided in secondary schooling.
4) Senior Secondary Schooling:
The students who come under 14 to 18 years age group. Here 9th and 10th standard will be covered in the first phase and the 11th and 12th in the second phase. In senior secondary education optional subjects are there to select the right career path with depth thinking of the subjects also will be provided.
The reputed schools which are highly famous not only in Kanpur but all around the country like Delhi Public School, Kalyanpur, Allen House Public schools in Kanpur, Sir Padampat Singhania Education Centre, City Montessori School, Kanpur Road Branch school are there in the Kanpur. Several colleges and institutes to pursue your career are also situated in Kanpur.IIT, Kanpur comes under the top five list of Its where not only Indian but also international students come to study and enhance their knowledge. The Kanpur University which is famously known as Chhatrapati Shahu Ji Maharaj University (CSJMU) is also renowned all over the Asian continent. Even the commerce students benefit a lot from Kanpur educational system as the Institute of Company Secretaries of India, Institute of Chartered Accountants of India also reside in the leather city, Kanpur.
Due to this great many universities and institutes, Kanpur comes in the top 10 cities in India for students to study.
In most of the best institutes, all the educational level functions are managed digitally, School management system is also widely used in these institutes. Vidyalaya the highly secured and cloud-based system is the best to manage the students, employees, and administration level tasks. Worldwide 1300+ satisfied clients of Vidyalaya are using amazing features like Online Fees Payment through Fees Management, Exam management with E-Exam learning, Virtual Classrooms, Student Profile Management with 360- views, Dashboards for the school management team and to stay connected and manage all the operations digitally. This school management system is a smart app that connects students, parents, teachers, and administrators on one platform. The school management system plays an integral part as it reduces the parent's tension with regular notifications and SMS alerts of their children's results, attendance, behavior, and many more. Moreover, it reduces the management tasks also as they can directly check the dashboards and inspect the student's performance, behavior and can also share important notices, mark sheets
Don't think twice just go for it, you will not regret it. Contact now for more information