Balancing work & student together is not that easy..Is it?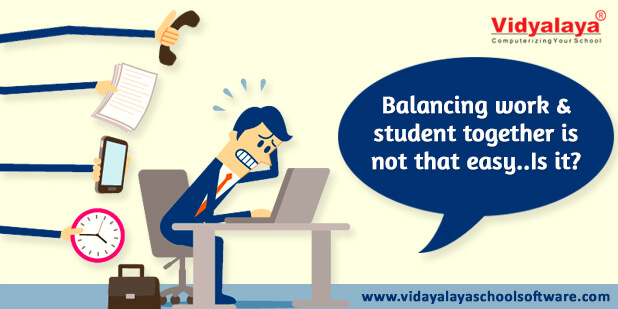 Teachers play a vital role in student's life, they are best known as a career builder of students by educating them in the right direction. Beyond that teachers serve many other roles in classroom and schools like creating classroom environment, Mentoring, controller, Management, promoter, Organizer, Curriculum development and many more.
Adding to these in most of the situation teachers have to perform administrative duties and tasks manually, which are as follows:
Examination: Teachers needs to administer all the work related to the examination. Some of the time taking tasks are entering the marks manually in the register and keeping them updated for the complete session. Then generate report cards for the same.
Attendance entry: Before starting class it always takes time for teachers to take daily attendance of the students manually in the register. This is again a tedious task.
Interaction with parents, providing information to parents relate to students, Fee collection: Teachers always needs to communicate with the parents and students related to events, emergency holiday, fee collection and for which teachers have to communicate via call or send emails or letters.
Assignments collection and verify them: Assigning homework and collect it every day is again a time-consuming task.
Prepare timetable & syllabus etc.: Manual timetable generation and syllabus planning in large sheets of papers leads to time consuming process & error prone too.
With these multiple roles and responsibilities of school administrative tasks, it is very difficult for teachers to balance all the other roles along with students is not that easy. However, to balance their work and student together teachers have to perform these tasks in a very effective way so that they can give their more time to provide quality education.
Therefore, in order to provide better academics and manage school admin work manually, a school has to transform into smart school which can be achieved by adopting Vidyalaya Online School Management Software.
Vidyalaya Online School Management Software is a very user-friendly and is developed to reduce the manual work of school administration helping teachers to have more time to deliver quality teaching to their students. Apart from these teachers can get time to train themselves to be updated with the current academic trends.
Hence, Vidyalaya Online School Management Software is a one-stop solution which allows teachers to balance their work and students in a better way and also allows school staff, students and parents, to work in a safe, secure & single platform.