What is a School Portal and How does it work?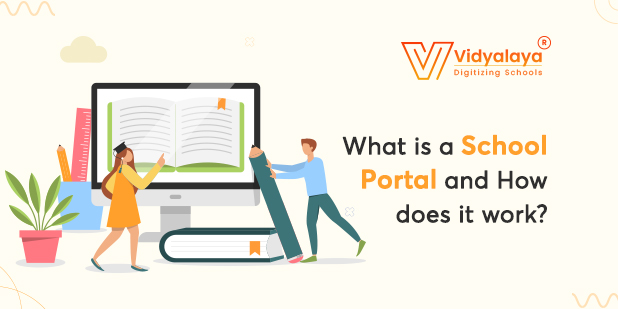 Do you remember the days when we used to rush to check out the notice boards to get updates regarding upcoming events, exams, admissions, and other important aspects happening in the school? Standing behind and getting information was not an easy task, so what did we have to do? Ask someone or teachers about the updates. Nowadays, everything is controlled by technology, so why do schools need to remain in the old-school era? Yes, they have also changed and adopted a digital way for declaring updates. And, that is the School Portal! A school portal is a digital web page which authenticates valid users to get access to various academic details. You can even say it is an entry gate login page where students provide login credentials to access educational programs and other learning materials. 
What is School Portal?
A school portal is a secure web page created to authenticate visitors so that they can gain access to various academic and learning details. When a visitor hits this page, he/she has to provide login credentials like user id and password. This is validated and after a proper authentication process, the user can login into the system and access the required details. Educational institutes create an engaging learning environment to promote digital learning. With this new approach, data security and privacy have raised concerns as well. So, a school portal plays a role as an entry gate, where students can get insider access only after providing valid login credentials. 
A School Management Portal is not meant for only students but it has everything for other stakeholders- parents, teachers, and admins. It improves communication between all and acts as a one-stop solution for all updates regarding notices, news, different forms, and real-time notifications. It provides separate logins depending on the role of the user and the content is customized accordingly.
Why a School Portal is important nowadays?
A school portal provides the platform where one can keep track of all students' academic details and learning programs. This online gateway is important in many ways and here are super-five reasons of them:
1. Makes the Curriculum Planning Easy:
Curriculum planning is a tedious task but a school education portal makes it a task of a few clicks. It prepares and allows easy access to learning material, but only for authenticated users. Teachers can create and share board plan with students. This pre-planned activity may help to keep the academic schedule on track and can benefit both teachers and students. A School portal can bring innovation in learning methodologies by adding images, videos, slide shows, pdfs, and other modes to explain complex topics. Also, teachers can avail of the tools like online calendar, google docs, and whiteboard presentations to make the learning process easy. Additionally, all stakeholders can use this learning material anytime, anywhere. 
2. Can Track Attendance:
Attendance plays an important role in the academics and throws an effect on students' performance. So, attendance tracking becomes an integral aspect for teachers, parents, and students. A school management portal helps to record and track the students' attendance in digital form and automates the relevant attendance tasks. It significantly saves time and eliminates possibilities of erroneous recording of attendance. Some advanced portals also embed RFID or biometric attendance tracking and facilitate various reports. 
3. Efficient Performance Reporting and Analysis:
Educational institutes can use a school education portal to share and display student information along with their evaluation. Live dashboards integrated in the portals can help parents/students to quickly analyse the performance. Also, standard and customized reporting features may help stakeholders to fetch correct information faster in the presentable format. Along with grade and examination evaluation, a school portal enables analysing performance on various measures and also entire batch performance reports. 
4. Eco-Friendly Solution:
We are living where environmental awareness becomes a top priority. As a small step towards this noble cause, educational institutes can use a school portal to broadcast updates to all stakeholders of the system. Even parents can use this platform to pay fees online and make the optimum use of resources. Schools can opt for a school management portal as a medium for displaying academic calendar, student information, notices, and others and cut down the paper usage. This eco-friendly solution will help all stakeholders to go paperless. 
5. Improved Communication:
A School Portal provides a unified platform where all stakeholders can get connected to the check latest updates. This platform provides authenticated information, so communication among all stakeholders gets improved. It acts as a feed of the school activities and events throughout the day, so even parents can track them and get aware of the things happening inside the school premises. A School Education Portal can be an effective method for record-keeping, which can be accessed 24/7 and from anywhere. 
Education has evolved with the advancement of technologies and the introduction of various aspects is part of this process. Likewise, we have shifted to online classes and exams, and the process of getting access to academics and learning material is also changed to its digital form. A School Portal is the way! It has become necessary for educational institutes to launch their portal to facilitate students and even parents to look into the learning programs. But at the same time, considering security and authentication is also necessary. All these aspects are handled by a school management portal very efficiently. Vidyalaya's school portal is one of the high demand products across all types of schools. You can even ask us for a demo to learn the embedded features. For any type of enquiry, drop us a mail or call on the contact numbers. Let's digitalize the way of learning together!