Why Vidyalaya is Best School Management Software In INDIA?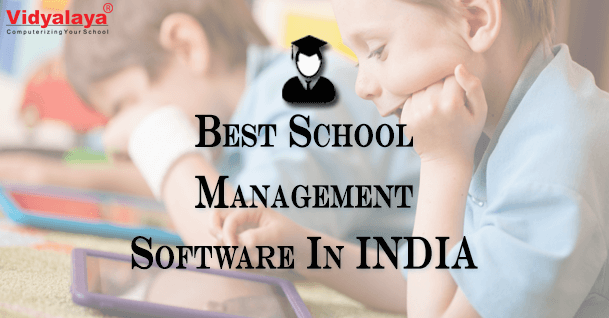 India, the most important of all is the criteria for growth here. The matter of taking our country's name is fast growth, and Vidyalaya is now expanding very high with its product named Vidyalaya school management software. We created a difference when we were growing towards this path.
Nobody can think of having such a large expansion within some time. Let's have a look how we are different from other best school management software in India.
1. Integrated solutions
We provide ultimate solutions for your best challenges day to day. Vidyalaya provides the best it can, also the solutions provided are different on its way too. The reality is that we do observe challenges and provide the solutions but all the credit goes to the one who uses it and they are the SCHOOLS! right?
We provide a complete collection of school management to manage the entire campus operations & administration. It provides an interactive platform with integrated solutions. Also, this includes admission management, student management, attendance management, Fees management, student assessment, human resource, employee leave management, payroll management, certificates, scholarship, timetable management, academic, front office, MIS, health, alumni, event & activity management, and what not.
These were just the core modules, now let's see resource management & communication management & integration. These particularly include Library management, hostel management, transport management, inventory management, asset management, finance management. Also, you can imagine things at a single click like news, discussion, Query Feedback, Placement, Poll, Blog, Disciplinary, circular, task, gallery, email alerts, SMS alerts.
In Vidyalaya, Data management includes the dashboard, standard report, custom report, metrics, data analysis, & data import. Also, integration as in SMS, Biometric, online exam, online payment, portal, Moodle, tally, mobile apps, dynamic website. We provide best solutions in the market. There are much more benefits than this that includes management of the entire campus operations & administration.
Each management has some of the other issues by using the old versions of different software for their institutions. With this, you can go paperless & get cost-effective solutions. We provide integrated & simple solutions with accomplished secure solutions. Moreover, our software is reliable & gives convenient solutions.
2. Service support
Nowadays each of the management wants the reliable solutions for its customers. they think their customers as a god, so want to provide best services they can. Just giving a software is not our lookout. We look for our customers & their challenges with our software. We have different resources to be used but in a different way, we use it.
Customer's satisfaction is must, why can't we provide that? Let's talk about how a customer is being cheated when bought something from you & does not get any response. We highly meant to loosen up this thing by providing the best service support. Yes…! You heard it right. At Vidyalaya, just improvising is not a criterion, but giving best to their clients is.
We have the reliable & trustworthy service support since 15 years. Just doing sales is not our motto we do build up relationships with clients by regular follow-ups. Client's Solutions are the most important thing we mean here. We fully implement our ERP so that you can get good ROI.
Overall, Vidyalaya is the full package ensuring a complete system support. We provide best services in an arrangement starting with
Installation
Implementation
Training
Migration
Customization
Support
Upgrade
Integration
Web solutions
These are the steps we follow when its the matter of our services. Vidyalaya provides technical services, either on-site or through extended remote support, to assist with the installation & configuration of the software. This ensures the trustability with our focused work and mind. Also, we focus on providing unique, cutting-edge technical support.
3. 15 years of experience
The another main difference between other software & the best school management software in India is its experience. I believe that imagination is stronger than knowledge. Firstly, when we imagined a software where each our educational institute's work would be easy & handy was a question mark. But as we developed it, we grew, we made a simple integrated solution.
When we learn something new we define it as we have learned, but with Vidyalaya, our clients have grown gradually. We experienced a high knowledge of accessing things which were impossible and not in the trend as well. With these experience, we learned to develop a system which is configurable & also is customized.
4. Upgradation
Each system just does not get high-value customers with a stability in it. We provide the stability in software but with updating our software. Vidyalaya modules have reached up to a level for its updating quality and good methodology to be used.
Recently we updated the modules this month which included fees, admission, employee, communication, library, security, & student. These are not just a thing we updated it as per clients requirements. We provide regular updations with preferable timings as we value our work than other systems.
Heard other systems review?
Yes…! in fact used it right… so you found the difference? let's check out our client's review on this basis. One of our clients found some issues with reports when he used another system but with us, their challenges came over though. All reviews gave us a compliment of best school management software in India. Regular updations with quality & time perspective is a good working by Vidyalaya.
5. Cost-effective Solutions
The primary objective of our company is to save each client time and money. If we do so, we know our own business will increase, as the client. With us, the clients would have the benefit of a good return on their investment. Our focus is to offer its customers total solutions for efficiency and cost-effectiveness at all stages of the development.
Vidyalaya provides different 1500 reports in-depth with all the details required. Also, our school management system provides 40 different kinds of mark sheet with timely updations. Vidyalaya provides cost-effective solutions in the market. Let's see about the other systems where they provide it with lower cost to schools, but does it provide good quality?
However, Vidyalaya provides the best solutions with the quality. Vidyalaya provides Multiple campus management through single software with lower investment. Also with this minimal amount of the software we provide complete automation of all operations with best resource utilization.
6. Configurable & Customizable
To be considered configurable, functionality should be forward-compatible with future releases. We evaluate the best from the software for our clients. A product should be fully configurable & Customizable. Vidyalaya proves it with its work as well, we have the best configurable system for eg. recently we updated the modules of fees structure and class structure. Requirement fulfillment is our main motto and we do that by our reliable development team.
With easy communication, we provide the best solutions which are handy and customizable on its way. Vidyalaya is designed to be configurable & customizable, offering yale flexibility in its system to be molded.
These are the few main reasons to answer that why Vidyalaya is best school management software in India.
Stay Excited to read our next blog…!